Realms Art Autumn Forest Trees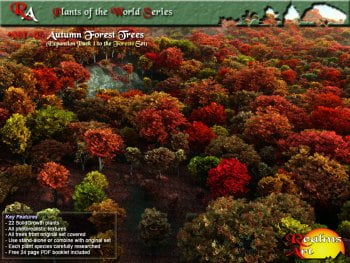 This is the first expansion pack to the original Forests pack. It may be used in conjunction with the original pack, or seperately as a stand-alone product.
This pack contains 22 SolidGrowth plants.
All plants have been carefully researched for optimum realism. All plant materials are either procedural, or were made from very high resolution digital photographs.
Also included is an easy to read 24 page PDF document covering many details of the plants found in this set, as well as numerous rendering and composition tips to help get that extra realism into your scenes.
---