?Red Roses? is an outfit set which is designed for Victoria 4, Aiko 4, The Girl 4, V4 Elite, Pretty Base IV and Kaileena. The parts are formed by high quality meshes and also contain many dynamic morphs to give the most realism to your scenes.
HQ MESH MODELS
There are 7 parts of outfit meshes in this product that were modelled as high quality and all details were made very carefully:
Bustier, panty, garter, stockings, choker, left and right earrings.
FITING, STYLING AND DYNAMIC MORPHS
There are yo many morphs in this product, and some of these morphs;
Pretty Base IV and Kaileena morphs , Most use V4 morphs, Aiko 4 morphs, V4 Elite morphs, The Girl 4 morphs, Styling morphs and many dynamic morphs.
Pretty Base IV, Red Roses hair (coming soon) were used in the promos.
Please refer all your questions about our products to Pretty3D Forums.
Red Roses includes;
? 1 Morphing, comforming bustier figure
? 1 Morphing, comforming panty figure
? 1 Morphing, comforming garter figure
? 1 Morphing, comforming choker figure
? A pair of morphing, comforming stockings figure
? 2 Earring props (Left & Right)
TECHNICAL
? This product is compatible with Poser 6 and up.
? This product is compatible with DAZ Studio 3 and up.
? The product designed on Windows, and not tested on MAC.
? MAC Users, no need for Mac conversion, all png. files are supplied.
For further technical support questions or concerns, please visit our
"Customer Support Forum". www.pretty3d.com/viewforum.php?f=1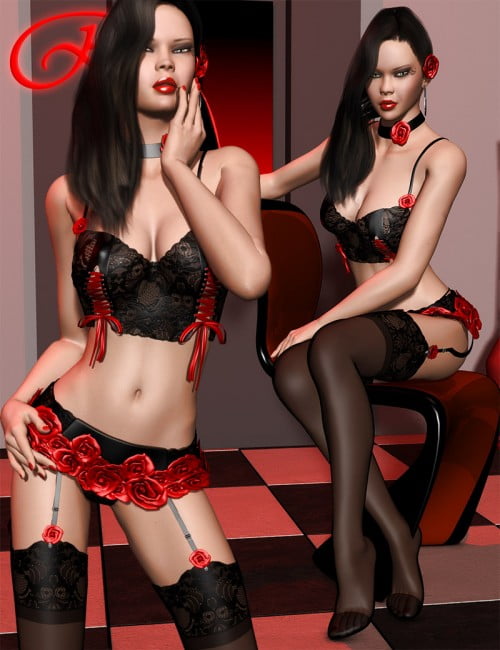 ---