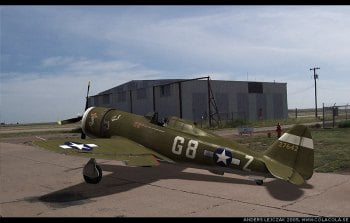 In the entire history of military aviation, there has never been an airplane that could match the P-47 for ruggedness and
dependability. The pilots who flew it into combat called it "The Unbreakable" and "The plane that can do anything." They were not far?from wrong.
P-47's often came back from combat shot full of holes, their wings and control surfaces in tatters. On one occasion a Thunderbolt?pilot, Lieutenant Chetwood, hit a steel pole after strafing a train over Occupied France. The collision sliced four feet off one of his?wings -yet he was able to fly back safely to his base in England.
The package includes:
model in .obj format
model in .3ds format
Poser specific files with file paths and external geometry (can be extracted directly into the Poser folder)
Undercarriage open/close pose sets for Poser
Blurred propeller texture, trans map and Poser prop?.jpg texture & bump maps (2048*2038)
texture template (for making your own textures)
pilot not included but can be downloaded for free from my site (www.colacola.se)
The Poser model is rigged. The canopy, rudder, propeller, pitch and left and right wing flaps and ailerons have their own controls.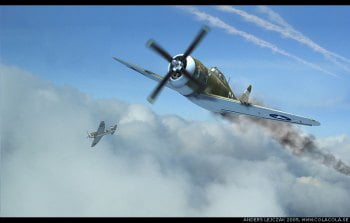 ---