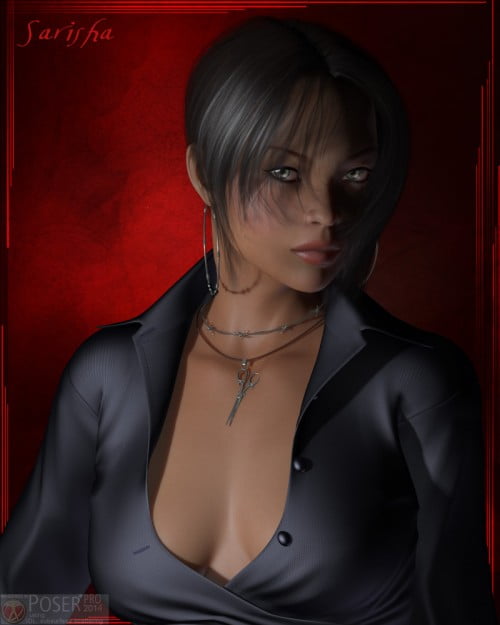 RM Sarisha V4/Genesis
V4.2, Morphs ++ , Genesis, V4 and M4 Shapes for Genesis
Product Compatibility Poser 9, Poser Pro 2010, 2012, 2014 D|S 3, D|S 4
Sarisha is an exotic beauty whose sultry sedctive nature is sure to make her your go to girl. She comes with a full array of options to allow her to always look her best, including 5 eye colors, 6 eye reflections, 10 make up options (plus a no make up choice) and 4 lash styles She has SSS MATS for Poser 9 and 2012 and standard Poser 8+ MATS as well as both .dsa and .duf files for use in DS 3+ and 4.5. Sarisha has a custom head morph which has INJ/REM poses for both V4 and Genesis and a body MOR pose that is for V4 ONLY. She is sure to please and be a wonderful addition to any scene. PLEASE SEE READ ME FOR FILE PLACEMENT TO BE SURE TO UNPACK PROPERLY!
* 1 custom head morph INJ/REM pose for V4 and Genesis
* 1 DAZ morph++ dialed body MOR inj/rem for V4 (there is NO body morph for Genesis!)
* Poser 9/PP2010, 2012, 2014 SSS MATS
* Poser basic MATS
* D|S 3+ .dsa files
* D|S 4.5 .duf files
* 5 Eye options
* 2 Eye reflections
* 4 Lash Styles
* 11 Face Options
* 10 make up choices
* 1 default natural look
Proven quality content at a price you can afford! Please see read me for proper installation instructions.
PLEASE NOTE!!!
Different types and styles of lighting may cause the files to appear different then may appear in promos.
There is NO GENESIS body morph included.
Hair, lights, clothing and poses NOT included in this package.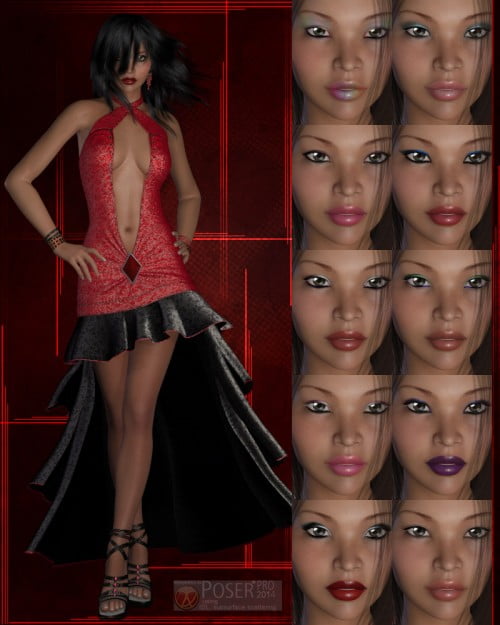 ---