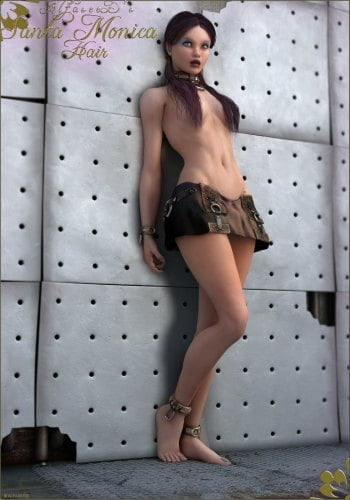 Santa Monica is a lovely style with low front tails that will dance in the gentle breeze coming from the ocean or fiercely move in the heat of a fantasy battle!?A cute and pretty style, but also cosy and practical for the busy adventurer, tens of morphs make it look very dynamic and realistic and always match your characters' poses.
Features:
– Santa Monica Hair is composed of a heair "scalp", 2 tails figures and 2 tails strings, for max versatily and control.
Both hair and tails are composed of tens of thin strands for more realism and dynamism (it's not trans-mapped hair).
– Each Tail features 87 different morphs:
* 10 for fine tuning (help with fitting, if you decide to toggle the bending off, if you want to use the tails with hats etc.),
* 16 helper morphs, mostly for styling and fine-tuning effects (try the "few-out" to add that little dynamism to every other movement),
* 13 lateral movements
* 13 back movements
* 9 front movements
* 4 random movements
* 12 twist back movements (twist the tails backward)
* 7 twist front movements (twist the tails forward)
* 3 pin morphs (simulate the tails being hold)

---