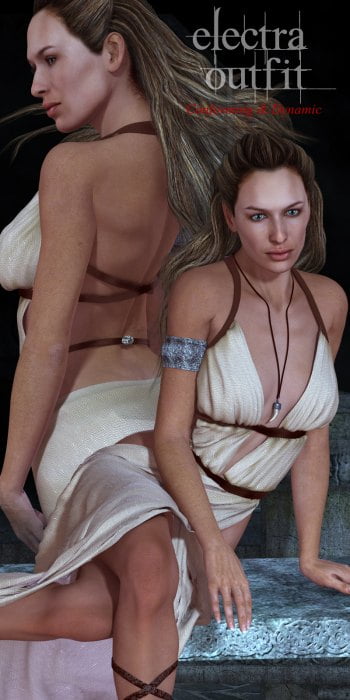 Fantasy Clothing Set for V4,?consists from Dress, sandals and bracelet,?the dress come in 2 formats conforming and Poser Dynamic. *Note Dynamic Dress can be used only in Poser.
Short dynamic tutorial for this dress included in the pack.
*Super conforming feature "Won't Work" with Daz Studio older than 4 versions,?you have to Adjust the morphs manually.
*Always select V4 character before load Outfit to the?scene,for super conforming future to work.
*Super conforming feature Don't work with the dress skirt, as this part don't?have thigh bones, but 2 skirt bones for skirt, bend, side, twist, movements.
Because this skirt is tight to the body, more handles, like RightSkirt or leftSkirt,?would ruin the shape of the Dress,i have add Various ADJ morphs for easy adjustment?for any body type and movement morphs for the leg posing.
For example if you using Bulk,BodyBuilder,Heavy morphs, use these morphs?to ADJ the skirt :
ADJ_ThighsTone, ADJ_RThighTone, ADJ_LThighTone,
ADJ_HipsRightBack, ADJ_HipsLeftBack, ADJ_SkirtFront,
ADJ_SkirtBack, ADJ_SkirtRight, ADJ_SkirtLeft.
Also the dress contain ADJ morphs for extreme posing in the upper body
like hands (with collar area) up or back,
to fix the poke through problem.
Bonus:?Electra Necklace (come in 2 material presets silver and gold in poser and DS)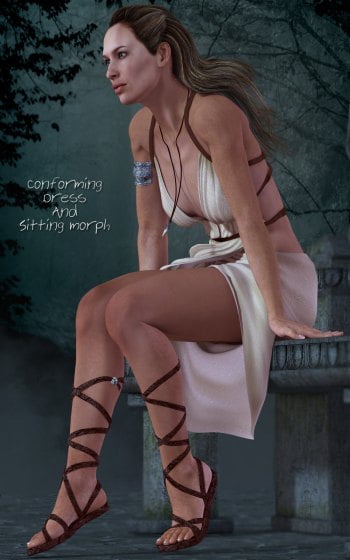 ---