SAV Greek Fantasy Hair II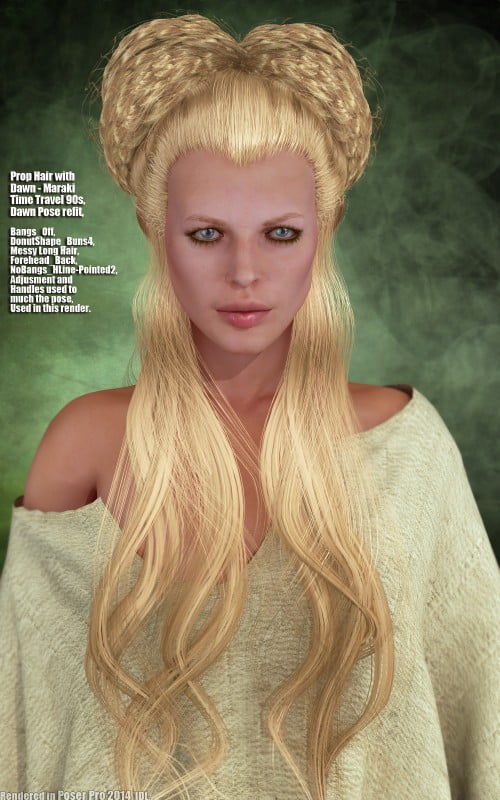 Fantasy Hair set, consist, of 1 Conforming character preset for V4 ,
1 smart prop by default for V4, with Genesis, Genesis2, Dawn V4,
Anastasia pose refits,which can be scaled translated and with the
help of the adjustment morphs and handles, can fit any other poser/Daz character.
Greek Fantasy Hair II, contain 8 control handles, for easier posing and styling.
!!!Please Note:
1."cast shadows" are disabled in the hair, Parameters/Properties window tab,
for more realistic and faster renders,in case you using bright lights with low intensity,
shadows and you have disabled the AO shader, to avoid hair looking flat, or
If you want stronger shadows on the hair, select neck,
and set the"cast shadows" ON.
2.The Prop preset, in order to remain full functional with Handles, will show,
when you load it to the scene as a character, dont conform it to the
Human figure as its smart parented to figures head.
3.For smooth results, highly Recommended, when you have extreme rotation of the head/neck,
to use the Prop hair, to avoid any group zones, conforming distortions.
4.You will find the Pose refits in the poser/libraries folder.
5. Daz studio users:
you will find, Advanced Duf material presets for DS4.6 in the pose product folder.
Please see DS promo image for details.
6.Instruction thumbs included in the product library folders.
7.Greek Fantasy Hair II may take longer rendering time,than usual
especially with Strong shadows and high AO render settings!
8.Dont forget to Mix the morphs for endless possibilities and amazing results with any pose.
Package includes:
1 Greek Fantasy Hair II for V4 in cr2, poser character format.
1 Greek Fantasy Hair II in pp2, poser prop format.
28, Color tones in mc6,pz2 for Poser and Duf for DS4.6.
3 Transparency Freezers off option.
1 roots off
2 Bangs and front Long Hair off TRS mat and morphs options.
1 handles ON/Off TRS.
Pose Refits presets, for Dawn, Anastasia, Gen2Fem, Genesis.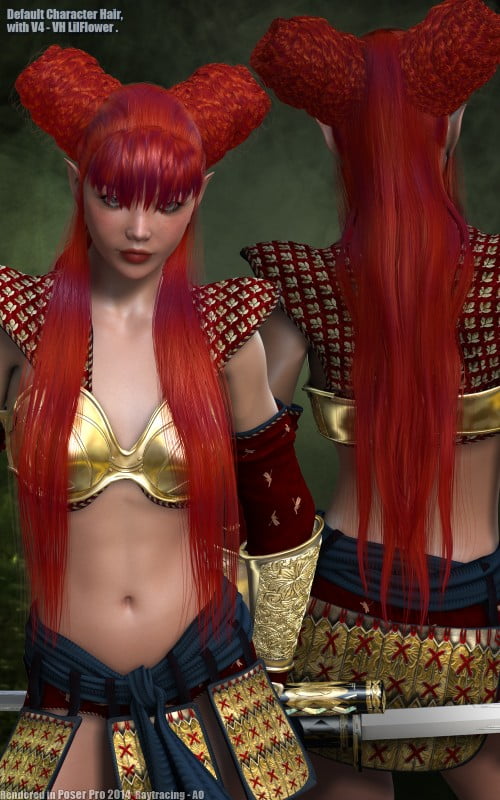 ---