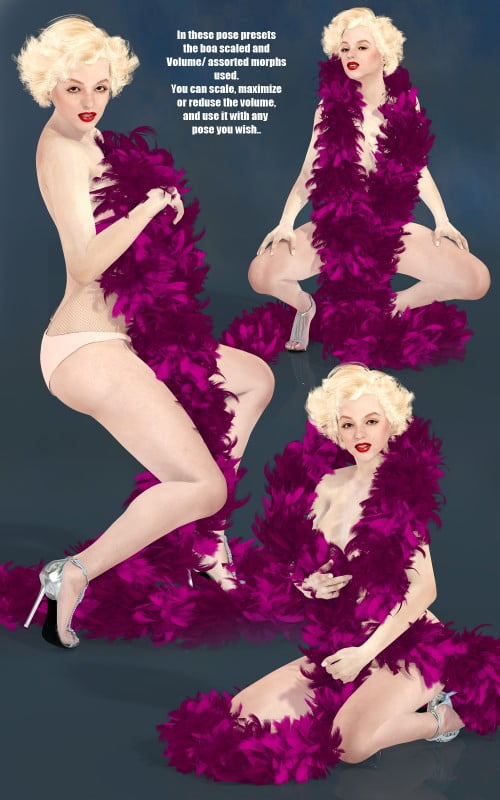 !!!Please note:
1.The Feather Boa is a posable character, its not a conforming character.
in case you wish to move V4 and the Feather boa, "after" you have load the pose
presets, you will need to parent the boa to v4.
Unparent the Boa, before you load the next boa pose preset.
2.This product works perfectly in Daz Studio 4.6
3.The poses made for use with high heels.
4.The Feather boa, may take longer rendering time,than usual
especially with Strong shadows and high AO render settings!
5.Dont use the 2nd feather with the pose presets.
Instructions:
1.Load V4 Click the pose you wish,
2.Load the Feather boa you will find in the character libraries folder,
select the boa and next load the pose with the same
number of the pose for V4, you have choose.
3.Use the Zero pose for the boa and V4 before you load the next pose preset
5.For posing the 1st Feather boa, with other poses and characters:
Just grab the first bone, number 1 which is the stable bone, with the translate tool
and place it where you want your feather boa to start, rotate is as you wish, then with the rotate tool,
grab each other bone and rotate it around your character, until you have the results you wish.
6.For posing the 2nd Feather boa:
This Feather, made for easier posing on V4 neck, the center main bon placed on V4 neck,
for posing the feather ends, Just use the rotate tool and rotate any other bone
around your character, until you have the results you wish.
!!! No other,V4 Body fixes used in promos, except of Corvas SimpleDetails, armpits fix.
Package Includes:
In the pose Folder:
20 Poses for V4
20 poses for the Feather Boa
1 Pose preset for the 2nd Feather,
which place it, in V4 Shoulders
15 material presets for the feather boa in pz2 and Mc6 presets
In the Character folder:
1 Morphing Feather boa for use with the poses.
2nd Morphing feather boa, placed on V4 shoulders,
cender stable bone place in the neck area for easier posing.
— Morph Targets —
More Volume
Assorted 1
Assorted 2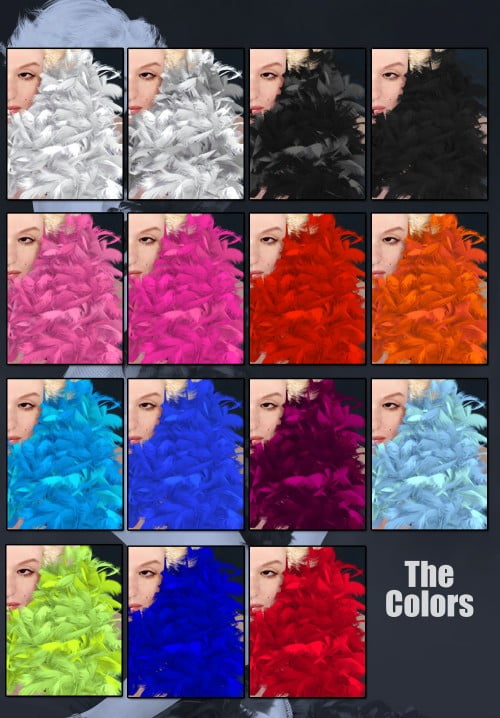 ---