SciFi Security Office and Arrest Cell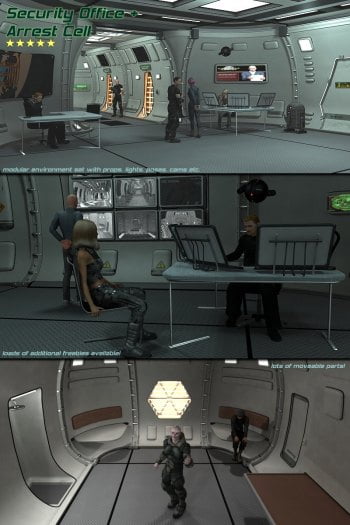 The Security in our world is in danger! The K-Azonica police cannot guarantee our?safety! So, we formed the Security Office. The guardian of our souls?and the watchmen of night.
We present you the sixt set of K-Azonica:?The Security Office and the Arrest Cell
a versatile set of three rooms, fitting together to build a flexible?imprisonment. No good time for the evil ones in our world.
As like all our sets, this set is completetly stuffed with props, lights, cams?and 32 poses for M4, V4 and S4.
We also deliver you two smartprops for M4 and V4: Handcuffs.?A complete Manual how to use this set is included.
Note: This is the equipment set! V4/M4 Figure, Clothing or Hair not included. Package will also gain value. Check my freebie section on my website for more add ons
Remark and known limitations: This product is designed to produce best output in Poser 8 and Poser 2010. It works on Poser 7 (tested) but the lights are looking a little different due to the fact that P7 cannot emulate indirect light. This product loads in DAZ with the usual limitations of lights and cameras.
The Masterdials only work in Poser 7 upward. All items are set to limitations so you can move only how it is designed to move.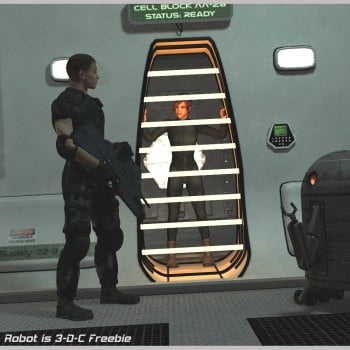 ---