SciWizard Bundle for Victoria 4 and Michael 4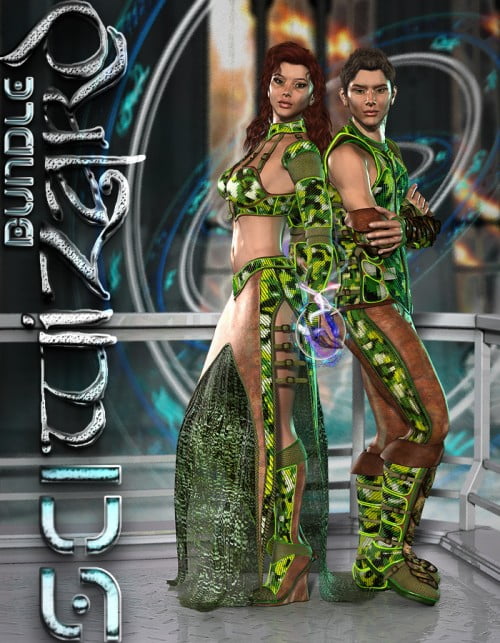 Control the elements, influence space and time and go one step beyond reality – that is what a SciWizard is born to do!
Combining science and mysticism, the old and the new together in one bigger synergetic concept.
The SciWizard outfit for Victoria 4 and Michael 4 will do just that: combine the old and the new. Classic looks combined with a new touch that will make this set at home in modern, futuristic or scifi themed renders – or add a distinctive flair to your fantasy scene.
The SciWizard cloak and brooch for Michael and Victoria is the perfect addition to the SciWizard outfit. This dynamic hooded cloak and additional accessories brooch will add just the right flair of secrecy and drama to your renders.
As the latest installation of the Gear series (started with SolidGear) this new set brings you versatility:
the top for Victoria alone can be much more than one single clothing item. With its multiple options sleeves, straps and collar can be hidden
the skirt for Victoria comes with hideable side straps as well
use the boots and gloves for Michael with our without their matching scale armor
the custom INJ pose for Michael will give you a more realistic look in his "private" area
four complete texture sets with SSS options for all conforming figures complete this set and make Michael and Victoria ready for your action!
Features:
one conforming top figure for V4
one conforming skirt figure for V4
one conforming boot figure for V4
one conforming vest figure for M4
one conforming glove figure for M4
one conforming glovescale figure for M4
one conforming pant figure for M4
one conforming boot figure for M4
one conforming bootscale figure for M4
custom morphs to fit the boots to V4 (with INJ and REM)
custom "bulge" morph for M4 (with INJ and REM) and counterparts in pants and vest figure
one dynamic cloak prop for Victoria 4
one dynamic cloak prop for Michael 4
one brooch prop with dynamic ribbons for Victoria 4
one brooch prop with dynamic ribbons for Michael 4
four texture sets for all pieces
Poser MATs for all options without SSS option
Poser MATs for all options with SSS option
illustrated PDF manual on how to use the dynamic cloaks and brooches
---