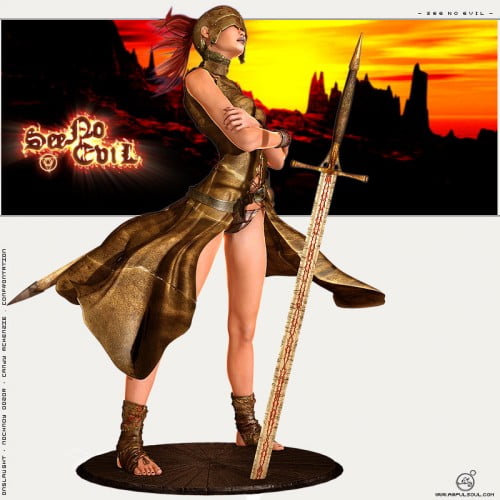 Detailed, realistic Mesh, rich in details such as folds, 3d seams and so on
-Hi-res, photorealistic textures, heavily worked on for a real worn-out feeling to them, to make the clothes look "alive".
-22 movement morphs to make the coat flow all around with natural and realistic movings.
-4 magnets for the coat, placed carefully to let you adjust the movement morphs to your character's pose, customize the included movement morphs or simply create your own quick and easily moving the magnets around.
-morphs ready MATs, 1-click poses to set the morphs and to use as reference to create your own morphs mixing the ready ones.
-6 movement morphs for the mask to move the pending parts and add realism.
-2 belt magnets to adjust the belt to your character's pose and 6 panty magnets to create custom movement morphs simply using the handles.
-Real 3d hair with 11 movement morphs to add dynamism to your scenes (more morphs, MAT ready poses for the default and 10 additional morphs and more colors are included in the free add-on package – link below).
-Some Victoria 3 body morphs to help in fitting the clothes to different characters (see below list), plus Kielo fitting morphs.
-Use of P6 shaders and displacement feature to enhance the final rendering outcome.
---