Setsuko's Saws by Third Degree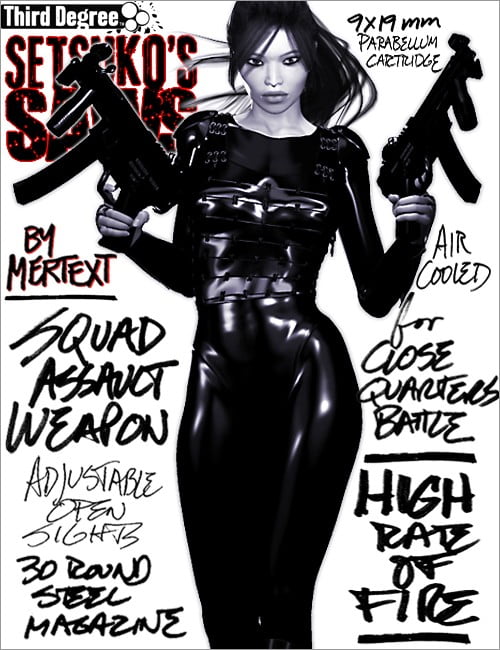 ?I was raised to believe that facing your opponent with a naked blade in your hand was honorable. The ninja way was stealth and steel. Anything more was for cowards.
Like so much of what the SanRingu taught me, this turned out to be the kind of romantic lie only a naive and cloistered orphan girl would believe. After I escaped, and after the third or fourth group of their 21st century ninja tried to cut me in half with automatic weapons, I knew I needed a gun just to stay alive. When Interpol began sending their heavily armed agents after me, I thought I?d better make it two. I had a name, an off-the grid Kowloon-side gunsmith, ?mertext.??
Pick up Setsuko?s Saws?, the new twin squad assault weapons by mertext for Third Degree?. They?ll turn Setsuko, or any V4 character into a deadly fighting machine.
These finely crafted, air-cooled guns are smart-propped for both hands and come with right and left silencers, muzzle flashes, 30-round magazines and detailed 9mm rounds with casings. Hand poses are included too. Experience 3D to the Third Degree. Get Setsuko?s Saws now!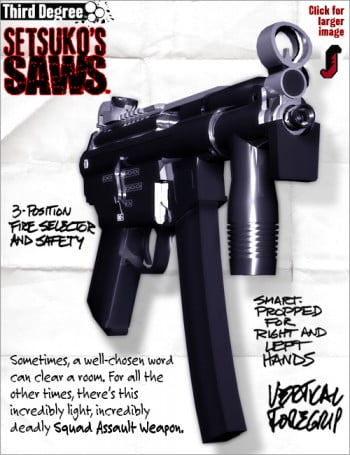 ---