Sheer and Sexy Bundle for V3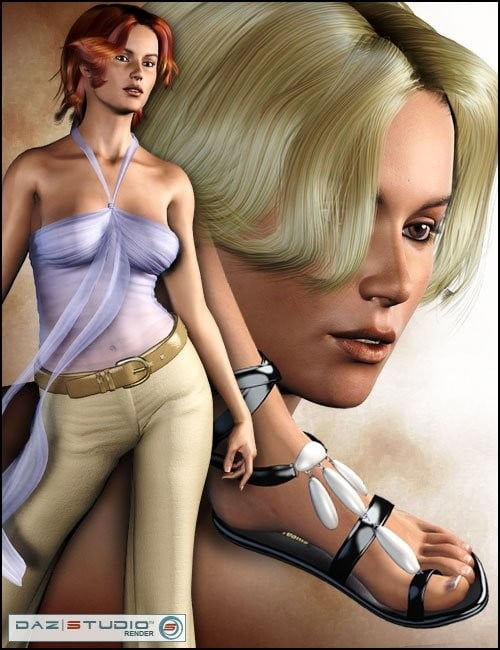 The Sheer and Sexy Bundle is a trendy collection for Victoria 3 that comes with a lovley halter top, pants, belt, sandals, and a gorgeous new hair style. All of the items included are conforming, have numerous morphs for extra versatility and come with a number of textures, helping you to achieve just the look you want. Soft and sophisticated, subtle elegance for any setting, the Sheer and Sexy bundle is in a class of its own.

Features
Sheer and Sexy Outfit

3 Conforming Figures

Belt
Shirt with Easypose and morphing ties
Pants

3 sets of textures:

Gauzy Blue
Crepe Black
Sleek Silver
MAT files for P4, PP/D|S, and P5/6

For a complete list of the Outfit Morphs

Sheer and Sexy Hair

Fits for V3 and S3
CR2 and OBJ for V3
Morphs

FIT_S3
Hair_Length
Bangs_Length
Windy
Bangs_Wind
Bangs_Wind_Left
Bangs_Wind_Right
Windy_Left
Windy_Right

8 Texture options

Sheer and Sexy Shoes

Fitted versions for Victoria 3, Stephanie 3 Petite, and Aiko 3
Seam detailing in mesh, plus stitching detail in the bump maps.
Support for the "petite" foot morph
"Sandal Foot" leg morphs that inject into the figure, so that the feet will match the sandals.
Included Textures, each with a unique stone texture and bump maps:

Red and Black Patent
Black, White and Red Fabric
White Leather, Gold Metallic Leather and Silver MetallicLeather
Teal-Green Gator, Chocolate Gator
White or Black Pearl stones, can be used with any of the above

Material Poses Included for easy application
Injectors and Removers for exclusive "Sandal Foot" leg morphs, plus manualy applied versions for Aiko 3 L.E.
---