Sickle Classics Genesis: Pants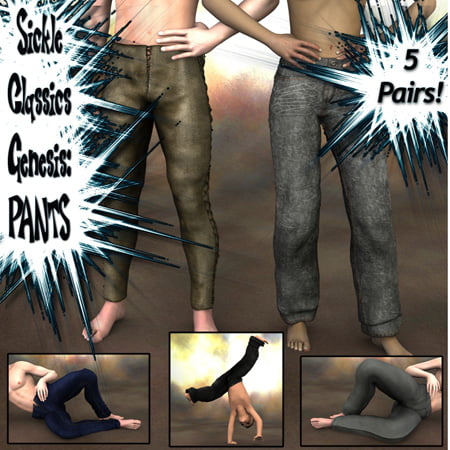 You've got Genesis and DAZ Studio 4! And now your men, women, children and creatures have nothing to wear? This won't do. SickleYield now brings you what SickleYield is best known for: pants!
This specially-priced set includes the converted:
Sickle Skinny Jeans
Sickle Straight-Leg Jeans
Sickle Baggy Jeans
Sickle Baggy Jeans Boxers
Sickle Dress Pants
Rogue Armory Pants
One texture with bump maps and .dsa shader is included for each pair. The rest of the textures that originally came with the M4 and V4 versions are offered free as a download – be sure and check the Editorial tab for the link at Rendo and the bottom of the product entry at PoserAddicts! Not only that, but UVs are conserved from the V4 and M4 versions, so those of you who bought texture packs for those can still use them with your Genesis versions.
All pairs were tested with Genesis Basic Male, Female and Child, Genesis V4 and M4, Genesis Creature Creator, Genesis David, and Genesis Iconic Shapes (as well as selected shapes added with Dimension3d Gen 4). Customs are added for the very distorted morphs like Ogre – otherwise the amazing weight mapping system takes care of clipping! Thanks to this system, even your Gen4 characters like She-Freak 4 work beautifully.
Every single pair has the custom movement and extra morphs it originally had – some have more! Every pair can be dropped and the fly unzipped (except the boxers, which have no fly but can still be dropped). See the editorial tab for a full morph list!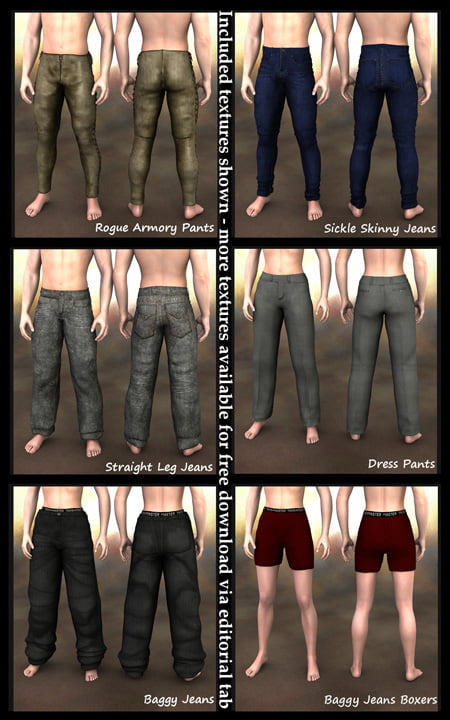 ---