Sickle Classics Genesis – Shoes 01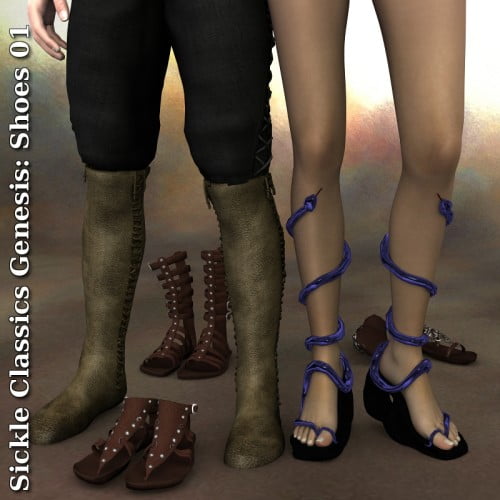 Oh no! Genesis has nothing to wear! SickleYield has brought you an economically priced pants pack, and now here are some shoes to go with it. With ten total pairs of boots and shoes, Genesis never need set out half-shod.
This specially-priced set includes the converted:
Rogue Armory Boots
Six Sickle Sandals
Ophidia Shoes
All textures from the original products are included in .dsa format, with all bump and ref maps. There is nothing additional to download! It's all here.
All pairs were tested with Genesis Basic people, Genesis M4 and V4, Genesis David, Genesis Creature Creator, and Genesis Iconic Shapes. Custom morphs are added for very distorted morphs; otherwise the DAZ Studio 4 weight mapping system takes care of all fitting! There is NO clipping with Genesis in any pose with any morph thanks to this new technology.
Each pair of shoes has the extra morphs it came with recreated, and for those that didn't come with any, prop and (where relevant) unbuckle morphs have been added in! This set actually has MORE than any of the original products in it.
Pick up these attractive, versatile and inexpensive shoes for your Genesis people today!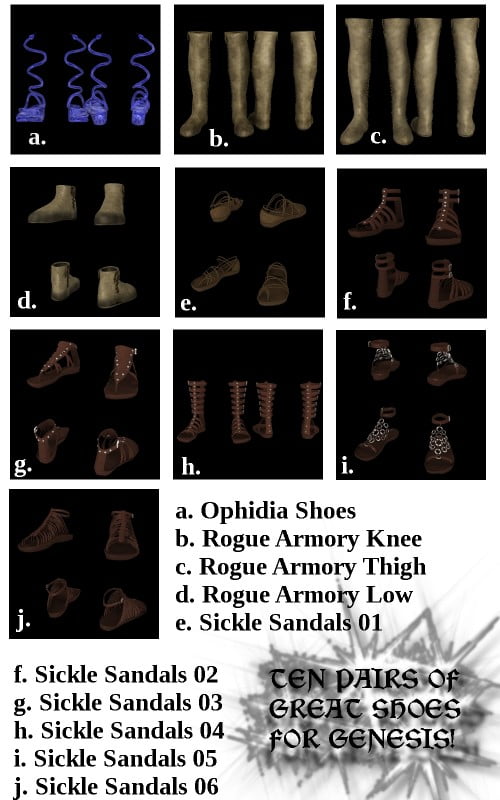 ---