Sickle Classics Genesis: Tops 01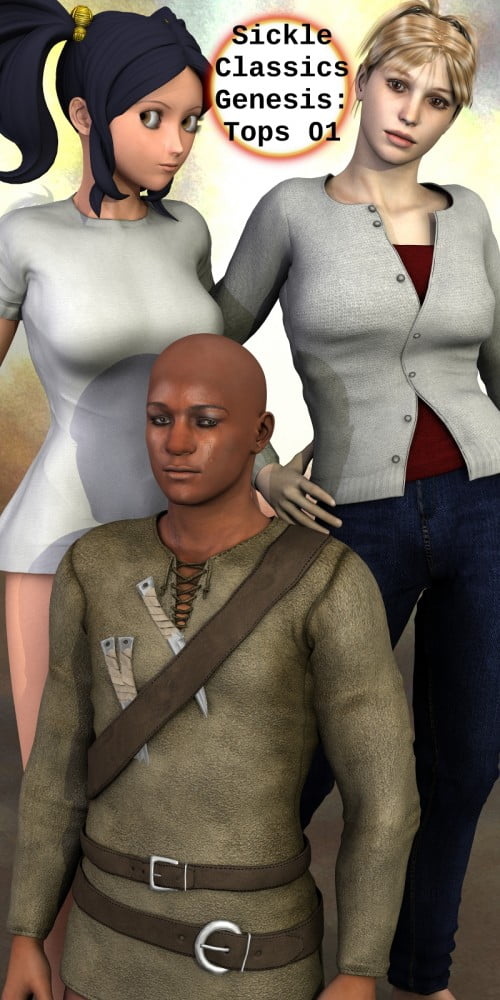 SickleYield's products for Genesis began with the Sickle Classics Pants Pack and continued with the Sickle Classics Shoes 01. Now SickleYield brings you tops for Genesis!
This specially-priced set includes the converted:
Rogue Armory Tunic (with ALL belts and accessories)
Sickle Twinset
Sickle Super Tee
All textures from the original products are included in .dsa format, with all bump and ref maps. As with ALL Sickle Classics products, because the UV maps have not changed, you can use all of your previously purchased texture packs and freebies for SickleYield products, including Danmoria's beautiful lux work for the Rogue Armory pieces!
All pieces were tested with Genesis Basic people, Genesis M4 and V4, Genesis David, Genesis Creature Creator, and Genesis Iconic Shapes. Custom versions of these FBMs were created for those that would look distorted otherwise. If you want your unique Freak/David dialed character to have a great tee shirt or the Goblin to have a sneaky rogue tunic, you can do it!
Each of the seven pieces comes with the extra morphs it had recreated, plus updates and improvements new to this version. JCMs and the DAZ4 weight mapping make poses and actions possible as never before. The tee shirt can be pulled up, the cardigan unbuttoned, the straps on the tee moved around, the tunic flaps blown about and raised and lowered!
There's an unbelievable amount you can do with these pieces, and you will hardly ever see this much quality, well-supported content for this price. Pick up your Tops for Genesis now!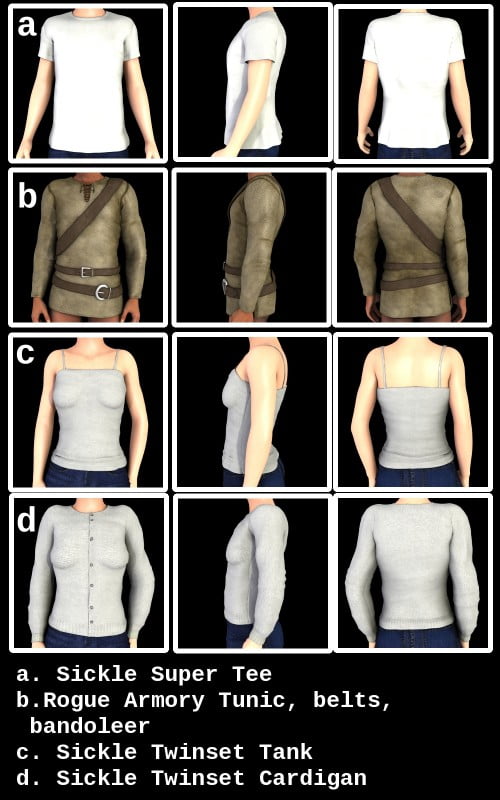 ---