Sickle Straight Leg Jeans V4A4S4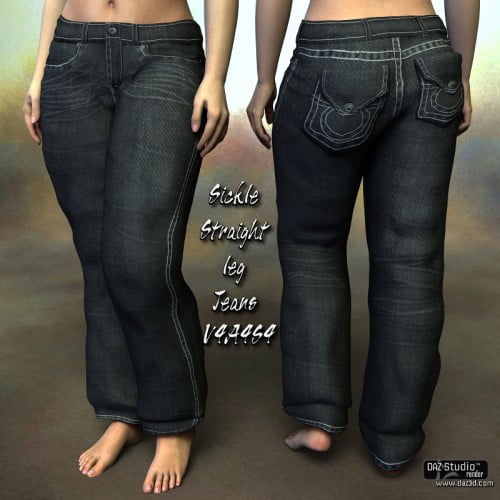 Walking down the mall or the sidewalk, strolling or sashaying or just hanging out, you'll find the women who wear straight leg jeans. Now Victoria and Aiko are ready for any casual occasion with these jeans, and their friend Stephanie can come along! Featuring numerous extra morphs (see pics for list), custom support for V4 FBMS, and fits to Aiko 4 as well, they're ready for any occasion.
These jeans are one superconforming piece with more than 20,000 sculpted polygons for an ultrarealistic look and feel. There's a morph to add wrinkles behind the knee when walking and moving, and all morphs are under your total control for the highest degree of precision when posing and animating. Two "prop" poses are included for laying the jeans out flat in a realistic way. Even the pockets and fly can be opened individually!
There are five texture colors, each with a white stitched and a yellow stitched version, for ten textures in total. They are highly realistic at 2048×2048, with painstakingly hand-painted shading and bleach detailing. No shortcuts have been taken in providing total support for both DAZ Studio 3.x AND Poser 5 and up. There are fully custom .pz2 and .dsa mats for each and every texture, and the appropriate program's material will load when you click the icon in the MAT pose folder.
When nothing but the most comprehensive morph support will do for your renders and animations, when you need touchable textures and a price that won't hurt your wallet, you need SickleYield Morphing Clothes. And when Skinny Jeans are too tight and Baggy Jeans are too loose, you need the Sickle Straight Leg Jeans!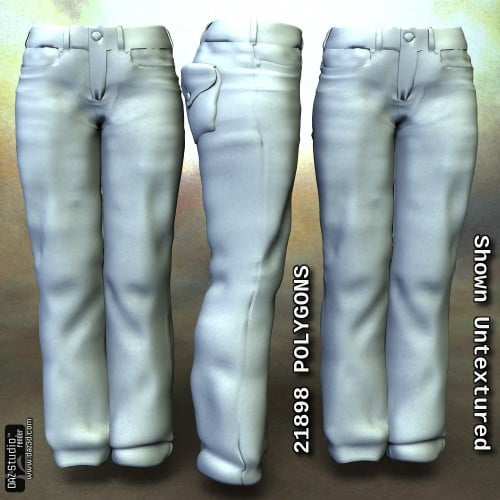 ---