Sickle Super Heels Genesis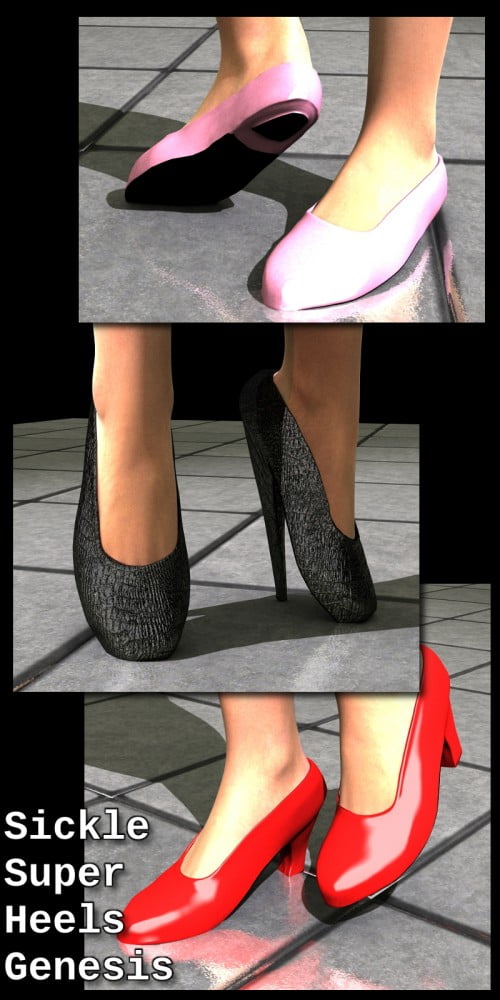 (This product is for Genesis in DAZ Studio 4.)
Pretty and practical or sexy and outrageous, the Sickle Super Heels are ready for all your Genesis ladies!
Featuring custom fits for Genesis V4, V3, V5, A4, A3, and Girl 4, plus pokethrough fixits, this pair of pumps fits a large variety of characters. That's not the best feature, though – that would be the incredible flexibility that you get with the extra morphs. The heels can be flat, short, medium, high, very high or extreme stiletto, and foot poses are included to match each one! You can thicken or thin the heels, too.
Not only that, but a morph for Genesis is also included, to bring in the toes as they would be inside a shoe. This enables a more realistic shape to the toe area than would otherwise be possible.
Fifteen .dsa mats are included, featuring seven colors in glossy patent leather and reptile skin looks plus a clear vinyl preset. Mats were created in and are optimized for DAZ Studio 4.
Custom morphs included:
Clip Fix Front
Clip Fix Heel
Clip Fix Sides Heel Flat
Heel Low
Heel Mid
Stiletto Extreme
Stiletto
Thicker Heels
Thinner Heels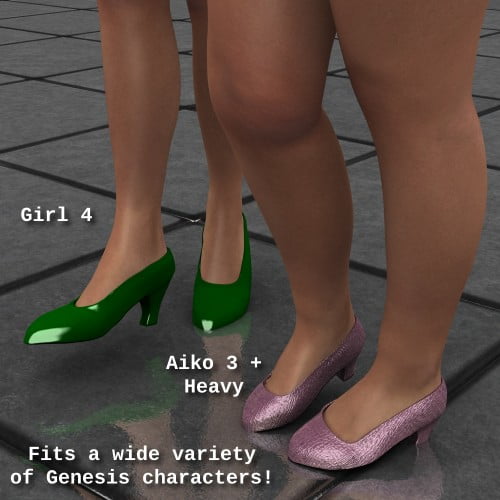 ---