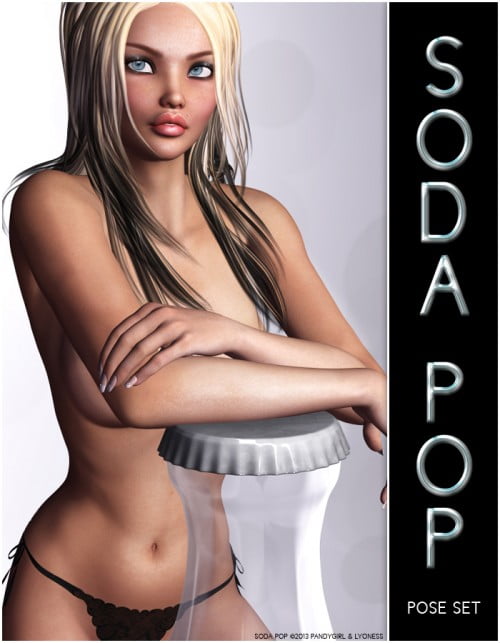 SODA POP is a P&L Production mini set for a sexy pinup look.
With this affordable set, you have a sure fire way to create gorgeous pinups. Nothing is more sensational than your girl having something to do as she struts around in your render/photo studio. Now she can pose around an authentic looking over-sized soda bottle. What a powerful look!
Unlock the pinup style and spotlight your girl's sexy pinup portfolio with Soda Pop at a bargain price.
WHAT YOU GET:
03 Geometry Files
08 Poses (*.pz2)
01 MatPoses for DazStudio (*.dsa)
02 Props (*.pp2)
Be sure to read the readme for notes and tips!
Additional Notes:
DS HINTS:
*Be sure to apply DS Glass Shader to bottle for optimum results, found in the ../POSE/P&L Soda Pop folder.
*Sizing poses do not work within DS, manually apply bottle size as written in the bottle pose thumbnail. Afterwards, I use cntrl-D to quickly place bottle on the floor again.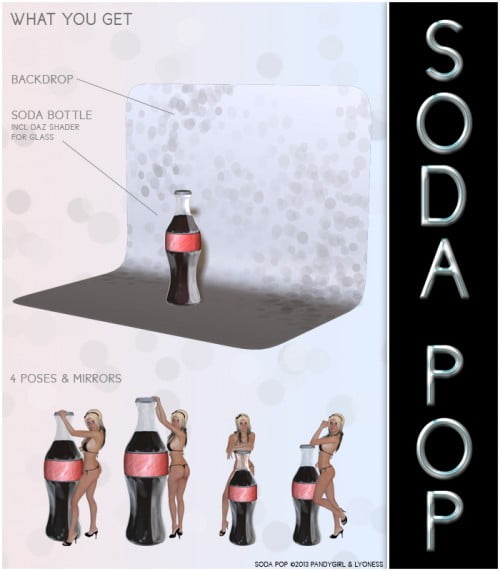 ---