Songbird ReMix: Shorebirds Volume I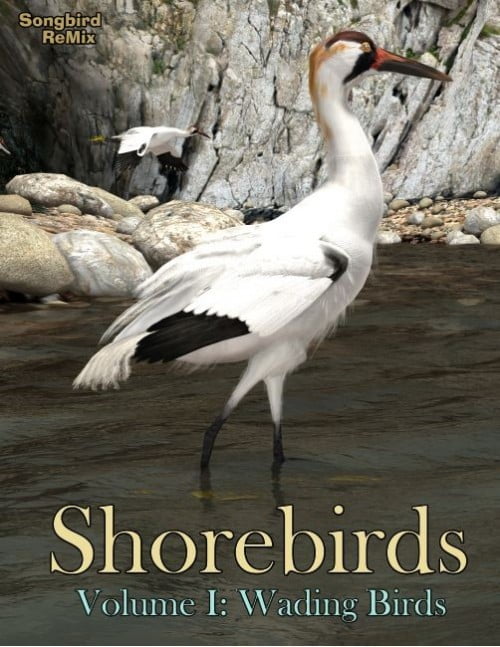 Songbird ReMix Shorebirds Volume One: Wading Birds is the first part of a three volume Set encompassing birds commonly found in freshwater and coastal wetlands throughout the world. ?Wading Birds? focuses on larger waders from the majestic Great Egret and Whooping Crane to the lesser known Painted Stork and Jabiru (Stork). Also included is the Sacred Ibis that the Ancient Egyptians revered and the infamous White Stork of the baby delivery legend as well as the flamboyantly pink Roseate Spoonbill.
All birds in this package use the Songbird Remix technology which means you can animate them from a standing pose to full flight, plus have scores of morphs for customization. Any of the birds from this package are worthy centerpieces in any form of imagery.
Models(.cr2/.obj formats)
SBRM3 WF4 (Egret) Base
SBRM3 WF5 (Heron) Base
Bird Species (.pz2, .duf and .dsa formats)
Egrets
Great Egret
Cattle Egret
Snowy Egret
Little Egret
Reddish Egret (Dark Morph)
Ibises
Sacred Ibis
Spoonbills
Roseate Spoonbill
Royal Spoonbill
African Spoonbill
Storks
Painted Stork
Jabiru
Wood Stork
White Stork
Cranes
Sandhill Crane
Whooping Crane
Poses: (.pz2 format)
Crane Classic
Egret Classic1
Egret Classic2
Ibis Classic
Jabiru Classic
Wader Feed1
Wader Feed2
Wader Flight1
Wader Flight2
Wader Landing
Wader Preen1
Wader Preen2
Wader Stand1
Wader Stand2
Formats
Consolidated Poser 6+ and DAZ Studio 4.5+ Bird Character Presets (.pz2/.duf)
Legacy DAZ Studio3 Bird Character Presets Available in the Separate Legacy Folder
Field Guide and Manual in .PDF format (Includes detailed information about behavior, nesting and range)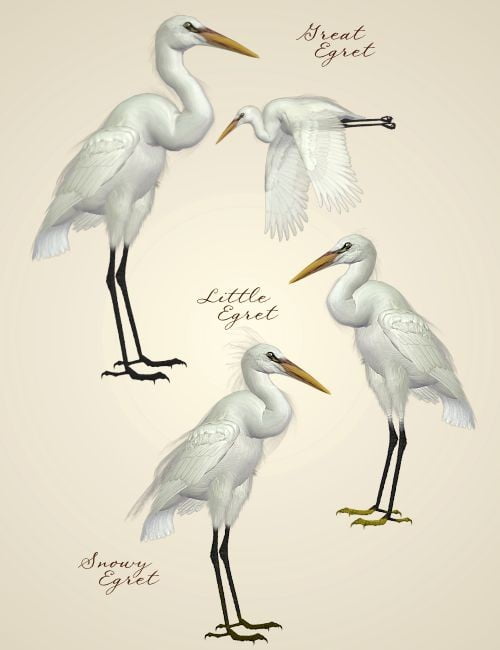 ---