SVs Cord Wrap Choker Jewelry Set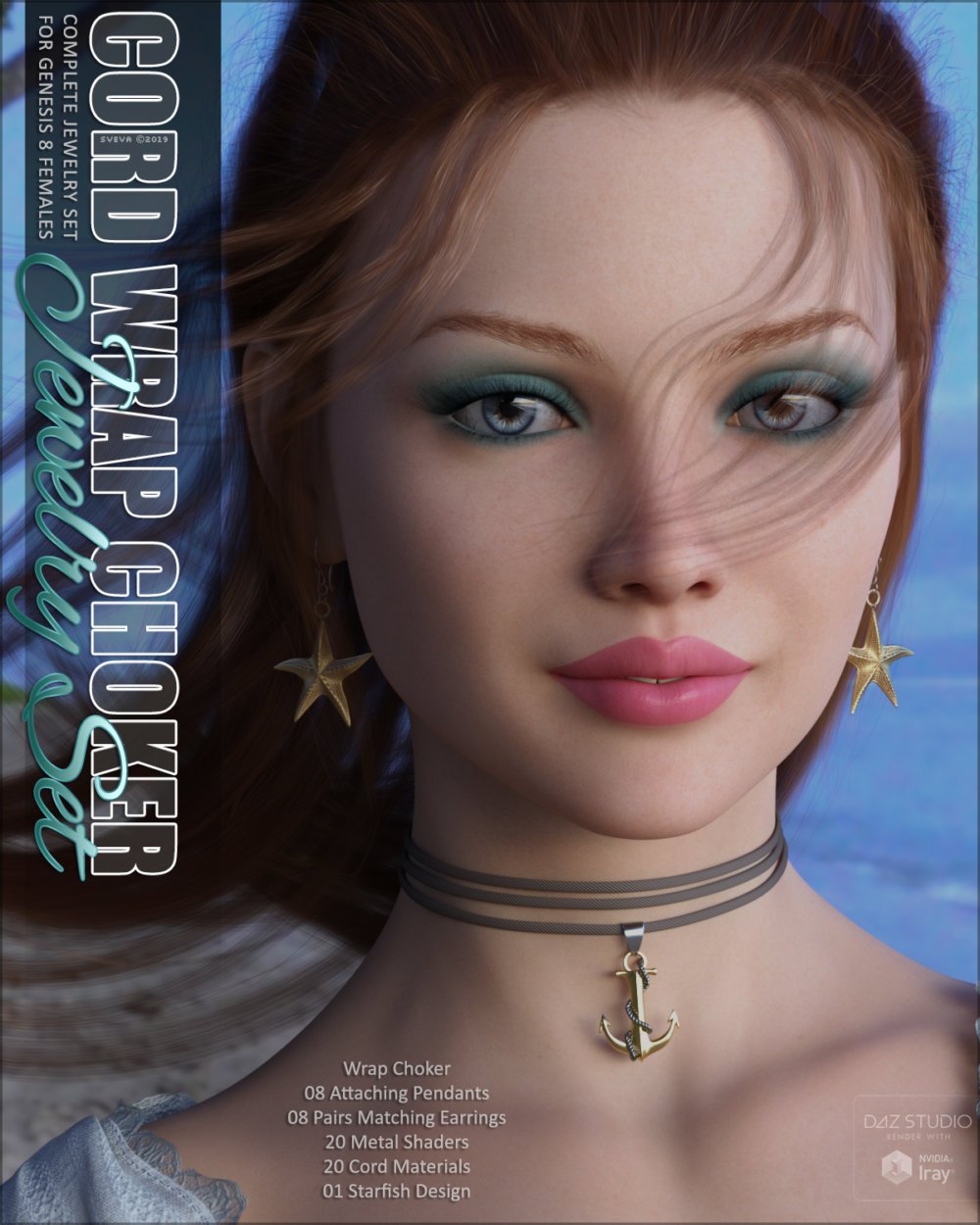 ---
SVs Cord Wrap Choker Jewelry Set
SV's Cord Wrap Choker Jewelry Set for Genesis 8 Female(s)
Whats Included:
– 01 Conforming Choker, follows G8F (figure)
– 08 Pendants that attach to the Choker (figures)
– 08 Pairs of matching Earrings (props, rotate at the ear lobe, rotation dials are labeled)
– Special Weight Mapping is in place to avoid distortion on all pendants
– 07 Adjustment morphs for every pendant
– 25 Adjustment morphs for the choker
– See the bottom of this description for complete list of morphs, or see the readme.txt file
– 12 Materials for the Choker, some of which are "any color"
– 20 Metal Shaders, (shiny/matte), these have been adjusted from previous sets and now included more options!
– 01 Starfish design, apply your metal color and you then apply the Starfish Design when using the Starfish Pendant
– You first select G8F, load choker, select choker, load pendant of choice
– Tip instructions are included inside the library
– You may choose to install the figures/props where you like, but they will unzip to Clothing > Sveva > !Jewelry you can move this folder to accessories if you want, so long as you do not move the Runtime/Data folders.
*Choker will follow G8F naturally, in some cases you may need to use the included adjustment morphs for the choker and/or pendant, pendant moves with choker/G8F and you can use the included pendant morphs to make larger/swing left/right etc.
Features:
– Complete set with matching earrings & pendants
– Necklace Conforms to G8F and will move with her, adj morphs are included
– Pendants attach/conform to necklace, each pendant includes 7 adjustment morphs
– Pendants should not "deform" or "warp" due to custom weight mapping
– Created exclusively by Sveva, rendered in Daz Studio with the Iray Render Engine
– Some pendants have been remodeled from previous sets to include in this set for G8F
– Expect add ons including additional pendants and earrings!
– Each Pendant Includes 07 Morphs, each set is named after its pendant name, so I have substituted "Pendant Name" below –
PendantName_Forward.dsf
PendantName_Larger.dsf
PendantName_LargerAll.dsf
PendantName_SwingIn.dsf
PendantName_SwingLeft.dsf
PendantName_SwingOut.dsf
PendantName_SwingRight.dsf
– Choker Includes 25 Adjustment Morphs –
Adj_Back.dsf
Adj_BackLeft.dsf
Adj_BackRight.dsf
Adj_Front.dsf
Adj_Front_Down.dsf
Adj_LeftBack.dsf
Adj_LeftFront.dsf
Adj_LeftSide.dsf
Adj_RightBack.dsf
Adj_RightFront.dsf
Adj_RightSide.dsf
Adj_SingleBottomCord_Front.dsf
Adj_SingleBottomCord_Left.dsf
Adj_SingleBottomCord_Right.dsf
Adj_SingleBottomCord_SidesOnly.dsf
Adj_SingleCenterCord_Front.dsf
Adj_SingleCenterCord_SidesOnly.dsf
Adj_SingleTopCord_Front.dsf
Adj_SingleTopCord_SidesOnly.dsf
Expand_All.dsf
Expand_Front_Back.dsf
Expand_Sides.dsf
Expand_Vertical_Larger.dsf
Expand_Vertical_Smaller.dsf
Tighten_All.dsf
---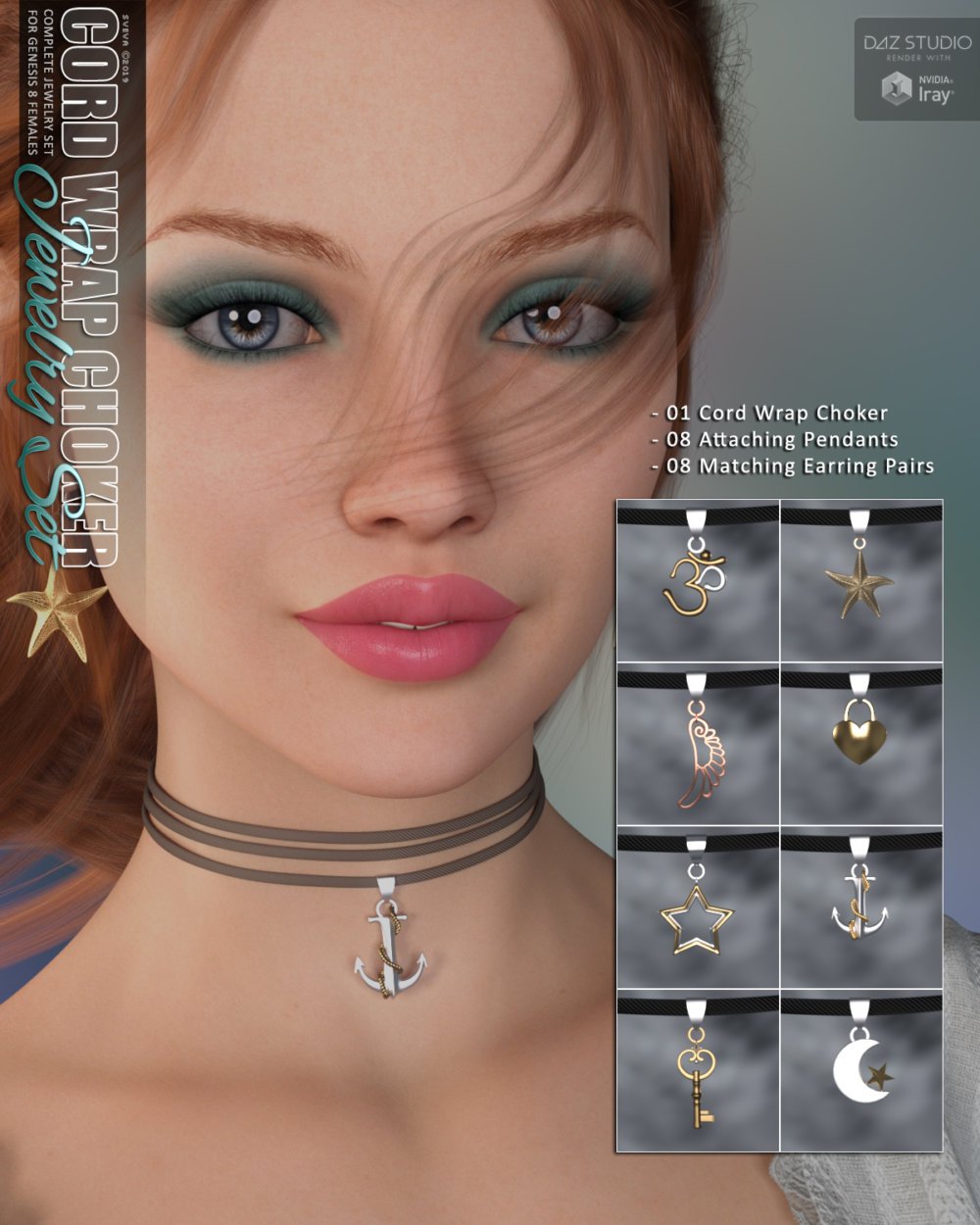 ---