T.I.F.F. – True Integrated Female Freak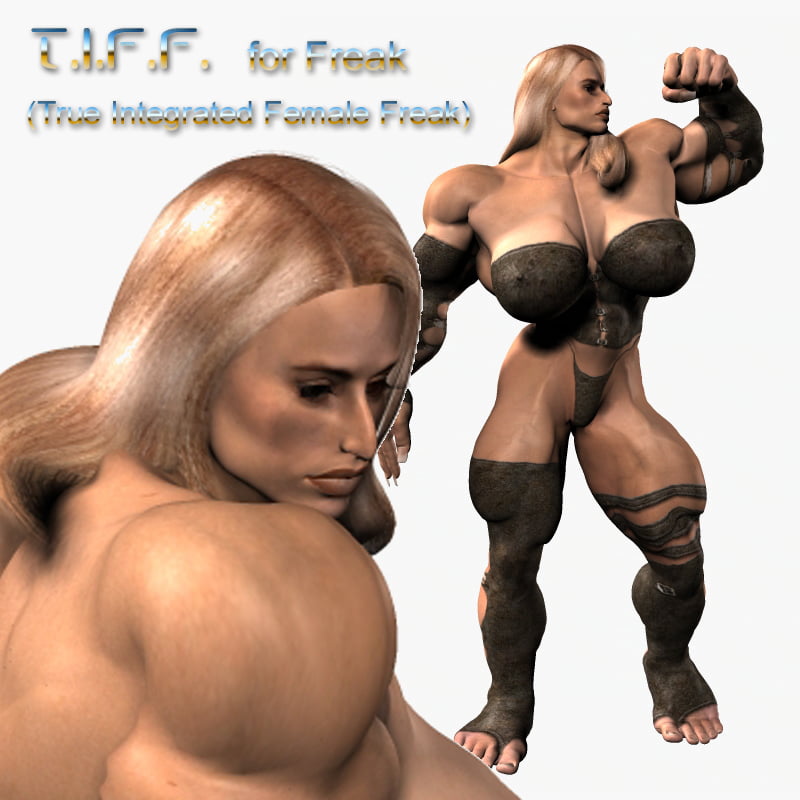 T.I.F.F. – True Integrated Female Freak
For those wanting women with more power and greater bulk, or looking to create female versions of fantasy characters such as cave trolls, over-sized orcs and the like. T.I.F.F. uses INJ morphs to turn Freak into a large muscular female counter-part and works with all of Freak's morphs and maps. Most of Freak's clothing and accessories should also work BUT you will need to apply magnets to the chest area of clothing for them to fit correctly or use a program such as Tailor or PhilC's Wardrobe Wizzard to transfer the T.I.F.F. morphs to the clothing. You may be able to get this product to work with earlier versions of Poser (ie Poser 4) but the thumbnails will not work and as such you'll have the picture of the shrugging figure in their place. T.I.F.F. is the culmination of quite a few month's work and research to provide a product that looks like a female counter-part to Freak with the same features as Freak. T.I.F.F. also comes with some extra INJ morphs to give greater versatility and some extra options with body-shaping. Morphs include – TIFF full body morph INJ and 28 extra morphs some of which are listed here (full list in Readme). Breast Lie Down, Breast Lift, Breast Natural, Breast Rotate In, Breast Size 1, Breast Size 2, Breast Size 3, Breast Top Slope, Hip Narrow, Hip Small, Pregnant. There are no textures included in this package.
---