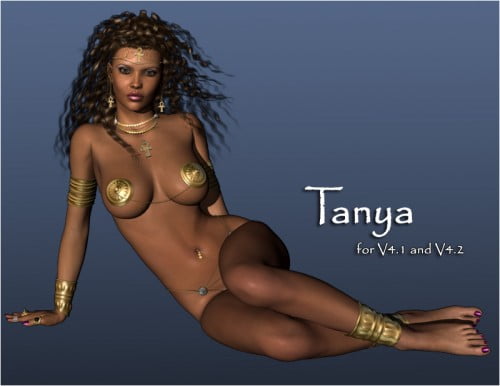 Introducing Tanya, a sexy, exotic new character that will breathe fresh, new beauty into V4.
Tanya was carefully crafted for a distinctive, unique look to your renders. Her deep golden skin is highly photo realistic, very detailed, and takes any light beautifully. You can use Tanya's skin with shaders or without, and she comes with bump, displacement, and specular maps. Her base face texture is natural, without makeup, and she comes with 8 makeup options, 7 lip color options, and 6 nail color options to create any look, from sultry and seductive to fresh and natural.
Tanya is a beautifully unique character and will instantly become a favorite in your library when you want something truely different.
And of course, she could not make an appearance without her gold fantasy ensemble, fit for any goddess.
Tanya's package includes:
– 1 body morph and 1 face morph + REMS
– 1 head texture, 1 torso texture, and 1 limb texture, with bump maps, displacement maps, and specular maps for all
– 4 eye color textures + eye surface map, bump, reflection, and specular maps
– 8 makeup options
– 7 lip color options
– 2 lash options, natural or glamourous
** All mat poses for skin and makeup include shader and non-shader versions.
7 Conforming Fantasy Items:
– necklace
– breast cups
– arm cuffs
– bracelets
– naval piercing
– thong
– ankle cuffs
6 Smart Props:
– crown
– earrings
– nose stud
– 3 rings, with fits for each hand
All conforming items and propers fit the V4 default figure, and contain plenty of V4 morphs and also custom fitting/helper morphs, for a perfect fit for any character. Also in cluded is a "Tanya Clothing Fits" library to use for a "one-click fit" when using with Tanya's morphs.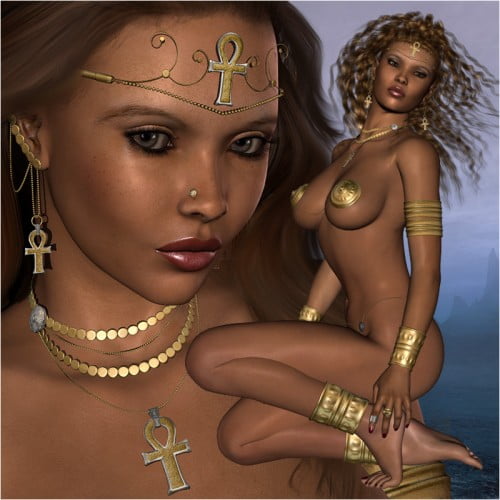 ---