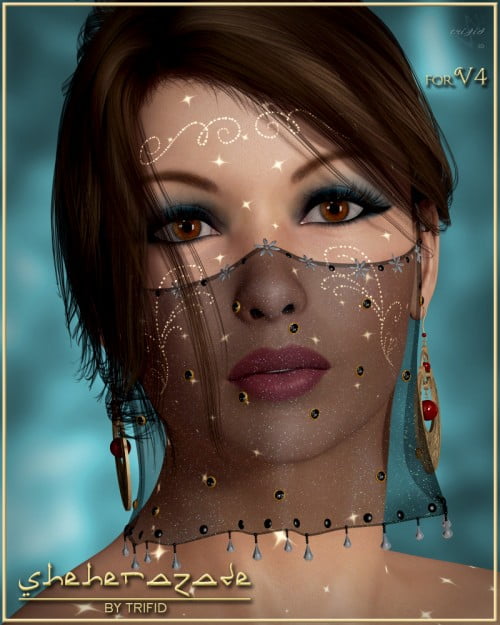 Sheherazade is a character package for V4.2++ with options for Human and Fantasy Skin.
The Fantasy option comes with stars and swirls ornaments on her skin that will glow all around?her body and face independently of the actual light settings. Please see the ReadMe-File for details.
Both Human and Fantasy options are available as regular Mat shader and SSS-Mat shader.
Package includes:
MORPH
– 01 Morph Pose INJ File for Head
– 01 Morph Pose INJ File for Body
– 01 Morph Pose REM File for Head
– 01 Morph Pose REM File for Body
SKIN OPTIONS
Human and Fantasy, both provided as regular and SSS Mat shader
For each skin shader option you will get:
– 01 Full-Body-Material Pose File
– 08 Make-Up options
– 11 Lip colors regular
– 11 Lip colors glossy
– 08 Eye colors
– 01 Eye low reflection
– 01 Eye high reflection
---