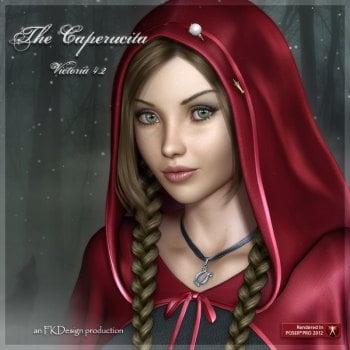 Intended for Poser 6 and Up, optimized for Poser 7 and Up.
NOT FOR DazStudio but read Online Readme File for important info about that.
This product was not tested on DS.
WHAT YOU GET:
01 Hyperconforming and morphing Hood figure.
01 Dynamic Cape object (already draped).
01 Bow (smart parented prop)
01 Pin for Left (smart parented prop)
01 pin for Right (smart parented prop)
12 Fabric Materials
24 Pz2 and Mc6
06 Metallic materials for Pins (Mt5 and Pz2)
06 Satin Materials (Mt5 and Pz2)
03 Sample Poses for the Hood (Size and Relax)
04 Style poses for the Hood and Pins (R and L)
01 Inj and Rem for V4.2 and A4 "Clothing Chest with real tension)
02 Graphic Tutorials for using dynamics!!!!
SPECIAL BONUS FOR OWNERS OF JANNIKA'S CHARACTER PACK FROM FKDESIGN ALSO:
08 Second Skin files simulating a black bodysuit.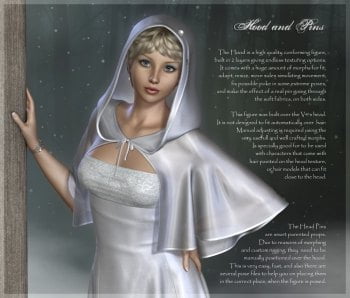 ---