The Girl Next Door 2: Athletic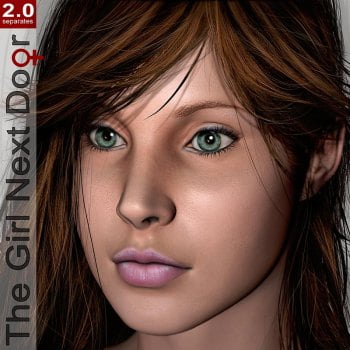 The Girl Next Door 2: Athletic is designed to be mix and matchable to give Daz3D's Victoria an entirely new look that commands attention.
Gone are the days of V3 being instantly recognizable in a render, these morphs give her body an anatomically correct and individual look as well as faces that are attractive and as 'un-Vicky' as possible. Included is a light version of my popular BlackEyes eye replacement props and textures, which offer more realistic eye geometry and are compatible with any BlackEyes textures in the marketplace.
V3 morphs can also be injected on top of these to allow further customization.
The athletic, lithe body morph included in this pack looks great in a classic fine-art nude render, but is equally at home hefting a 4′ broadsword or assault rifle. Finally a heroine that can look like she's been roughing it in the Congo for the last decade as opposed to sitting in a cubicle in an office building. It was painstakingly custom morphed based on an actual human model of the same age and same measurements, and for this reason has taken me far longer to create than any morph to date. It is an anatomically correct, accurate reproduction and is a refreshing change from the shapeless default V3 body.
This type of custom morph is impossible to create in poser with mere dial twists or magnets.
The skin texture is lightly freckled and naturally tanned, with handpainted makeups and lipsticks that can be mixed and matched for different looks.
INCLUDES::
-full custom 'athletic' body morph in convenient INJ pose format
-natural custom head morph INJ
-3072×4096 tanned, lightly freckled caucasian photorealistic body texture
-3072×2089 'bernadette' head texture
-custom painted mascara lash maps
-mix and match makeup with 10 lip gloss textures and 5 eyeshadow/eyeliner maps
-embedded with BlackEyes eye replacement geometry

---