Whether it's an Zombie Attack, Alien Invasion, Talking Monkeys, World War 4.1, or Giant Farting Penguins, now you can some bring some destruction to your poser people with the Ruined City set.
Containing over 30 models to make a whole ruined city with buildings, accessories and rubble sets, this set is also the first time a Poser model has been mostly created by a new model making technique.
All of the rubble, all broken walls, floor and glasses and some of the buildings meshes, have been automatically generated using a series of Perl scripts written by Kastaway. These parts have assembled and textured by MrSparky using reference photos taken by engineers who analysis building damage.
The result is an amazingly detailed set containing the following buildings, which can be loaded as a complete city set (without accessories) or as individual models. The complete city loads either as a set of props on a ground/road base or as a single mesh.
1 Shopping Centre.
1 Blasted Building.
1 Drive thru Burger-Bar.
1 US Capitol Style Building.
1 Bank
1 Skyscraper.
1 Mini Mart.
1 Hotel.
1 Gas Station.
4 Tower Blocks.
1 Ground/Road base.
2 Riverbeds (each with 3 texture sets).
3 Building Skeletons. These can placed either on the ground or on top of other buildings to give extra detail to your renders.
2 Bridges: 1 complete one and 1 broken model with rubble on the riverbed floor.
Plus it includes the following accessories for detailing your scenes:
1 Street Lamp. 2 sets of telephone poles: 1 with modelled wires, and 1 broken set. 1 telephone pole with no wires.
7 Rubble Sets featuring bricks, cinder blocks, planks and poles.
3 of the rubble sets have ground bases and 2 are loose piles of debris without bases. Plus there?s 1 quarter piece for fitting into corners and 1 half for placing against things.
As with all products by MrSparky special care has been taken with the textures and many of the maps in this product are from CGTextures.com.
Due to the large number of models in this pack, the product comes with low-res [1024×1024/512×512] texture maps. A 20MB set of high-res [2048X2048/1024×1024] maps can be downloaded for free from:
www.sparkyworld.co.uk/addons.htm
For artists who like displacement maps, to ensure compatibility with Daz Studio, Carrara and Vue and to give maximum enjoyment and flexibility, the product comes with 2 sets of models. One set with no bump maps and 1 with bump maps.
The Bump maps are 1/2 scale, 100% P4/PP .JPG format so advanced artists can easily adjust them to suit their needs.
Please note: this set does not include: famine, earthquakes, plague, typhoons, pestilence, locusts or 4 skinny blokes on horses. These are subject to availability in your area and current government policy.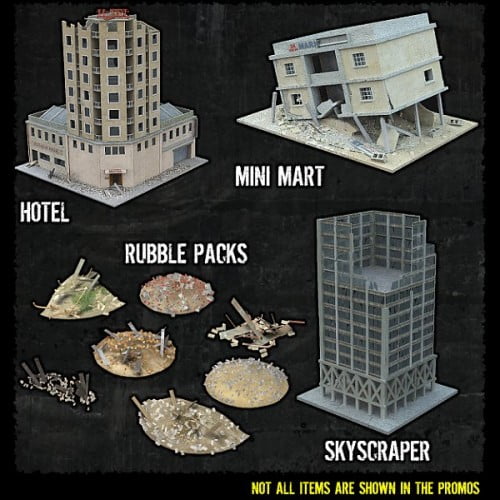 ---