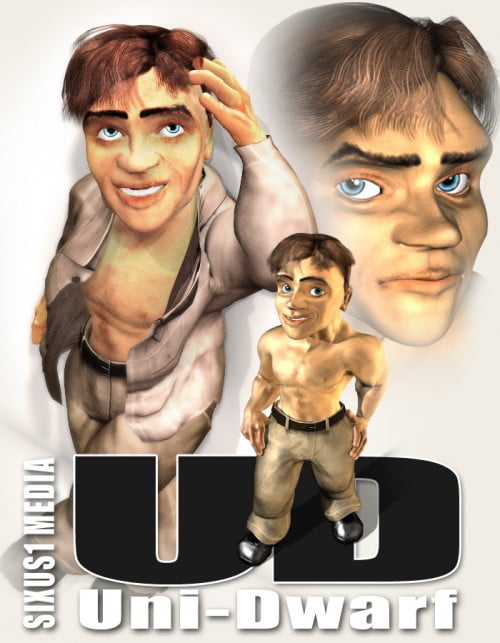 The Uni-Dwarf is the latest 100% original figure from veteran Poser and Daz Studio content creators Les and Rebekah Garner aka Sixus1 Media. This wonderful little fella is a fully featured figure right out of the gate, shipping with a full suite of textures including color, displacment and normal mapping, a variety of material presets for Poser versions 6 and up, plus a form fitting, conforming bodysuit, complete with an extremely versatile array of material zones and a "shirt, pants and shoes" texture/displacement/normal map material setup and ready to render.
The bodysuit also includes various magnets to assist you should you need to make tweaks in the event of a particularly precarious pose, and there is even a bonus developers rig, ready and waiting as a the basis for your own Uni-Dwarf add ons. Also take note that our licensing allows users to use the textures, body suit and dev rig as the basis for their own commercial products, completely royalty free!
Quite possibly the most actively support Sixus1 Media figure to date, "Uni-Dwarf Technology" can already been seen in prime use as the basis of the entire Goblinz product line. Every piece of clothing for the Goblinz base figure is compatible with the "Uni-Dwarf", as are the textures, poses and the majority of the morphs (some variations do occur do the different in the shape of the underlying Goblinz mesh from that of the actual Uni-Dwarf). Also, the Uni-Dwarf provides the foundation for the bulk of the products in the newly expanded Cirque Du Macabre line, soon be released through Runtime DNA.
The Uni-Dwarf is the base figure behind new versions of the perennial Filthy, Stinky, Santini and Ringmaster characters coming soon, so having this little guy gets you ready for the onslaught of our coming circus insanity. And let's not forget the new additions coming as well: Blinky, Drippy, Toodles, Half-Shot: The Pint Size Cannonball, The Knife Thrower and many, many more. And with more developers coming on board to help usher in the new era of Manic Uni-Dwarf Madness, we're sure this spunky li'l fella will provide that certain spark of life that might have been missing from you Poser and Daz Studio runtime.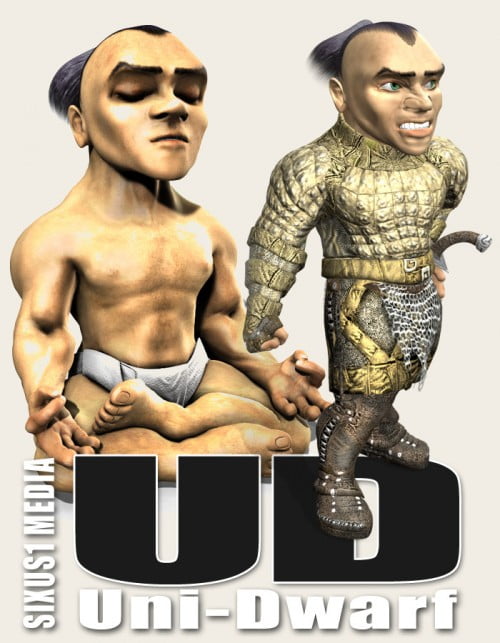 ---