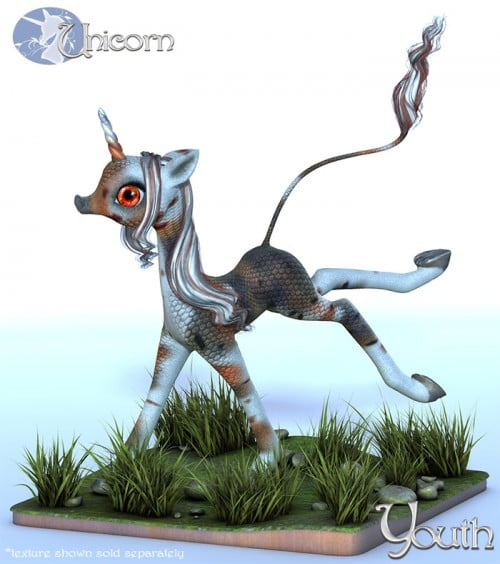 Poser Version: (Poser 9 (2012) or above only!)
the Unicorn Youth (weight mapped cr2 and obj)
Youth Mane (cr2 and obj)
Youth Tail (cr2 and obj)
Daio's Incredible White Unicorn Textures
White Materials for the entire set (mc6)
2 sample body poses for the Youth to match her Mother's
Daz Studio Version (DS version 4.5 or higher):
the Unicorn Youth(Triax version .duf files)
Youth Mane (.duf)
Youth Tail (.duf)
Daio's Incredible White Unicorn Textures
UberSurface Mats for the White Unicorn.
2 sample body poses for the Youth to match her Mother's
Additional Notes:
COMPLETE FIGURE! You do not have to purchase her mother to make her work!
The Youth CAN wear her mother's textures!
The Youth CAN use her mother's poses, very rarely needing adjustments.
Each piece has been individually and specially rigged. No automatic converters with chancy results are relied upon to make the fits for you, these were fine tuned to work flawlessly for each system supported.
UVmaps were created in Uvlayout for her mother, so there may be some slight stretching here and there to accommodate the youth's body differences. A Left and Right side overlaying each other allowing for nearly seamless textures but give the option of non-symmetric mapping for the body.
Hair has been mapped on a rectangular basis to allow for ease of texturing.
All hair parts have extra joints to allow for positioning and flow.
Poses for the Unicorn work in both DS and Poser! Compatibility insured on both parts.
Credits: Mild Boreal Lights by FKStudios, AS-Big Rock (minus the rock) by AerySoul, Other textures show are by Daio.
This product ONLY contains the Basic White Unicorn Texture. The Tiger, Paint, Kirin, Leopard etc shown in several of the promos are sold separately. They are only shown to illustrate the Youth's ability to take her mother's textures and poses.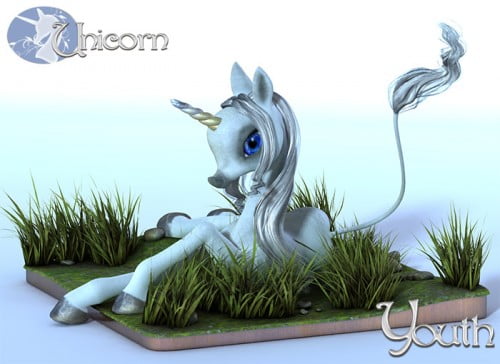 ---