The Ultimate Guide to Creating Complex Outfits (Part 4)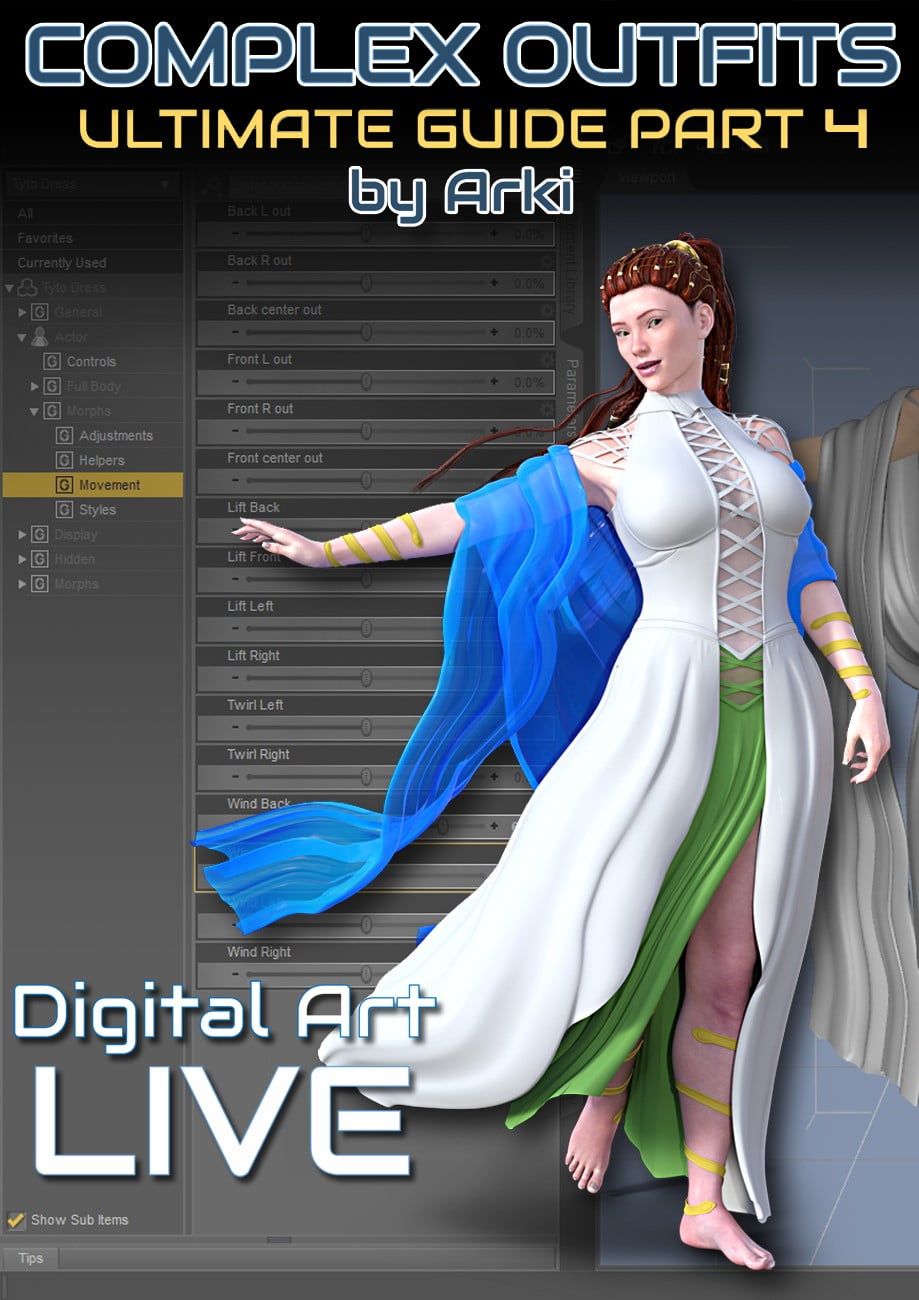 Creating complex outfits in Daz Studio requires extra levels of knowledge and experience. It isn't easy to find a "How to" guide on creating good quality long dresses, full length skirts, long sleeved or multi-layered outfits.
This five part tutorial series creates these types of outfits in detail. It shows you in step by step fashion. In addition there's tuition on creating matching jewellery to boot!
In this fourth part we take you through Morphs and Movements :- FBMs, weightmaps, JCMs and ERCs.
Used in this tutorial: Daz Studio 4.9 Pro, Hexagon for modelling, UV Mapper Pro and ZBrush 4R7
Presented by Arki (Kim Schneider) who has been a long term vendor of complex garments at the Daz 3D store and previously at Runtime DNA.
Duration: Tutorial video runs 2 hours and 4 minutes
Session 4 : "How to Add Quirks and Moves"
Adding the Final Touch: How to create FBMs
A Small Excursion: Talking about Weightmaps, Bones and Groups in DS
Tame your Bends: Adding JCMs to make your outfit respond to movement realistically
Joint Morph and Movement: Creating ERC in DS
Master Secret: How to create a seamless morph over multiple parts in ZBrush
Presentation Details: Introduction
Full Body Morphs

Breast gap problem on the dress in the Voluptuous Morph
Set the pectorals to zero
Tweak the model to the new body shape

Creating a Movement Morph

Creating a Movement Morph – procedure
Reverse Deformations

Joint Correction Morphs (JCMs)

Joint Correction Morphs – demo of what it does
Creating a JCM – procedure
Completed model in HEX – bridge to DS
Morph Loader Pro – naming conventions

Enhanced Remote Control (ERCs)

Adding ERC Freeze
setting the limits in Partial Joint Control Morphs (pJCMs)
ERC Freeze Options "Raw Value" & "Default Value" difference
ERC – controlling Joint Movement
ERC's don't transfer from a template

Modelling Multiple Parts of a Garment Set Using ZBrush

Morph that covers multiple parts of a garment set – procedure (requires ZBrush)
Scales to use when importing from Hex or ZBrush
Fixing Vertex order in UV Mapper Pro

Class Review of Homework
---