V3Digitimes Buildings and Skyscrapers Generator Vol. 1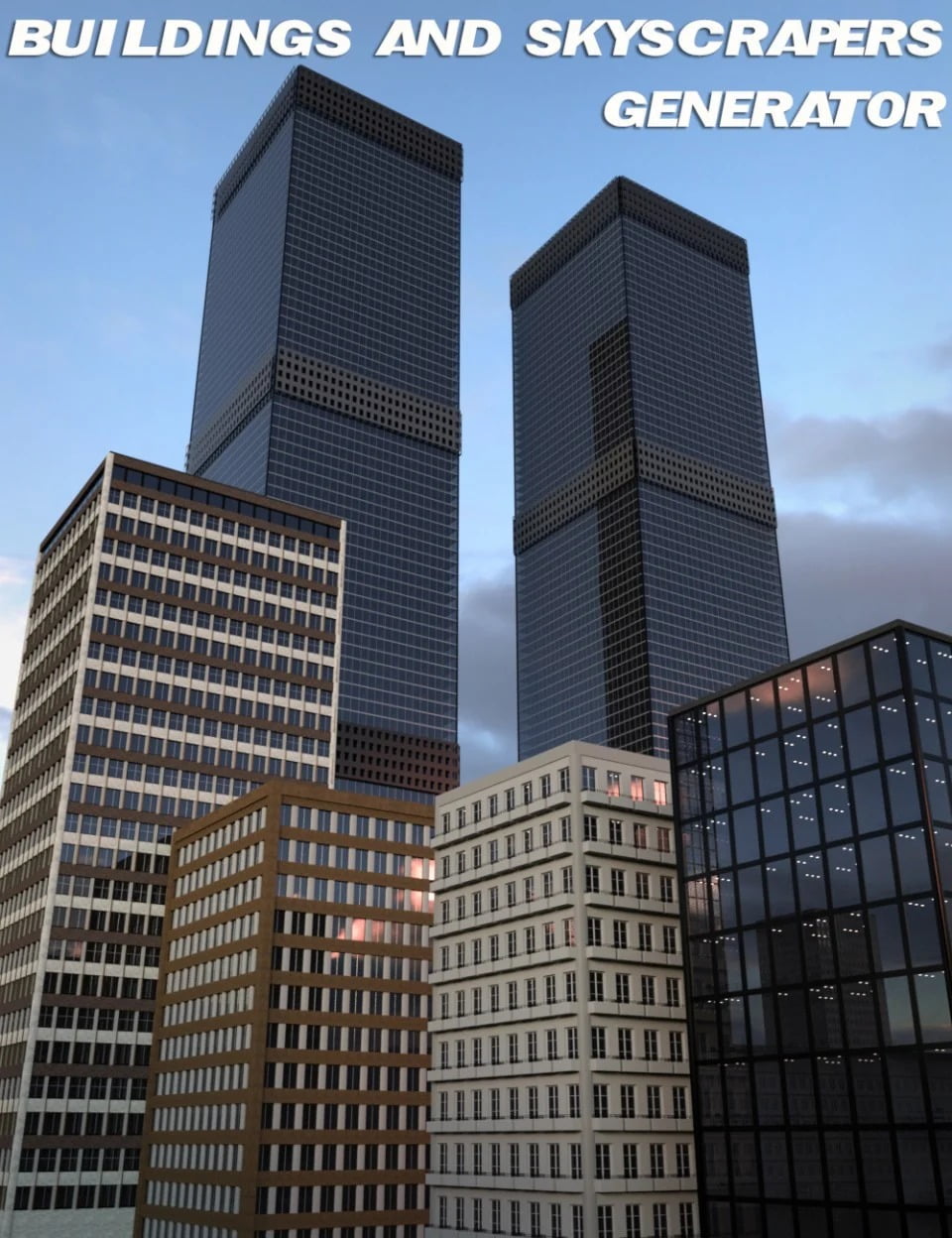 ---
V3Digitimes Buildings and Skyscrapers Generator Vol. 1
Buildings and Skyscrapers Generator is a tool allowing to build a wide variety of buildings based on instances of building panels called "windows". You can use up to ten different types of windows per building, they will be loaded only once, and then be the targets of the instances used to create the building. In order to fully customize a building, you simply have to customize each type of window using different morphs, shaders, or smart props, and these morphs, shaders and smart props will be applied to all the instances or instance groups of their target windows.
Creating a building from scratch is extremely easy: you simply have to define the ground dimensions of the building, and create the ground floor, checking or not the various options allowing you to add ceilings, internal walls, external pillars, and a roof border. Once done, you will be able to grow the building up adding as many floors as you want, as often as you want. For each floor, including the ground floor, you can specify the proportion of the different type of windows you want (from one to ten types of windows), allowing you for instance to make one floor with a specific look (one type of window), the next floor with another look, a few floor mixing various looks, etc., etc… In order to minimize the number of elements in your scene, to optimize the viewport response, the generator script proposes various consolidation options (grouping of instances in instance groups), also accessible as a stand-alone script.
Two types of generators are provided, the Low-Resolution version uses low resolution windows with a few morphs, the building customization relying the use of smart props and shaders on the windows or the smart props. The High-Resolution version can rely on the same principle for customization, but uses heavier windows with 36 shape morphs, allowing much more possibilities.
Eight additional scripted tools are included for a maximum of efficiency:
Three of them are specific to instances and allow you to hide and show instances or instance groups, to change the render settings optimization for instances, and to consolidate all individual instances of a given prop as a single instance group parented to this prop. When all the instances are hidden, the building internal walls, ceiling, roof border and corner pillar give you an excellent outline of each building, resulting in a very easy and efficient scene set up.
The smart multi-surface selection tool will allow you to select all the surfaces of the building using a given chain of characters in their names, so that you can change the shaders very fast on multiple surfaces of multiple props.
The frame tool will automatically frame the whole building whatever the part of the building you select. The pillar tool is included to adjust simultaneously the four corner pillars to the global look of your building. If you want to add rooftop elements, a script is included to load rooftop props, or create instances of those rooftop props, and to randomly place them on the rooftops of the selected buildings.
Finally, if you work with several buildings, a script is included so that you can distribute them along the X axis, specifying their eventual offsets in the lateral and front direction, with an optional random factor in these offsets.
Many ready to customize or already customized buildings of various dimensions are already included: 42 buildings using low resolution windows, and 42 buildings using high resolution windows. They, as well as all the buildings you could create, can be customized with 28 different smart props. Windows, building elements, and smart props can then be once again customized using the 48 compatible shader, shader tools, or material presets included.
Optimized for Iray. Minimal 3Delight support is included. You can load 3Delight base windows while you create the building, but all the additional smart props, full buildings, and shaders included only come in their Iray version.
This product includes:
1 DSON Core Installer
---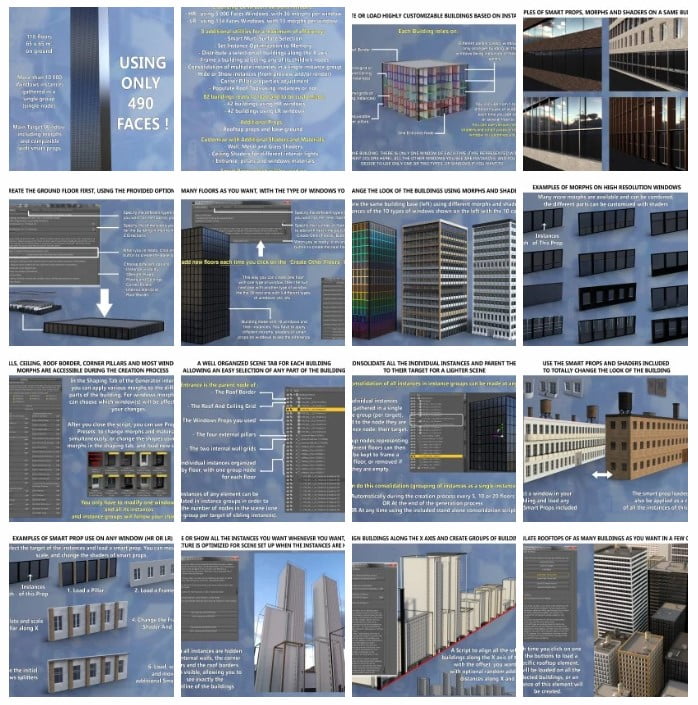 ---