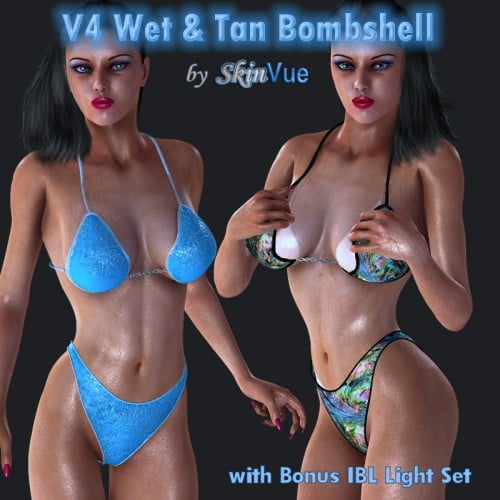 V4 Wet&Tan Bombshell is an innovative V4 Character and conforming clothing collection optimized for wet skin renderings. The vividly detailed high fidelity skin textures and custom specular maps are matched with a custom skin shader in Poser to produce very life-like wet skin renders.
The wet skin details will react according to the amount and direction of specular lighting in the scene so you can achieve many different wetness looks ranging from moist to drenched. Included are mat poses for adjusting the amount of wetness. There are dry, wet,dry- tan and wet-tan skin mats along with 5 makeup head textures. The body and head are completely custom morphs built using Mudbox that will work with either the simple base V4 or the V4++ products from DAZ. The body morph contains two types of breast configurations – Natural and Buxom.
To aid in creating more realistic renders, a Bonus 15 set IBL collection is included. The light set is very simple to use as each light set contains only 2 lights: one IBL light and one Specular Only light so there is little to no adjustment required – just load and render to produce very life-like renders.
The lights are grouped into 4 categories – Ambient, Backlighting, Contrasted and Mapped and have 4 hue ranges in each collection ranging from cooler to warmer. A conforming bikini top and bottom are included which contain all of the major V4 morphs including custom fit morphs for the Bombshell character. All of the promotional images shown here were produced using the Poser Firefly rendering engine with no postwork except for the hair. The hair is not included.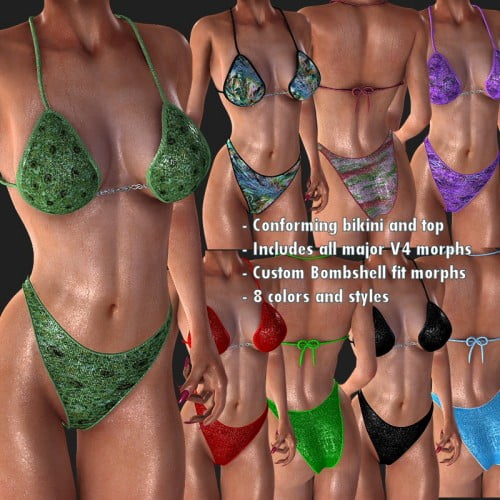 ---