Included in this "mega bundle" are the contents of:
VI Circus Ticket Girl
VI Circus Ticket Girl AddOn
VI Circus Stage
VI Circus Hoops and Frames
VI Circus – Decoder
VI Circus – Golden Ticket
Curiosities – Stand
Bonus Item

Included only in the mega bundle is the VI Circus Whip which has previously only been offered as a "secret freebie" which can only be gathered by solving a puzzle with the VI Circus Decoder.? This version of the whip is unlocked and can be accessed without? solving the puzzle.
A single step through the mirror of time can change so much of your perspective. Cast off the yoke of the 21st century and step back to a time that was and yet wasn't , a time when innocence could still be provocative. A time when sensuality was a subtle art of a look, a glance, a half imagined hint.? Welcome to the time of Victorian Innocence.
The ringmaster is waiting, the performers are ready, all that is left is for the audience to take their seats.
Do you have your ticket? Hold onto your imagination, it's going to be a wild ride! Victorian Innocence's Circus starts off with a bang, the young ticket taker that meets you at the opening of the tent is presented with this first step into their world.
The curtains have risen and the ticket taker has become the ringmaster. Calling the performers to order, the show is about to begin!
Are you ready? The first act's props have been set for your eyes, wonder and mystery in the lighting, hoops to leap through, and hang from and a frame awaiting its clockwork doll. A show to remember to be sure.
Are you ready? The stage has been set, all wait in hushed silence for the performer to step forth.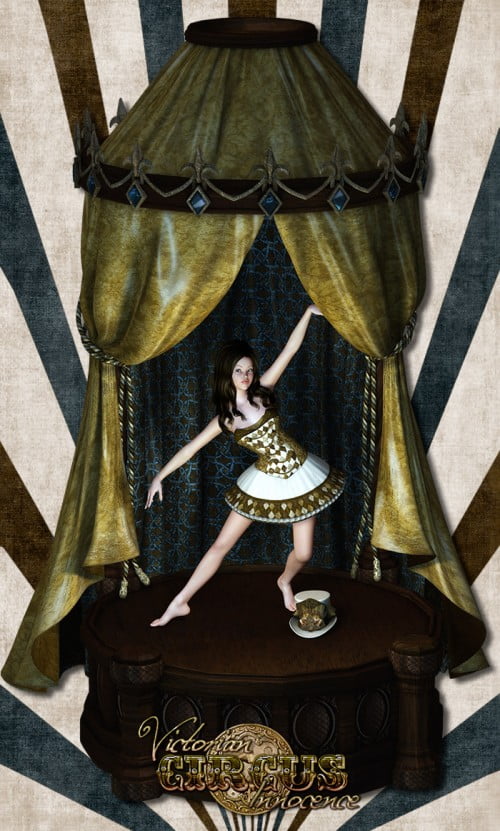 ---