Whisper Hair For V4 And A4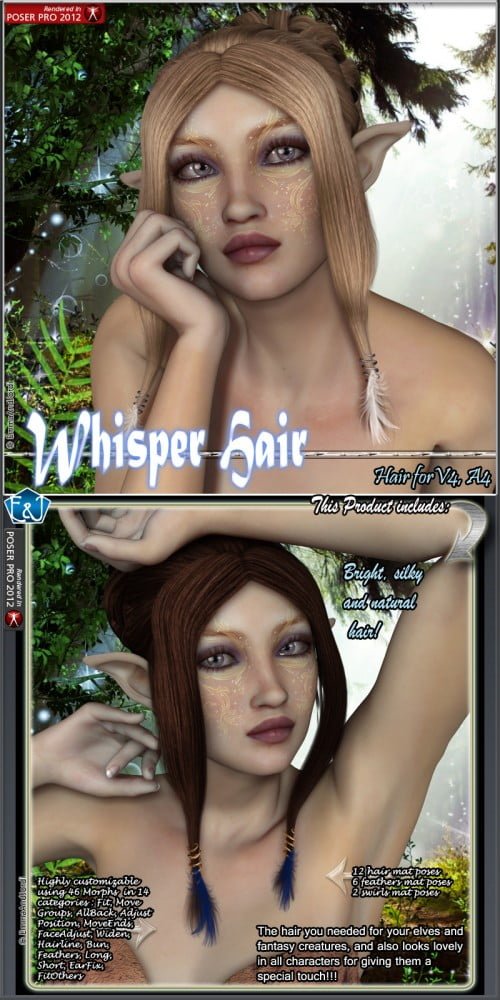 The hair you needed for your elves and fantasy creatures, and also looks lovely in all characters for giving them a special touch.
Whisper Hair is a hair model for Victoria 4 and Aiko 4 (using the fit morph included), with 12 mat poses for the hair, and 6 feather mats, 2 for the swirls, and 46 useful morphs to adjust and move it easily.
This hair is for Victoria 4 but can be easily adapted for other figures (for example Genesis, Genesis 2 Female, or Victoria 6, or Dawn) using the translate, scale or rotate dials and the morphs, as it is a smartprop.
This hair works perfect for elves, pixies, and other creatures. It also has morphs to adjust the hairs of the ear area if needed.
This Pack includes:
– Hair prop for Victoria 4 and Aiko4, conforms to movement of the head, plus leaves you control the style morphs, giving you maximum control and ease of use
– The ear area is made so you can use elf ears without problems. If needed, you can adjust the sideburns too
– 46 morphs located in 14 categories for easy use: Fit, MoveGroups, AllBack, AdjustPosition, MoveEnds, FaceAdjust, Widen, Hairline, Bun, Feathers, Long, Short, EarFix, FitOthers
– You can put the hair all back on one or both sides
– Three ways to move the hair: bend in any direction, move without turning, and bend only the ends
– Adjust the hair closer to the face or for wider faces
– Make it wider, longer or shorter
– Move the hairline up, down and out
– Make the feathers longer, shorter, or more asymmetric
– Make the bun smaller, bigger, higher, or lower
– Fit morphs to adjust the head for Aiko 4 and adjust the hair for use with other figures
– 12 hair mat poses: Honey Blonde, Platinum Blonde, Night Black, Terracota, Cherry Red, Auburn Brown, Dark Chesnut, Light Chesnut, Snow White, Ice Blue, Emerald, and Pink
– 6 feather mat poses: Black, Blue, Pink, Purple, Red, and White
– 2 Metallic Swirls mat poses: gold and silver
– Mat pose to hide the feathers
– Zero morphs icon to reset all hair morphs to zero to easier reset when changing poses
– Daz Studio shaders auto-load for DS 3 and up
– Render settings and instructions in JPG to enter them for Poser and Daz Studio
Morphs list:
Fit_Aiko4, L_Front, L_In, L_Out, R_Front, R_In, R_Out, L_All_Back, R_All_Back, L_To_Back, L_To_Front, L_To_In, L_To_Out, R_To_Back, R_To_Front, R_To_In, R_To_Out, L_Back_End, L_Front_End, L_In_End, L_Out_End, R_Back_End, R_Front_End, R_In_End, R_Out_End, Sides_In, Wider_Face, L_Widen, R_Widen, Low_Hairline, Raise_Hairline,
Out_Hairline, Bigger_Bun, Hig_Big_Bun, Lower_Bun, Smaller_Bun, Asymmetry, Length, L_Long, R_Long, L_Short, R_Short, Ear_Adjust, Ear_Hair_Out, Big_Head, Top_Head
Poser 6 and up, or DS3 and up.
This hair is for Victoria 4. You can use it with Aiko 4 too (optional)
PC Compatible. Not tested in Mac.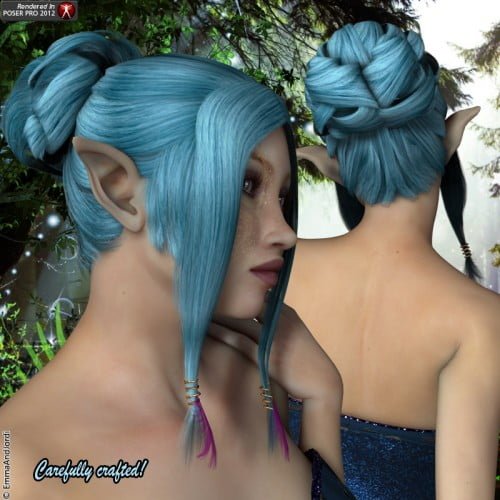 ---