WinterWhirl – Expansion Finesse G3F G8F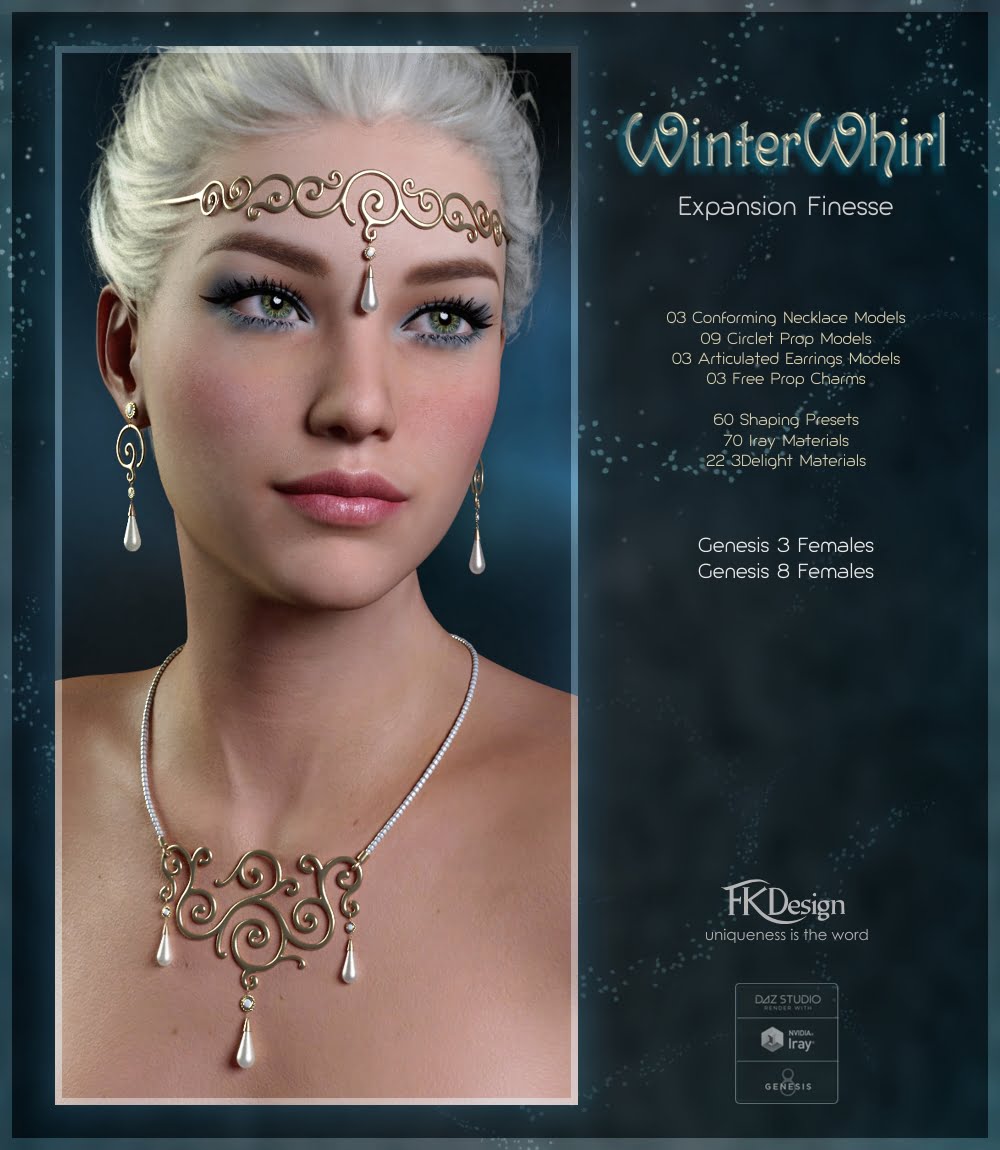 WINTER WHIRL – Expansion Finesse by Fabiana
for Genesis 3 Female and Genesis 8 female
—————————————————————–
REQUIRES DAZ STUDIO 4.9+ FOR SOME IRAY MATERIAL FILES
WHAT YOU GET:
(For each figure)
09 Circlets
03 Necklaces
03 Articulated Earrings pairs
03 Free prop Charms
70 Iray materials
22 3Delight materials
60 Shaping styles
—————————————————————–
NOTES
One Necklace and 2 Wearables with Charms.
Three Circlets and 2 Wearables with Charms
Three Boned Earrings as Parented Figures
Three Free Use Extra Charms not parented.
All Charms parented to Rigid Follower Nodes
Circlets come with special Character Fits
for both Genesis 3 & 8 Females (Manual)
Necklace follows automatically all supported
BodyMorphs for both Genesis 3 & 8 Females.
Genesis 3 Females
Aiko – Izabella – Girl
Arabella – Eva – Bethany
Olympia – Gia – Monique
Teen Josie – Mei Lin – Tween Julie
Victoria
Genesis 8 Females
Charlotte – Monique – Olympia
Stephanie – Karissa – Sakura
Teen Josie – Victoria
Both Figures
Body Size – Body Tone
Fitness – Height – Thin
Pear Figure – Voluptuous
All Breasts Morphs
CollarBone – Sternum
Other morphs supported via autofollow
IMPORTANT
Earrings will follow
any existing or future Head/Face Morph
due their custom rigging
based on Rigid Nodes.
If using a custom Body you notice some
irregular wave on the Necklace Cord,
just raise the Smoothing iterations.
As well, adjust of the Filigree or Charms
could be required.
Circlets must be adjusted by hand
over the morphed head.
Use Iconic and other fitting morphs
to suit your character.
---