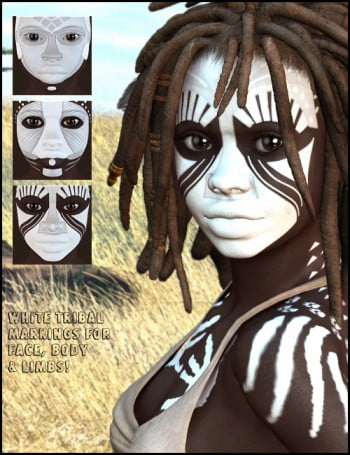 Introducing Zena for Victoria 4.2!
Zena is an exotic little lady; her extra head maps and body textures transform her from a natural beauty, to a glamor gal, or a striking tribal princess! Zena?s textures include a high-resolution default torso/limb textures, a natural head texture, dark brown eye maps with and without eye glints, and six beautiful make-up maps.
She also includes eight face maps of exotic/tribal face paints, two face maps, one torso map with ornamental scarification, and lastly three limb and torso textures of exotic/tribal body paintings. Zena has been optimized for DAZ Studio and Poser 5-7, to achieve the most realistic renders possible! Lots of love and little details, such as enhanced bump maps and the use of Shaders in DAZ Studio and Poser bring these textures to life! Zena can be a beautiful tribal princess or the pretty little lady you would pass on the streets! I always strive to bring you unique and quality textures/characters, and Zena is no exception!
---