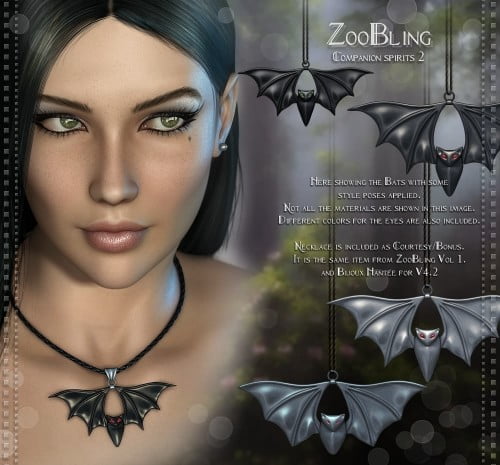 ZOOBLING Vol. II Jewelry set by Fabiana
for Victoria 4, A4, G4, Morphs ++
Intended for Poser 7 and Up, optimized for Poser 9 and Up.
NOT FOR DazStudio but read Online Readme some important info about that.
—————————————————————-
WHAT YOU GET:
BONUS Conforming Necklace
Smart parented items (obj and pp2):
Dragon
Lion
Raven
SeaHorse
Bat
Cat/Leopard/Tiger
Paradise Bird
Hummingbird
Swan
Materials:
96 materials and mat collections
Poses:
98 Mor Poses for customizing the pendants.
—————————————————————–
Smart parented and Conforming items support the following FBM:
Aiko 4 Base
A4 American
A4 Stylized
A4 Petite
Girl 4
Amazon
Thin
Young
Bulk
Voluptuous
Utopian
Fantasia
Sylph
Traps Size
—————————————————————–
VERY IMPORTANT NOTE REGARDING THIS BONUS NECKLACE
This piece is the same that was included in the first volume of ZooBling and Bijoux Hant?e Product by me.
As a courtesy to those buyers that do not have the previous necklaces, I decided to start including it each time the new set requires a basic cord necklace.
It is sorted in the same way and with the same morphs and features than the one above mentioned Pack.
It comes with only 4 mat files for the cord due it is a BONUS.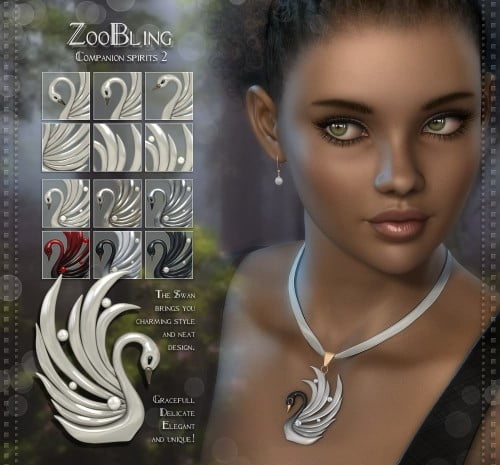 ---