Chain Jewelry for Genesis 9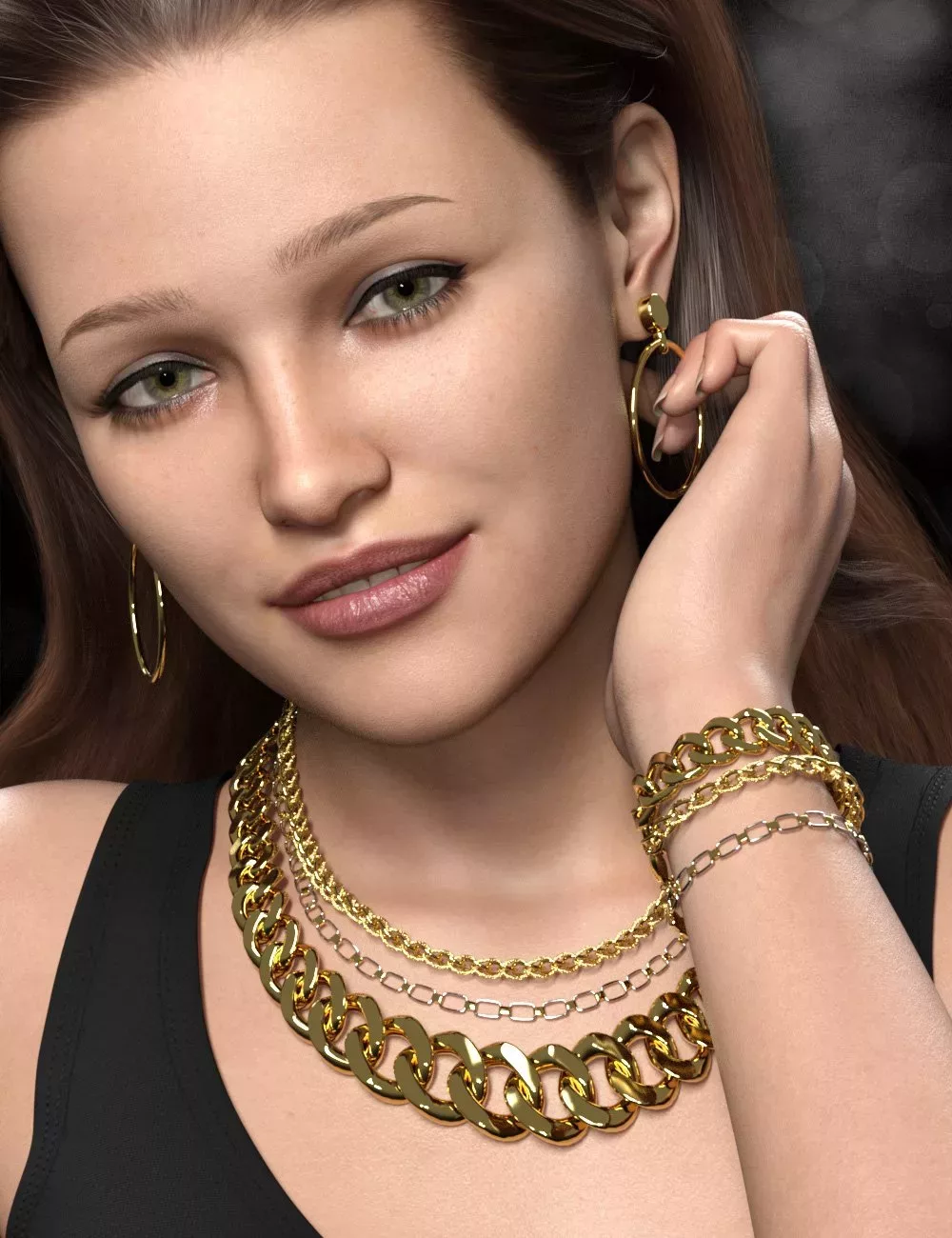 Chain jewelry is a popular classic style that fits many occasions.
This set comes with necklaces and bracelets in 3 different chain styles: bold, elegant, and delicate.
You can combine all 3 styles or use the items separately.
The set also includes earrings and ear studs.
The earrings are posable so you can adjust them to different head poses.
All necklaces and bracelets feature movement morphs, general adjustment morphs, and morphs to fit them over the clothing.
Each style comes with 12 material options in different metal colors and combinations.
Add some elegant bling to your renders with Chain Jewelry for Genesis 9!
Chain Jewelry for Genesis 9: (.DUF)
Curb Necklace:
Adjustment:
Expand All
Loosen Collars
Loosen Neck
Fit Over Clothing:
Bend Center
Chest Center
Chest Left
Chest Right
Collar Font Left
Collar Front Right
Neck Back Center
Neck Back Left
Neck Back Right
Neck Front Left
Neck Front Right
Neck Side Left
Neck Side Right
Movement:
Bend
Side-Side
Twist
Deco Necklace:
Adjustment:
Expand All
Loosen Collars
Loosen Neck
Fit Over Clothing:
Bend Center
Chest Center
Chest Left
Chest Right
Collar Font Left
Collar Front Right
Neck Back Center
Neck Back Left
Neck Back Right
Neck Front Left
Neck Front Right
Neck Side Left
Neck Side Right
Movement:
Bend
Side-Side
Twist
Twisted Necklace:
Adjustment:
Expand All
Loosen Collars
Loosen Neck
Fit Over Clothing:
Bend Center
Chest Center
Chest Left
Chest Right
Collar Font Left
Collar Front Right
Neck Back Center
Neck Back Left
Neck Back Right
Neck Front Left
Neck Front Right
Neck Side Left
Neck Side Right
Movement:
Bend
Side-Side
Twist
Curb Bracelet Left and Right:
Adjustment:
Expand All
Loosen Wrists
Fit Over Clothing:
Wrist Back
Wrist Bottom
Wrist Front
Wrist Top
Deco Bracelet Left and Right:
Adjustment:
Expand All
Loosen Wrists
Fit Over Clothing:
Wrist Back
Wrist Bottom
Wrist Front
Wrist Top
Twisted Bracelet Left and Right:
Adjustment:
Expand All
Loosen Wrists
Fit Over Clothing:
Wrist Back
Wrist Bottom
Wrist Front
Wrist Top
Supported Shapes:
Masculine
Feminine
Freja 9
Josie 9
Michael 9
Nikolai 9
Victoria 9
Ivar 9
Emaciated
Fitness Details
Fitness Mass
Heavy
Lithe
Mass Body
Muscular Details
Muscular Mass
Older
Pear Figure
Thin
Voluptuous
Breasts Cleavage
Breasts Diameter
Breasts Fullness Lower
Breasts Gone
Breasts Heavy
Breasts Large
Breasts Large High
Breasts Natural
Breasts Perk Side
Breasts Shape 01 to 06
Breasts Sides Depth
Breasts Small
Pectorals Cleavage
Pectorals Height
Other Shapes may be supported in Daz Studio by Auto-follow
Earrings (Presets to load both earrings or each individually):
Ring Diameter
Ring Thickness
Stopper Loose Left/Right
Stud Size
Stud Thickness
Ear Studs (Presets to load both studs or each individually):
Stopper Loose Left/Right
Stud Size
Stud Thickness
Materials:
12 Material Presets for Curb Necklace and Bracelets:
Bicolor
Black Steel
Brass
Brushed Silver
Classic Gold
Gold and Black
Gold and White
Old Silver
Rose Gold
Tricolor
White and Black
White and Rose
12 Material Presets for Deco Necklace and Bracelets:
Black and Gold
Black Steel
Brass
Brushed Silver
Classic Gold
Gold and White
Old Silver
Polished Silver
Rose and Gold
Rose Gold
White and Black
White and Rose
12 Material Presets for Twisted Necklace and Bracelets:
Black and Gold
Black Steel
Brass
Brushed Silver
Classic Gold
Gold and White
Old Silver
Rose Gold
Sparkling Gold
Sparkling Silver
White and Black
White and Rose
12 Material Presets for Ear Jewelry (Earrings and Studs):
Black and Gold
Black Steel
Brass
Brushed Silver
Classic Gold
Gold and White
Multicolor
Old Silver
Rose Gold
Sparkling Silver
White and Black
White and Rose
Textures Include:
46 Texture, Bump, Normal, and Roughness Maps (256 x 256 to 2048 x 2048)
Daz Studio Iray Material Presets (.DUF)
---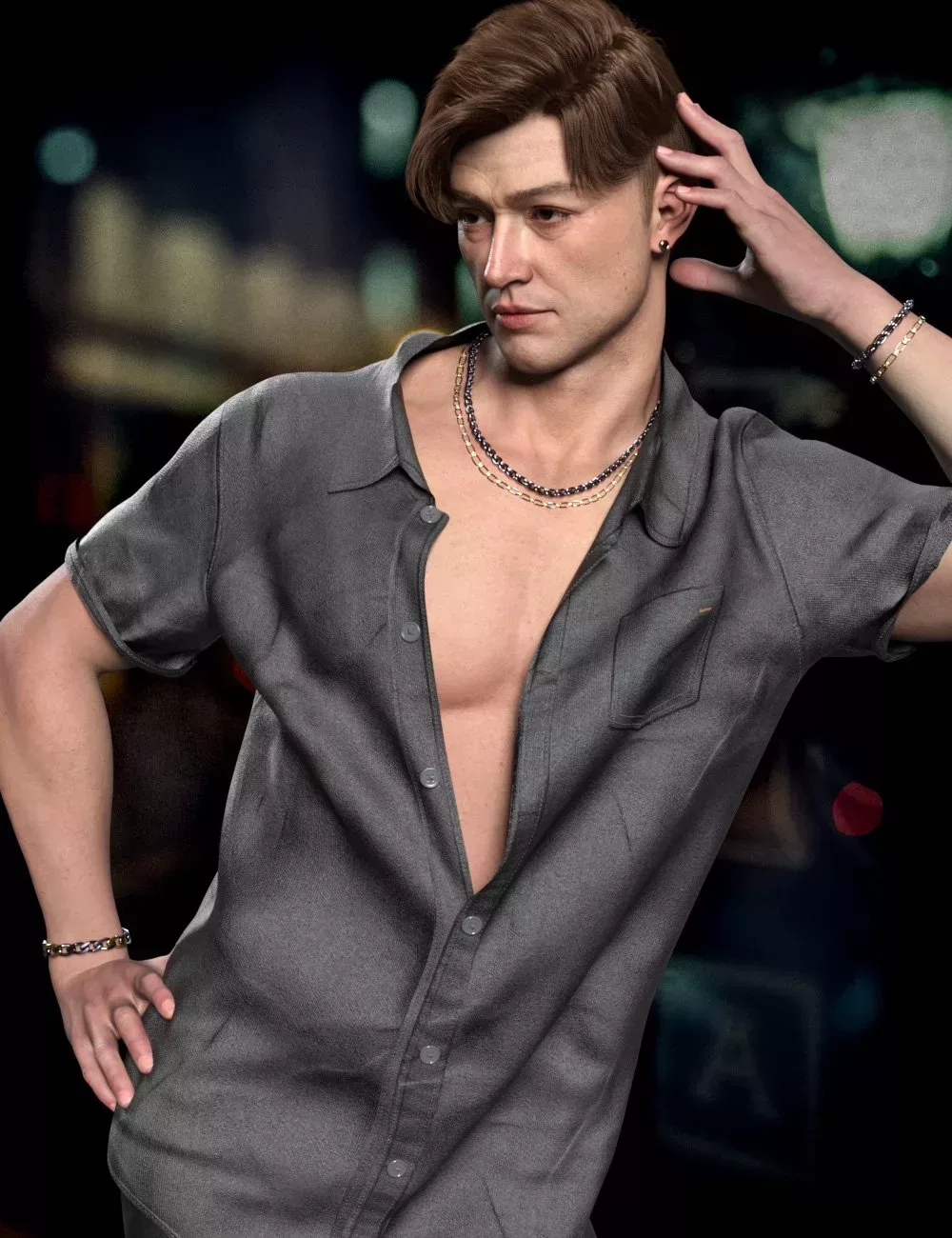 Download from QtyFiles Service
---