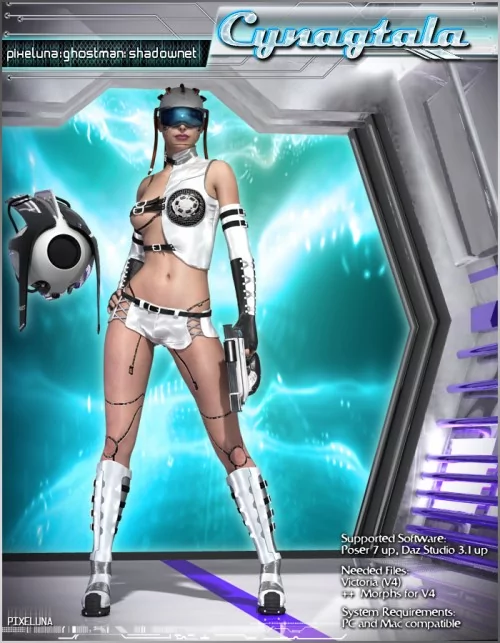 Send your runtime on a light speed journey into the future with this fantastic set of sexy Sci Fi wear for V4. Complete with goggles, pulse guns, gun scope, and jetpack in addition to the cap, vest, shorts, boots, gloves and dreadlocks.
Created with our Lavinia and Lavinia2813 Cyborg character in mind, this outfit is guaranteed to bring even the most hardcore space villain to their knees gibbering in admiration for how hot and sexy your heroine looks as she prances about your space station reeking death and mayhem to any intergalactic baddies who dare try to defy her awesomeness.
Features:
A 7-piece clothing set, perfect for sci fi adventures or any fantasy scenes~ your imagination is your limit. It super conforms to V4 morphs ++.
An Art Showcase PDF is also included featuring the original works of Thierry Cravatte, Rod Shelley, Juliana Karina, Ghostman & Pixeluna.
Good to Know:
~ To ensure JCM and FBMs super conform properly to V4, be sure that V4 is the active figure before loading the clothing into your scene. In Poser, you will need to use the provided Magnetize Clothing pose in the Cynagtala Pose folder to link the Vest, Shorts, and Boots to V4 built in deformers (these are the items that should be magnetized, the other clothing items are optional). Daz Studio automatically magnetizes the clothing so DS users do not need to manually do so.
~ When using the Boots, you will need to hide the toes or else pose them to around -18 bend and lock them. A hide/show feet utility pose is included. In the Cynagtala Pose Utility folder you will also find pose presets to hide the upper part of the boot, to make the boot a short (knee high) boot. The Boots also have Style morphs in the BODY group to hide the thigh straps as well as scale the thigh straps to custom fit as needed.
~ Every effort was made to give the clothing the best overall posing capabilities as possible. When used on the default V4 body shape, there should be little or no poke thru problems even with extreme poses. When using Full Body Morphs, particularly when used in combination, poke thru may occur with some poses. This can easily be corrected using the dials provided in the clothing. Due to normal limitations within Poser, certain types of poses, such as extreme leg bends with clothing, such as the shorts, can result in poke thru issues in areas where joints bend. Again, morphs have been provided to allow you to manually correct these type posing issues.
~ Normally the scope(s) for the gun(s)would be set up as a smart parent to the gun (s) in Poser. However, in order to get the scope(s) to smart prop correctly in DS 4.5 it was necessary to set the smart parenting to V4's hands. You can easily change the parenting to the gun should you wish to use the gun(s) should you find a need to do so.
~ Dreadlocks use JCM to aid in posing with V4 head and neck twist, bend, side-side movements. This will often be all that is required but sometimes you may need to adjust the pose using the dials provided. For additional posing, you will find some quick Pose morphs in the BODY group. These work best at a value between 0 and 1. It is possible, when using these in combination with other morphs to use a positive or negative value as well. But trial and error will be your best guide in such cases. It is also possible to get more fine tune posing of the individual dreads using the Bend, Twist, Back-Fwd (rotation) dials in the individual body parts. While you can pose the individual locks in this way, normally you will not want to use try to use the morph dials in the body part groups for posing. It is best when using the morphs, to use the master dials in the BODY group.
Product Includes:
This set includes:
1) Figures – Clothing & Hair (fits V4 ++ FBMs, except emaciated and heavy – clothing also has JCM, ADJ and Pose Morphs, and many commonly used PBMs such as Breasts, Glutes, etc.)
~ Cap
~ Goggles
~ Vest
~ Shorts
~ Gloves
~ Boots
~ Dreadlocks
2) Props
~ Astro_Jetpack
~ Wasp-PulseGun_LH
~ Wasp-Pulsegun_RH
~ Wasp-Scope_LH
~ Wasp-Scope_RH
3) Hand Poses
~ Left & Right Hand pose for Wasp-PulseGun
4) MAT Poses
~ 10 MATs – Silver
~ 7 MATs – Black Leather
~ 10 MATs – Pastel Fantasy
~ 10 MATs – Old World
~ 10 MATs – Dreadlocks
~ 16 Utility Poses for magnetizing clothing to V4, reseting dials in clothing to default, lock or unlock fingers and feet, etc.
————————————–
System Requirements & Supported Software:
PC and Mac compatible
Poser 7 up, Daz Studio 3.1 up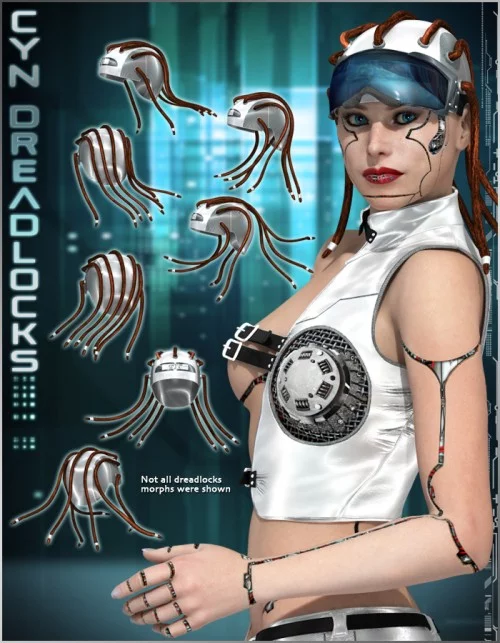 Download from QtyFiles Service
---