Dangling Belly Rings For Any Figure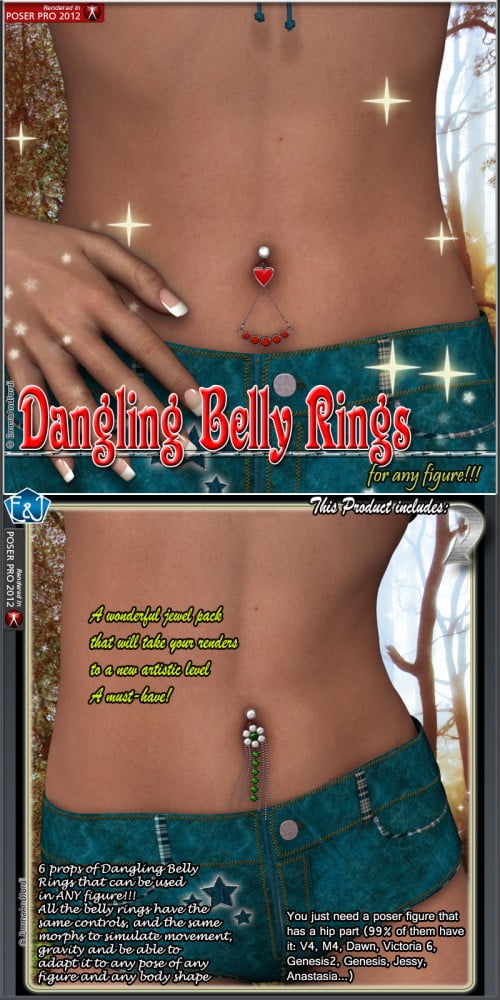 The sexiest jewelry that beautifies one of the most gorgeous and sensual parts of the body, a wonderful detail that will take your renders to a new artistic level. A must-have!
This Pack includes:
– 6 props of Dangling Belly Rings that can be used in ANY figure
– Put the in 3 easy steps, that are written in info thumbnails so you will always have the instructions at hand
– The belly rings appear in the default position of the navel of V4, and follow the hip movement so they are always at the location of your figure, no matter what figure you're using
– Now to adjust them to ANY figure or a morphed character or pose, just 3 easy steps:
– First: use the xtran, ytran, and ztran dials to place the belly ring with precision in the navel
– Second: use the Turn, Side-Side, and FrontBack dials to give the right inclination to the belly ring
– Third: use the swing morphs to make the belly ring fall naturally or give it movement
– All the belly rings have the same controls, and the same morphs to simulate movement, gravity and be able to adapt it to any pose of any figure and any body shape
– You can use the wing morphs also on animations, to make the bely ring swing to left and right alternatively as your figure walks
– Icons for zeroing translations, rotations, morphs, or to zero all. These make posing and adjustment of the belly rings faster when changing of pose
– Instructions in JPG so you can get the best of this product
– Render settings and instructions in JPG to enter them for Poser and Daz Studio
BELLY RINGS DESIGNS DESCRIPTIONS:
– Cupcake Belly Ring: A sweet and cutie touch for your girls. Comes in chocolate, cream and strawberry flavours!
– Flower Belly Ring: Carefully crafted flower of diamonds with real face cut, and the center and vertical row of black diamonds, blue cobalt, emeralds, pink jade, rubies, and all diamonds. If this was not enough, two chains on each side made with decorative round links
– Heart Belly Ring: Love in a jewel for the most sensual and beautiful girls, the perfect ornament for those who are sweet and want to be loved. But what color is your heart? Maybe blue as in the nostalgic sunsets, green as the fields of the land of forests, pink as sweetness, red as passion, white as purity, or dark as sadness?
– Pearls Belly Ring: Triple hanging pearl-shaped precious stones that hang from a beautiful design of piercing with a big jewel with diamond facet cut. This beautiful design looks great for all fantasy and glamour scenes, and for everything in general. Black obsidian, blue turquoise, green jade, ivory white, pink jade, and red jade
– Spiral Belly Ring: Swirling cascade of falling jewels in a rain of shine and magic. Black diamonds, blue cobalt, pink jade, purple amethyst, red ruby, and diamonds
– Stars Belly Ring: A big star surrounded with the comet tail of three sister stars hanging from round links chains, that draw a sparkling path along your girl's body. All stars in black, blue, pink, all silver, and turquoise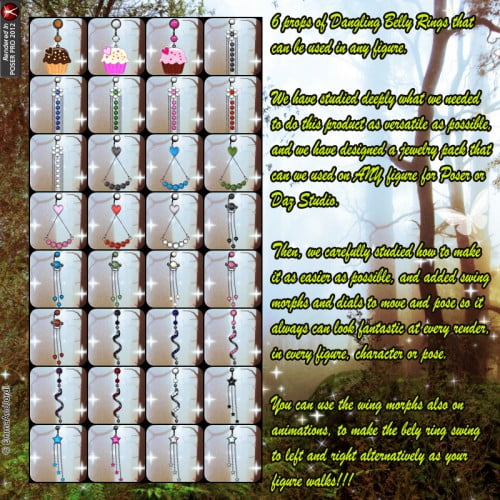 ---