Deadly Arrow Adornments – Butterflies

She may be an assassin but she is still a woman!
Even though inspired by Silent Death and Deadly Arrow,in this pack you will find that final touch that you were looking for.
Ruggedness mixed with gentleness for even the most deadly woman loves to adorn herself with beauty.
Deadly Arrow Adornments – Butterflies:
Included:
? 19 Objects:
DA_BreastHookL
DA_BreastHookR
DA_Butterfly1BreastL
DA_Butterfly1BreastR
DA_Butterfly1Neck
DA_Butterfly2BreastL
DA_Butterfly2BreastR
DA_Butterfly2Neck
DA_EarButterfly1L
DA_EarButterfly1R
DA_EarButterfly2L
DA_EarButterfly2R
DA_ButterflyCirclet
DA_Butterfly1Circlet
EarRing2R
EarRing2L
EarHookL
EarHookR
DA_necklace
? 1 Conforming Necklace Figure
? 20 Smart Props:
00!!EarHookL
00!!EarHookR
00!!EarRing2L
00!!EarRing2R
00!BreastHookL
00!BreastHookR
01Butterfly1EarL
01Butterfly1EarR
01Butterfly2EarL
01Butterfly2EarR
02Butterfly1BreastL
02Butterfly1BreastR
02Butterfly2BreastL
02Butterfly2BreastR
03Butterfly1Necklace
03Butterfly1NeckShort
03Butterfly2NeckShort
03Butterfly2Necklace
04CircletButterfly
04CircletButterfly1
? 72 Textures including maps:
? Poses: 5 folders>Utilities-Butterflies-Rings & Chains-Circlets-
Necklaces
? 8 Utility Poses:
Silent Death Suit Open
Silent Death Suit Close
Necklace Make Short
Necklace Restore
Nipples INJ
Nipples REM
Nipples2 INJ
Nipples2 REM
? MAT Poses:
6 Butterfly2 Circlets
8 Butterfly1 Circlets
6 Butterfly2
8 Butterfly1
10 Rings & Chains
12 Necklaces
? 15 Poser5+ Materials
? Poser 6+ Materials: 4 folders>Butterflies-Rings & Chains-Circlets-
Necklaces
6 Butterfly2 Circlets
8 Butterfly1 Circlets
6 Butterfly2
8 Butterfly1
10 Rings & Chains
12 Necklaces
? Templates
Poser 6+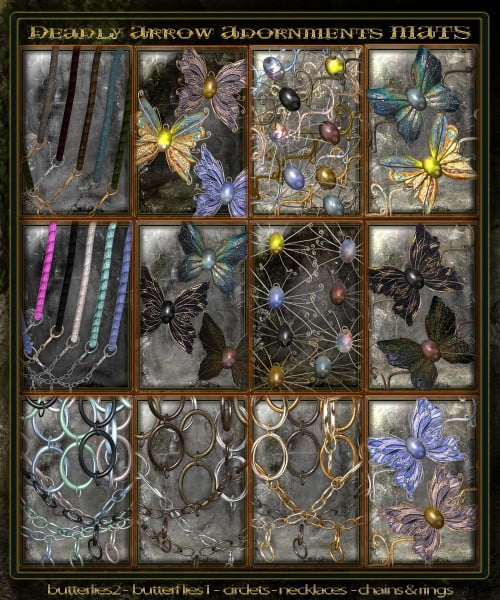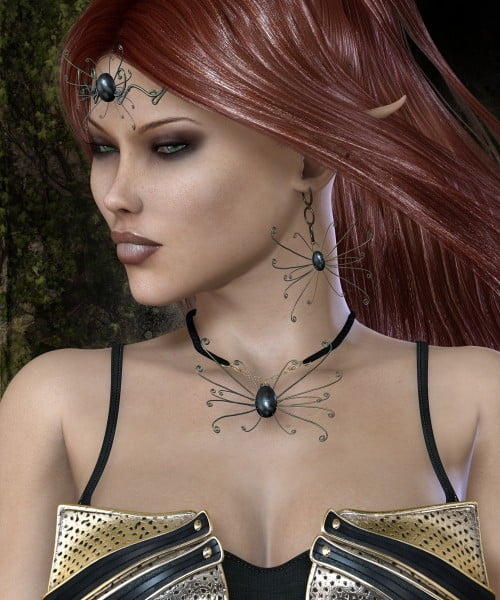 ---