Desperado HD Remastered for Genesis 8 and 8.1 Males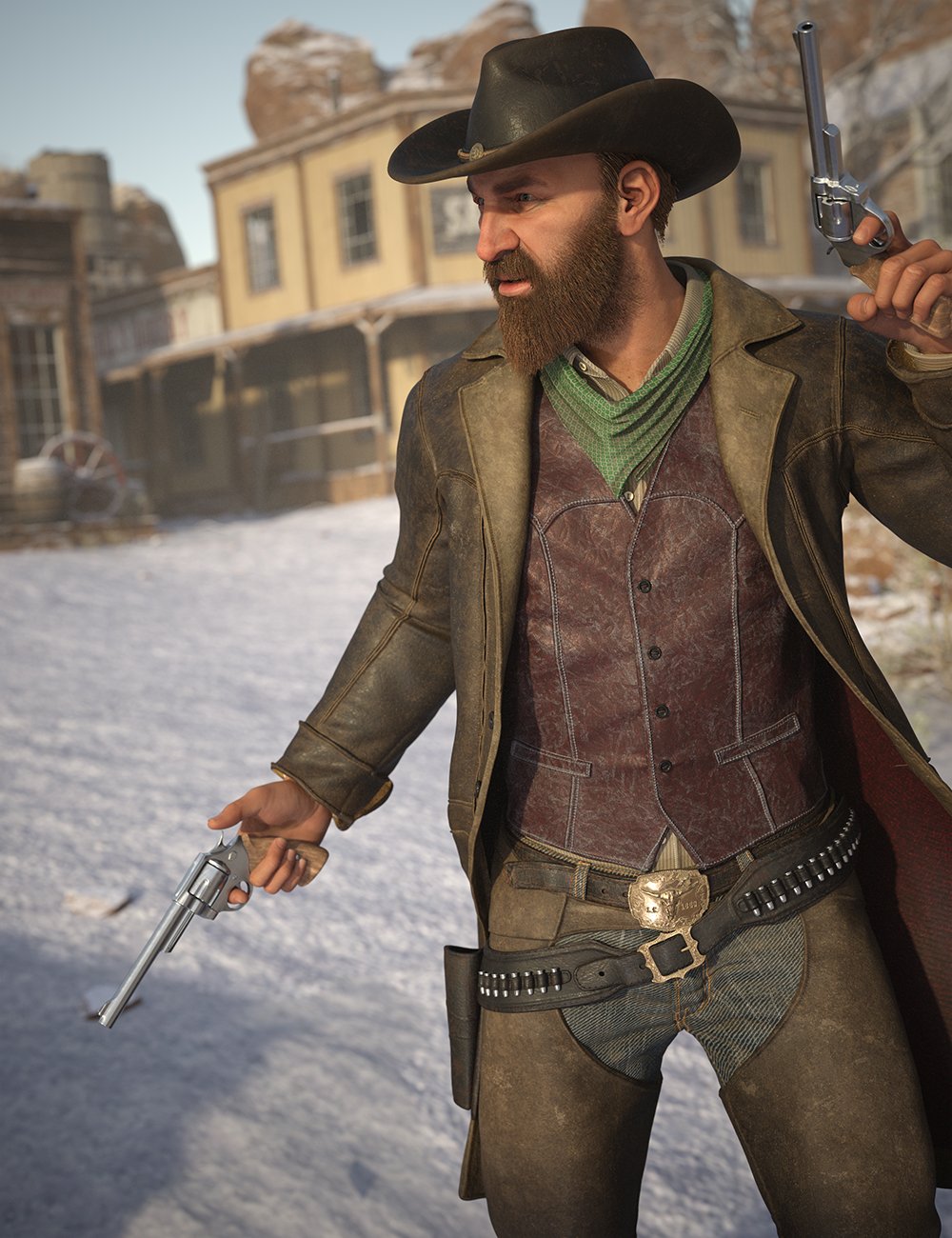 ---
Desperado HD Remastered for Genesis 8 and 8.1 Males
Desperado HD Remastered is a complete, fully textured, and morphed, clothing and props set for Genesis 8 and 8.1 Males. This set is a remastered version of the popular Desperado HD set, including brand new textures and more detailed HD morphs!
Desperado HD Remastered includes a complete texture set, with breathtaking Iray shaders simulating actual, physically based materials (PBR), producing stunning renders using any kind of light. The set includes all the maps you need for your renders, from diffuse to hyper-detailed normal maps.
The geometries are very optimized, and you can get good rendering results with low subdivision levels (even with no SubD at all!) or you can unleash all the power of this set thanks to its HD morphs, developed at level 4 SubD.
Additionally, Desperado HD Remastered is fully compatible with the Dark Guard and Wizard HD Character sets and 6 additional Daz Original characters.
Desperado HD Remastered for Genesis 8 and 8.1 Males: (.DUF)
8 Full Outfit Presets
Desperado Boots:
Expand All
Boots Under Pants
Desperado Chaps:
Expand All
Desperado Coat:
Expand All
Expand Left Armpit
Expand Right Armpit
Left Lower Label Bend
Right Lower Label Bend
Left Lower Out
Right Lower Out
Left Out All
Right Out All
Left Leg Out
Right Leg Out
Uncover Revolver
Desperado Hat:
Expand All
Desperado Holster:
Expand All
Expand Belt Back
Expand Belt Forward
Expand Belt Left
Expand Belt Right
Expand Holster
Desperado Scarf:
Expand All
Desperado Shirt:
Expand All
Expand Left Armpit
Expand Right Armpit
Pants Tuck HD
Desperado Trousers:
Expand All
Crotch Room
Expand Crotch Left
Expand Crotch Right
Desperado Vest:
Expand All
Vest Open
Vest Open Wider
Smart Props:
Desperado Revolver Left Hand
Desperado Revolver Right Hand
Supported Shapes:
Michael 8
Michael 8.1
Darius 8
Dark Guard
Lee 8
The Brute 8
Wolfgang 8.1
Other Shapes may be supported in Daz Studio by Auto-follow
Materials:
1 Full Hierarchical Material
Hierarchical Materials for individual products
Poses:
Boot Foot Pose
Revolver Left Hand
Revolver Right Hand
Textures Include:
24 Albedo, Normal, Roughness, Metallicity, Scattering, and Ambient Occlusion Maps (16 x 512 and 4096 x 4096)
11 Daz Studio Iray Material Presets (.DUF)
---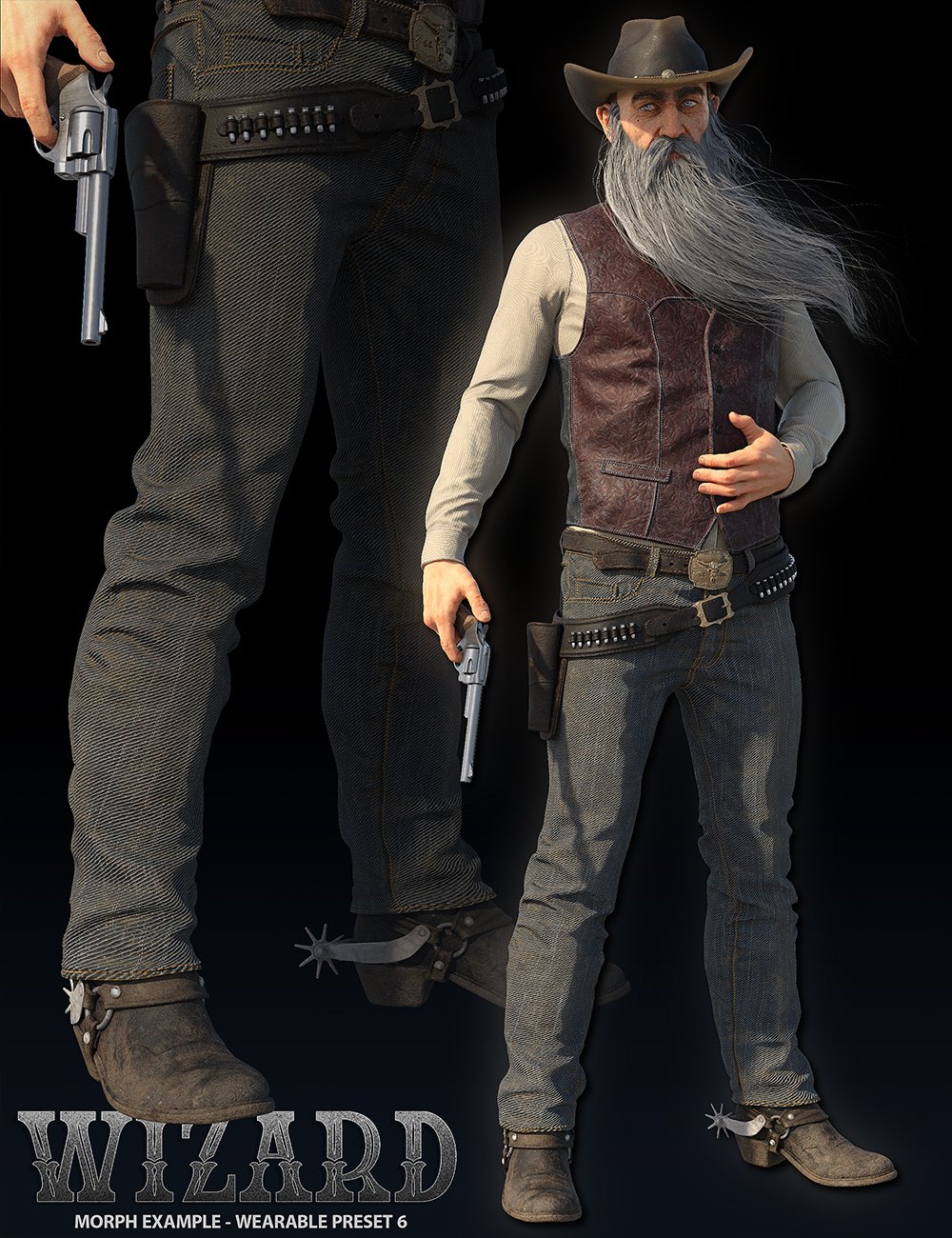 ---