dForce Cute Onesie for Genesis 9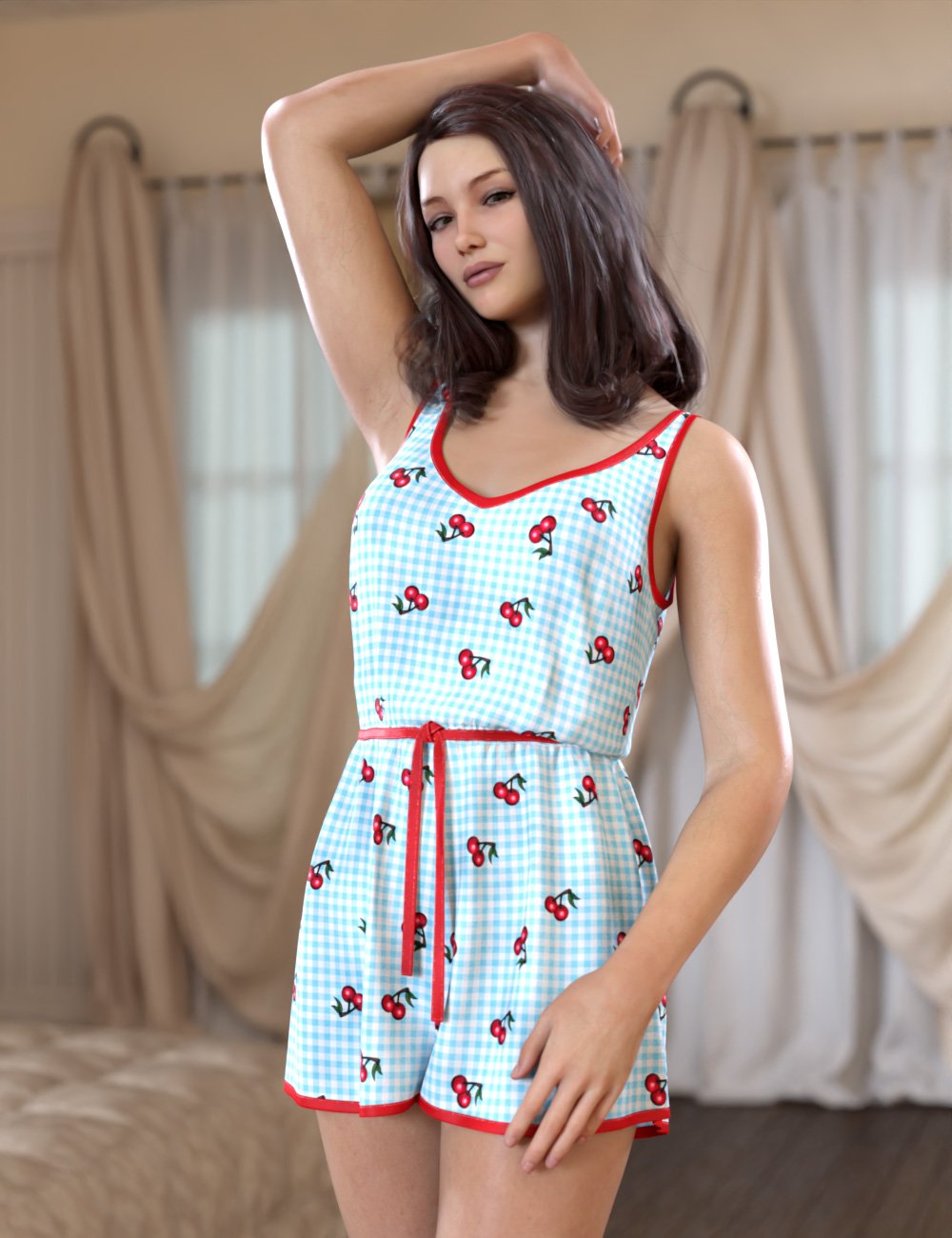 ---
dForce Cute Onesie for Genesis 9
This playful onesie will be perfect for multiple occasions. A beach party, chilling at home, or even as a cute nightshirt!
The set includes 3 options for the belt with the knot in the center, left, or right.
Both the onesie and the belt feature several Tweak Fit morphs to allow adjustment to different custom character shapes.
dForce is set up and ready to use, but the set can also be used without running a simulation.
The ties are rigged and can be posed, or they can be draped using dForce.
Utility presets make it easy to freeze and activate the onesie and ties in case you want to run a separate simulation for the ties.
Textures include presets for the belt and onesie, as well as separate, presets for the trims to create different looks.
dForce Cute Onesie for Genesis 9: (.DUF)
Cute Onesie:
Expand All
Loosen Collars
Loosen Midriff
Loosen Thighs
Loosen Waist Lower
Loosen Waist Upper
Abdomen Lower Back Center
Abdomen Lower Back Left
Abdomen Lower Back Right
Abdomen Lower Front Center
Abdomen Lower Front Left
Abdomen Lower Front Right
Abdomen Lower Side Left
Abdomen Lower Side Right
Abdomen Upper Back Center
Abdomen Upper Back Left
Abdomen Upper Back Right
Abdomen Upper Front Left
Abdomen Upper Front Right
Abdomen Upper Side Left
Abdomen Upper Side Right
Breast Center
Breast Front Left
Breast Front Right
Breast Lower Left
Breast Lower Right
Breast Side Left
Breast Side Right
Breast Upper Left
Breast Upper Right
Buttock Left
Buttock Right
Buttocks Center
Chest Front Center
Collar Back Left
Collar Back Right
Collar Front Left
Collar Front Right
Collar Top Left
Collar Top Right
Crotch Back
Crotch Between Legs
Crotch Bottom
Crotch Front Center
Crotch Front Left
Crotch Front Right
Hip Back Center
Hip Back Left
Hip Back Right
Hip Front Center
Hip Front Left
Hip Front Right
Hip Side Left
Hip Side Right
Shoulder Back Left
Shoulder Back Right
Shoulder Front Left
Shoulder Front Right
Shoulderblade Left
Shoulderblade Right
Shoulderblades Center
Thigh Back Left
Thigh Back Right
Thigh Front Left
Thigh Front Right
Thigh Side Left
Thigh Side Right
Waist Back Center
Waist Back Left
Waist Back Right
Waist Front Center
Waist Front Left
Waist Front Right
Waist Side Left
Waist Side Right
Onesie Belt and Ties:
Expand All
Loosen Midriff
Loosen Waist Lower
Loosen Waist Upper
Abdomen Lower Back Center
Abdomen Lower Back Left
Abdomen Lower Back Right
Abdomen Lower Front Center
Abdomen Lower Front Left
Abdomen Lower Front Right
Abdomen Lower Side Left
Abdomen Lower Side Right
Abdomen Upper Back Center
Abdomen Upper Back Left
Abdomen Upper Back Right
Abdomen Upper Front Left
Abdomen Upper Front Right
Abdomen Upper Side Left
Abdomen Upper Side Right
Waist Back Center
Waist Back Left
Waist Back Right
Waist Front Center
Waist Front Left
Waist Front Right
Waist Side Left
Waist Side Right
Supported Shapes:
Feminine
Masculine
Victoria 9
Emaciated
Fitness Details
Fitness Mass
Heavy
Lithe
Mass Body
Muscular Details
Muscular Mass
Older
Pear Figure
Thin
Voluptuous
Breasts Cleavage
Breasts Diameter
Breasts Fullness Lower
Breasts Gone
Breasts Heavy
Breasts Large
Breasts Large High
Breasts Natural
Breasts PerkSide
Breasts Shape01
Breasts Shape02
Breasts Shape03
Breasts Shape04
Breasts Shape05
Breasts Shape06
Breasts SidesDepth
Breasts Small
Other Shapes may be supported in Daz Studio by Auto-follow
Materials:
Onesie Black
Onesie Burgundy
Onesie Cherry
Onesie Cream
Onesie Fun Print
Onesie Mint
Onesie Navy
Onesie Peach
Onesie Pink
Onesie Striped
Onesie Tan
Onesie Turquoise
Onesie Trim Black
Onesie Trim Blue
Onesie Trim Blush
Onesie Trim Burgundy
Onesie Trim Coral
Onesie Trim Cream
Onesie Trim Gray
Onesie Trim Navy
Onesie Trim Pink
Onesie Trim Red
Onesie Trim Tan
Onesie Trim White
Belt and Ties Black
Belt and Ties Blue
Belt and Ties Blush
Belt and Ties Burgundy
Belt and Ties Coral
Belt and Ties Cream
Belt and Ties Gray
Belt and Ties Navy
Belt and Ties Pink
Belt and Ties Red
Belt and Ties Tan
Belt and Ties White
Utility Presets:
Ties Off
Ties On
Onesie dForce Activate
Onesie dForce Freeze
Ties dForce Activate
Ties dForce Freeze
Simulate Along Timeline
Simulate Current Frame
Textures Include:
27 Texture, Normal, Roughness, and Specular Transparency Maps (4096 x 4096)
Daz Studio Iray Material Presets (.DUF)
---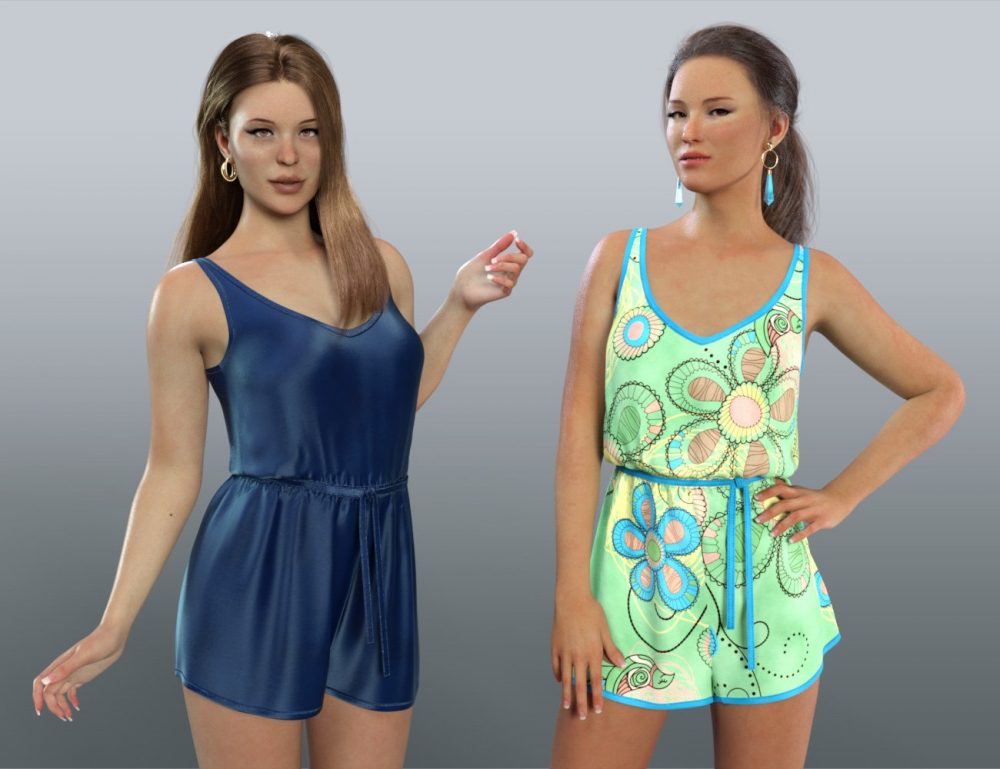 ---