dForce Highlands Gown Outfit and Shape for Genesis 9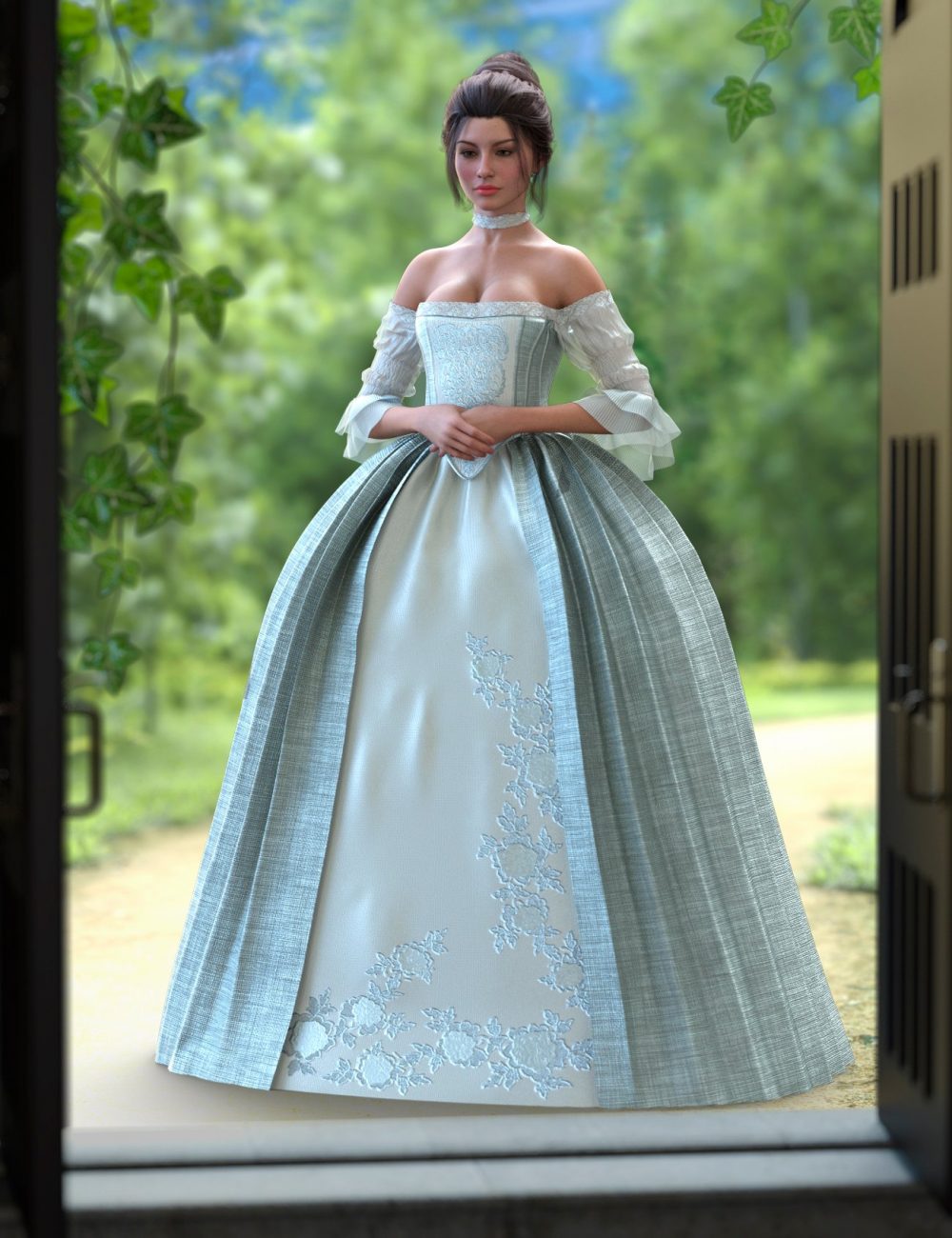 A mist rises in the green and faraway Scottish lands. The dForce Highlands Gown for Genesis 9 arrives, and Claire is in a new world, ripe for discovery.
From 18th-century Scotland, this outfit brings elegance and sophistication for royalty or an everyday dress for a peasant — inspired by a brave time traveler from a certain story. The dForce Highlands Gown brings the mysticism and glamor that all women of the time had.
This set includes a dress, top, necklace, and Claire's character (face and body morph only), along with FiberMesh eyebrows and a makeup option to complete the look.
The outfit is designed to be worn with dForce, but the dress also includes a rigid to adjust it if worn without dForce. It is recommended to use upper partial poses for best results, and this set includes a reset for the legs.
Get your dForce Highlands Gown for Genesis 9 with Claire for your next fantasy story or historical romance.
Note: keep in mind that the dress is not intended to be used in seated poses, so the result in these poses may not be optimal.
dForce Highlands Gown Outfit and Shape for Genesis 9: (.DUF)
Highlands Gown !Outfit Claire Full
Highlands Gown !Outfit
Highlands Gown Dress:
Expand Base Dress
Shape 02
Twist Shape Left
Twist Shape Right
Highlands Gown Necklace:
Fit to Neck
Highlands Gown Top:
Adjust Lower Hip Fabric
Expand Front Breasts
Left Frill Move Back
Left Frill Move Front
Left Frill Move In
Left Frill Move Out
Expand Elbows
Expand Waist
Right Frill Move Back
Right Frill Move Front
Right Frill Move In
Right Frill Move Out
Poses:
Highlands Gown Top Pose 01
Highlands Gown Top Pose 02
Highlands Gown Top Pose 03
Highlands Gown Top Pose 04
Highlands Gown Top Pose 05
Highlands Gown Top Pose 06
Highlands Gown Zero Legs Pose
Supported Shapes:
BR Claire Body
BodyVoluptuous
BreastsCleavage
BreastsShape01
BreastsShape02
BreastsShape03
BreastsShape04
BreastsShape05
BreastsShape06
Base Feminine
Other Shapes may be supported in Daz Studio by Auto-follow
Materials:
HG Claire Makeup Off
HG Claire Makeup On
04 HG Claire Eyebrows Colors
06 Highlands Gown Dress Colors
06 Highlands Gown Necklace Colors
06 Highlands Gown Top Colors
Shapes:
HG Claire Full Apply
HG Claire Full Remove
HG Corset Breast Off
HG Corset Breast On
Simulation Settings:
Highlands Gown Dress dForce 01
Highlands Gown Dress dForce 02
Highlands Gown Dress dForce Off
Highlands Gown Top dForce Off
Highlands Gown Top dForce On
Textures Include:
47 Texture, Height, Normal, Roughness, and Transparency Maps (4096 x 4096)
Daz Studio Iray Material Presets (.DUF)
---
Download from QtyFiles Service
---