dForce MKSVPS Suit for Genesis 9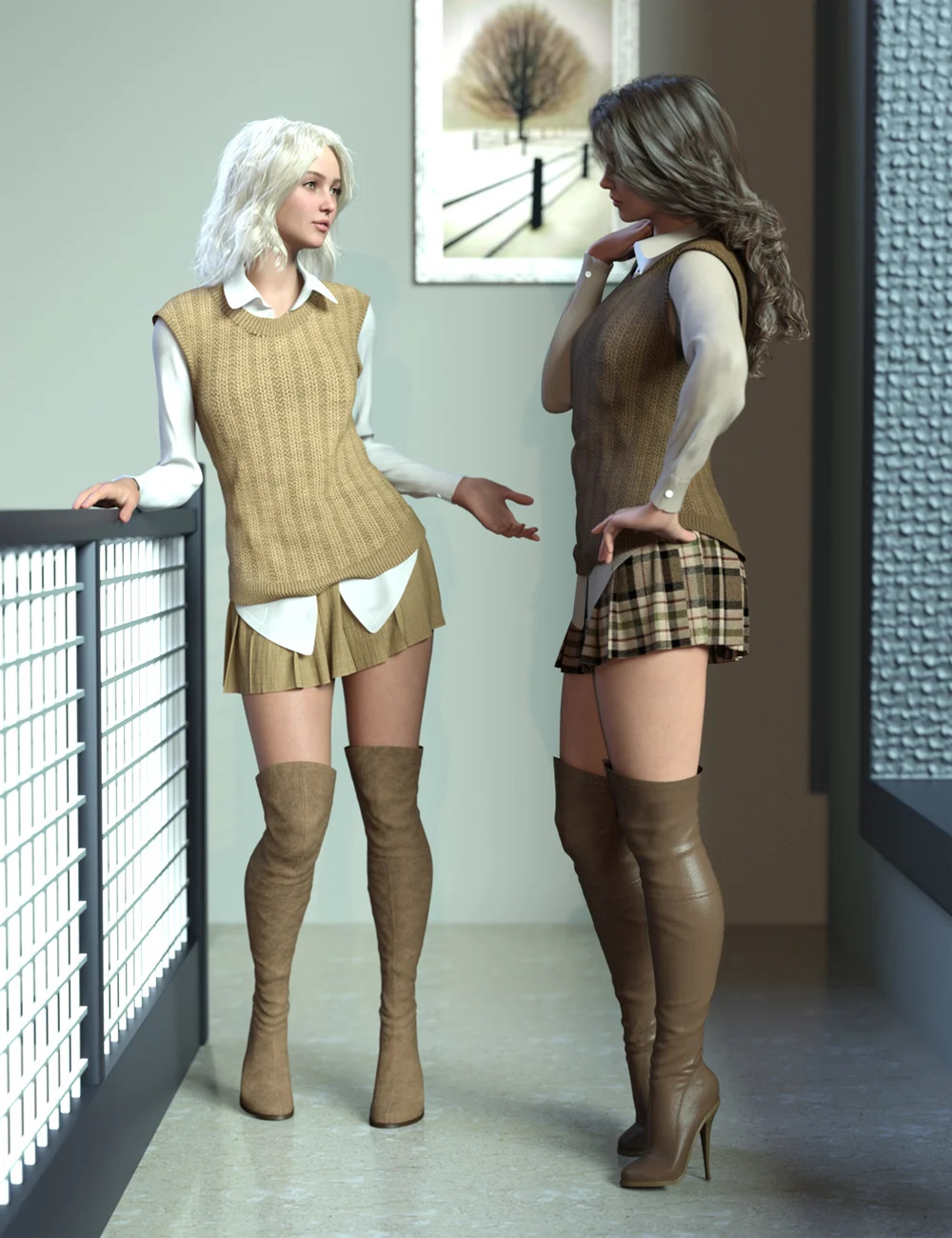 The dForce MKSVPS Suit for Genesis 9 is a stunning costume designed for Genesis 9 figures.
This package includes a shirt, a sweater vest, a pleated skirt, lace briefs, and a pair of high boots.
Featuring brown, black, white, and grey, the costume is retro yet youthful.
The pleated skirts are made of leather, linen, and worsted.
The high boots are made of leather and suede. The lace briefs come in 8 colors.
The suit features a unique and elegant design, and the combination of a mini skirt and thigh-high boots adds a touch of allure to the overall look.
The dForce technology used in the creation of this costume ensures that it drapes and moves realistically, making it perfect for dynamic and fluid animations.
The suit can also be used as conforming with gentle poses, providing a great degree of flexibility for users.
The dForce MKSVPS Suit for Genesis 9 is a must-have for anyone looking for a stylish and versatile costume that can be used in a wide range of settings, from fashion shows to virtual reality simulations.
What's Included and Features
dForce MKSVPS Suit for Genesis 9: (.DUF)
dForce MKSVPS Suit !All Load:
dForce MKSVPS Shirt:
Expand All
Loosen Buttocks
Loosen Collars
Loosen Lower Arms
Loosen Midriff
Loosen Neck
Loosen Thigh Left
Loosen Thigh Right
Loosen Thighs
Loosen Waist Lower
Loosen Waist Upper
Loosen Wrist
Loosen Elbows
Loosen Upper Arms
dForce MKSVPS Sweater Vests:
Expand All
Loosen Armhole
Loosen Collars
Loosen Midriff
Loosen Neck
Loosen Thighs
Loosen Waist Lower
Loosen Waist Upper
dForce MKSVPS Skirt:
Expand All
Adjust Length
Loosen Buttocks
Loosen Skirt Above Knee
Loosen Skirt Back
Loosen Skirt Mini
Loosen Waist Lower
Loosen Waist Upper
MKSVPS High Boots:
Expand All
Loosen Ankles
Loosen Knees
Loosen Opening
Loosen Shins
MKSVPS Briefs:
Expand All
Loosen Buttocks
Loosen Thighs
Loosen Waist Lower
Loosen Waist Upper
MKSVPS Button:
Supported Shapes:
Body Emaciated
Body Fitness Details
Body Fitness Mass
Body Heavy
Body Lithe
Body Muscular Details
Body Muscular Mass
Body Older
Body Thin
Body Tone
Body Pear Figure
Body Portly
Body Stocky
Body Voluptuous
Breasts Cleavage
Breasts Fullness Lower
Breasts Heavy
Breasts Large
Breasts Large High
Breasts Natural
Breasts Shape 01 to 06
Breasts Small
Base Feminine
Base Masculine
Victoria 9
Angela 9
Freja 9
Pixie 9
Minerva 9
Joan 9
Xiu Lin 9
Other Shapes may be supported in Daz Studio by Auto-follow
Materials:
Briefs Color Black
Briefs Color Blue
Briefs Color Green
Briefs Color Red
Briefs Color White
Briefs Color Orange
Briefs Color Pink
Briefs Color Yellow
Shirt Color Brown
Shirt Color White
High Boots Leather Color Black
High Boots Leather Color Brown
High Boots Leather Color Pale Brown
High Boots Leather Color White
High Boots Leather Color Black
High Boots Leather Color Brown
High Boots Leather Color Pale Brown
High Boots Leather Color White
Skirt Leather Color Black
Skirt Leather Color Brown
Skirt Linen Color Brown
Skirt Plaid Color Brown
Sweater Vests Color Brown
Sweater Vests Color Dark Brown
Sweater Vests Color Gray
Sweater Vests Color Light Brown
Textures Include:
19 Textures for Bump, Displacement, Normal, Reflection, Specular, and Transparency Maps (1024 x 1024 to 4096 x 4096)
Daz Studio Iray Material Presets (.DUF)
---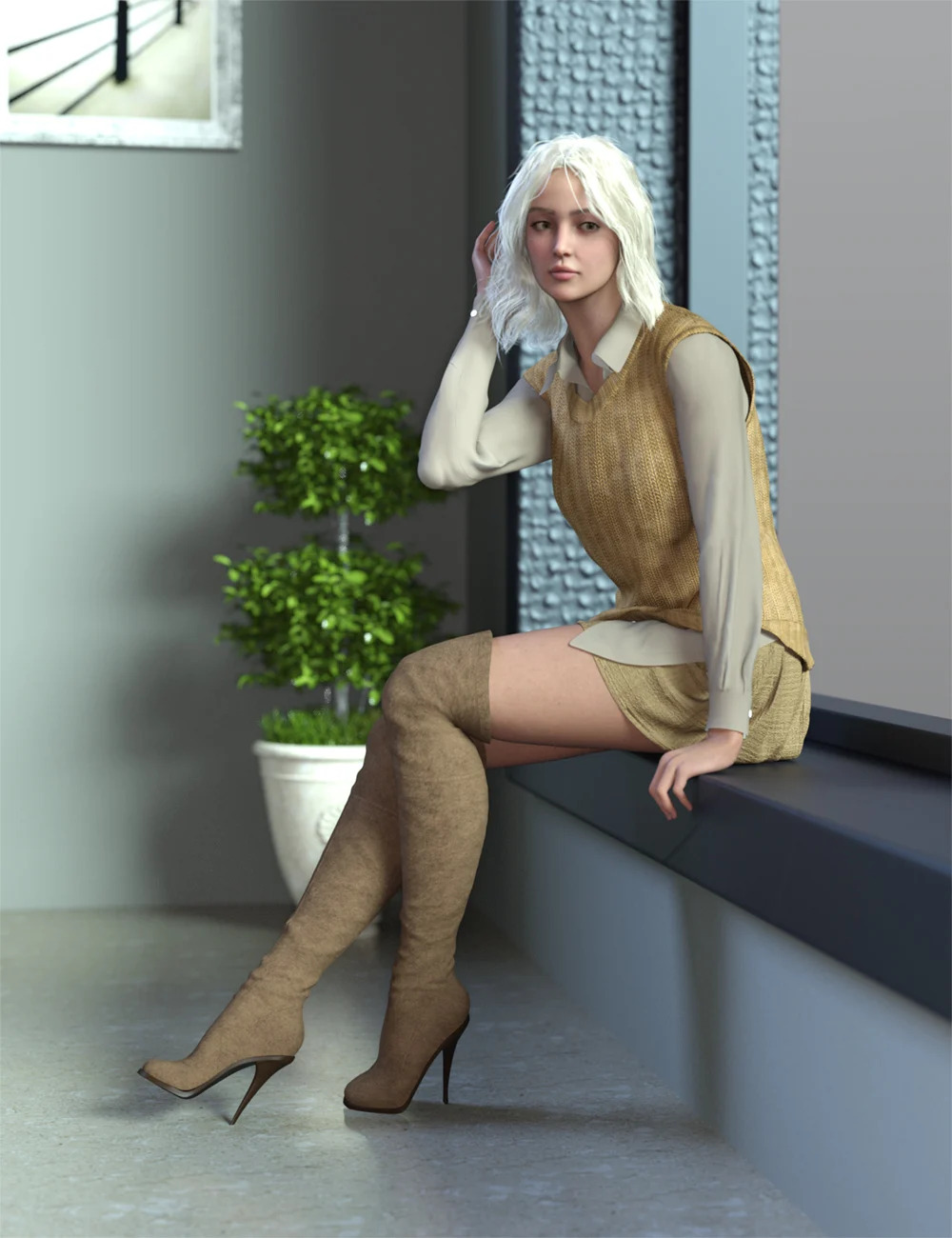 Download from QtyFiles Service
---