dForce Purdey Hair for Genesis 9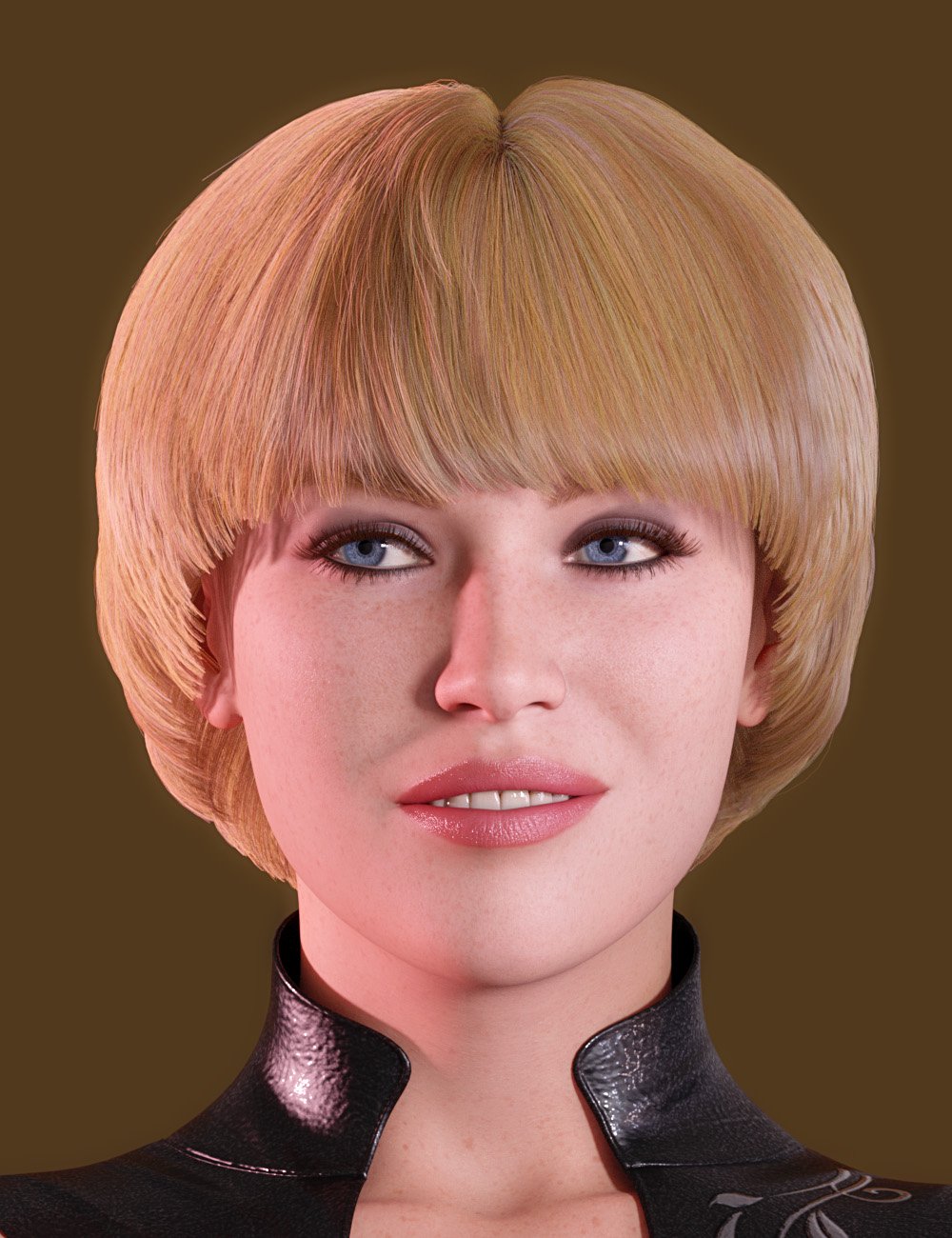 ---
dForce Purdey Hair for Genesis 9
dForce Purdey Hair for Genesis 9 is a stylish short to medium-length style for your confident and successful characters. It uses dForce hair to give a highly realistic, dynamic, and drapable hairstyle, with every hair individually rendered giving amazing realism.
dForce Purdey Hair is based on an iconic seventies character who was a girl of action, sophistication, and poise. It comes with a range of 8 preset styles that can be mixed and matched with 8 fringe styles. There are also different options for clumping so the hair can be sleek or more natural. Usability is enhanced by presets for different preview modes. While mainly intended for female characters, as Genesis 9 is a unisex figure, it can be used on male characters too, and looks just as great!
There are 52 realistic and fantasy hair colors, and every color can have different streak effects applied to multiply the number of different looks. I have also included a Darken Roots option, giving a natural lightening effect along the length of the hairs.
It is possible to use Purdey Hair with or without draping, and there are 3 alternative dynamic responses to get exactly the results you want, especially suited to the longer styles. By fine-tuning the parameter dials, you can achieve a huge range of looks.
Equally suitable for contemporary, sci-fi, historical, and fantasy characters in any setting, dForce Purdey Hair is the perfect way to add realism and glamour to your characters.
dForce Purdey Hair for Genesis 9: (.DUF)
dForce Purdey Hair:
Curl Under
Fringe Centre Parted
Fringe Left
Fringe Right
Fringe Up
Hair Long
Hair Volume
Waves
Wide
Supported Shapes:
BaseFeminine_head
BaseMasculine_head
Victoria9_head
Other Shapes may be supported in Daz Studio by Auto-follow
Materials:
PWPH01 Purdey Hair Black
PWPH02 Purdey Hair Dark Grey
PWPH03 Purdey Hair Mid Grey
PWPH04 Purdey Hair Steel Grey
PWPH05 Purdey Hair Silver
PWPH06 Purdey Hair White
PWPH07 Purdey Hair Ash Blonde
PWPH08 Purdey Hair Pale Blonde
PWPH09 Purdey Hair Pale Gold
PWPH10 Purdey Hair Natural Blonde
PWPH11 Purdey Hair Oatmeal
PWPH12 Purdey Hair Honey Blonde
PWPH13 Purdey Hair Brassy Blonde
PWPH14 Purdey Hair Mid Blonde
PWPH15 Purdey Hair White Chocolate
PWPH16 Purdey Hair Gold
PWPH17 Purdey Hair Dark Blonde
PWPH18 Purdey Hair Light Brown
PWPH19 Purdey Hair Hazel Brown
PWPH20 Purdey Hair Natural Brown
PWPH21 Purdey Hair Dark Sand
PWPH22 Purdey Hair Mousy
PWPH23 Purdey Hair Mid Brown
PWPH24 Purdey Hair Stone Brown
PWPH25 Purdey Hair Rich Brown
PWPH26 Purdey Hair Muted Brown
PWPH27 Purdey Hair Milk Chocolate
PWPH28 Purdey Hair Chestnut Brown
PWPH29 Purdey Hair Dark Chocolate
PWPH30 Purdey Hair Dark Brown
PWPH31 Purdey Hair Deep Red
PWPH32 Purdey Hair Auburn
PWPH33 Purdey Hair Red Head
PWPH34 Purdey Hair Bright Red
PWPH35 Purdey Hair Ginger
PWPH36 Purdey Hair Sandy
PWPH37 Purdey Hair Pale Red
PWPH38 Purdey Hair Crimson
PWPH39 Purdey Hair Orange
PWPH40 Purdey Hair Fiery
PWPH41 Purdey Hair Strawberry
PWPH42 Purdey Hair Apple Green
PWPH43 Purdey Hair Green
PWPH44 Purdey Hair Turquoise
PWPH45 Purdey Hair Aqua
PWPH46 Purdey Hair Mid Blue
PWPH47 Purdey Hair Dark Blue
PWPH48 Purdey Hair Mauve
PWPH49 Purdey Hair Purple
PWPH50 Purdey Hair Plum
PWPH51 Purdey Hair Pink
PWPH52 Purdey Hair Candy
Hair Settings:
PWPT01 Purdey Hair Tiling Normal
PWPT02 Purdey Hair Tiling Fine
PWPT03 Purdey Hair Tiling Medium
PWPT04 Purdey Hair Tiling Wide
PWPW01 Purdey Hair Add Dark Roots
Simulation Settings:
PWPC01 Clumping None
PWPC02 Clumped Ends
PWPC03 Clumping More
PWPC04 Clumping Max
PWPD1 Dynamics Stiff (Default)
PWPD2 Dynamics Looser
PWPD3 Dynamics Loosest
Textures Include:
58 Texture and Roughness Maps (512 x 512 to 2048 x 2048)
Daz Studio Iray Material Presets (.DUF)
---
Download from QtyFiles Service
---