Dystopian Heavy Lander LVX9-Basilisk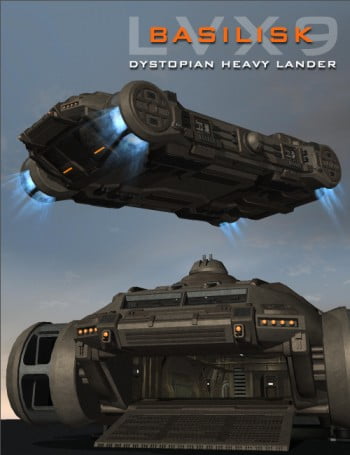 The LVX9-Basilisk was built to replace the aging Komodo Class Lander in its role of ship-to-surface transport. The increased cargo hold is capable of carrying up to six armored vehicles and their crew, including a fully-equipped marine rifle company in addition to twelve fire teams of heavily armed Drone Troopers.
Three enormous Kurosawa RM-922 thrusters and two Saaren LR200 boosters are linked to a modified Lydoxin V cold fusion power plant. Four sets of paired directional thrusters are mounted atcorner locations to provide unique maneuverability. The older side mounted Hangrim gun turrets have been replaced by the updated Enkaos dual gun turrets, with the addition of a third turret mounted at a forward hard point. This is a highly detailed model both externally and internally. Both the control cabin detail and cargo bay detail load up as separate figures to allow removal for external renders. It has 31 moving parts and includes exhaust flame props, 2 light sets and 10 character poses.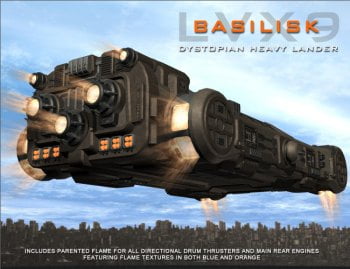 Download from QtyFiles Service
---