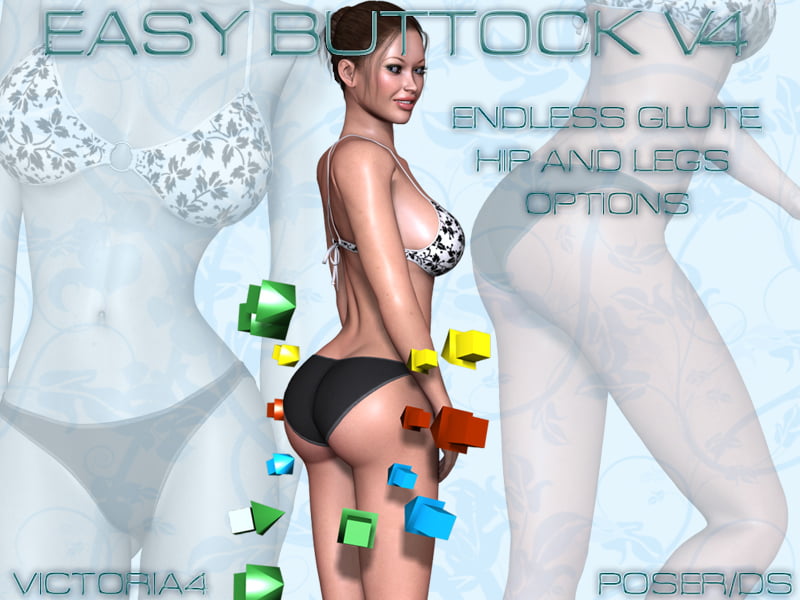 EasyButtockV4 is the ultimate hip, legs and glute solution for Daz?s V4. It?s a Handles Controlled Deformers Set. Easy to use and intuitive, allows you to interact with V4 in real time.
The deformers obey to the Handles, and the Handles obey to your mouse! You have the feeling you are ?touching" the mesh. Creating gravity or tension effects, different shapes or sizes, etc has never been so quick and easy. And since the EasyButtock is made of deformers, it can magnetize clothes! Just feel free to create the effects you?ve always wanted to and don?t worry about clothing morphs!
With symmetrical and non symmetrical controls, the EasyButtock, system loads without presets, you see the default V4 body, until you move any Handle. Means you can use the EasyButtock as a base to create your own shapes, or only to pose previously morphed legs or glutes. EasyButtockV4 is compatible with your favorite morphs. Also you can load the EasyButtock on the clothes to help fit custom morphed characters, or regular morps not contained in the clothing.
EasyButtockV4 works only on Victoria4. The pack includes versions for Poser and Daz Studio.
---