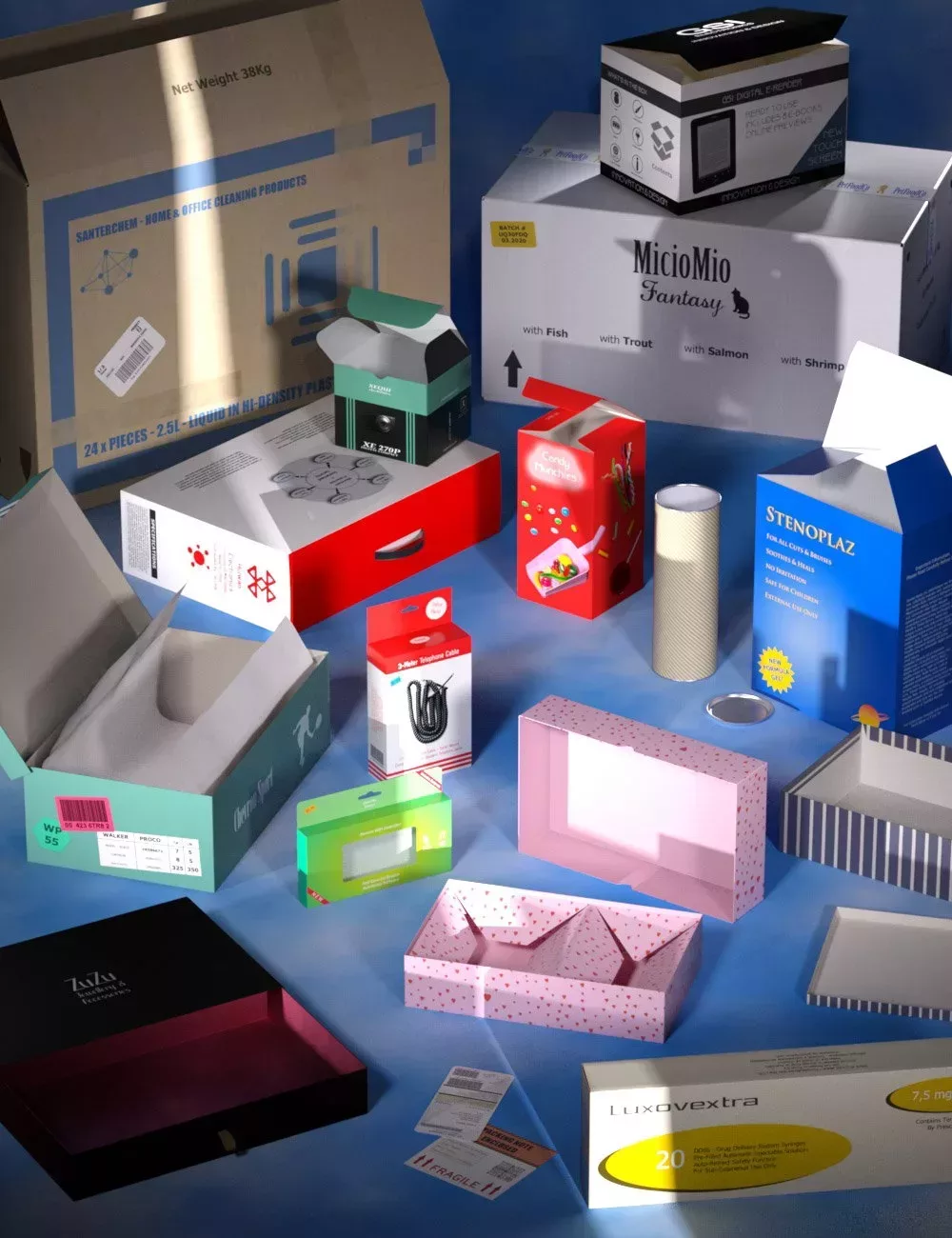 Packaging? It's everywhere! Everything we buy comes in a box, every online delivery arrives in a carton, and they all end up stacked in cupboards or lying in a spare room or garage.
Use the product packaging in Everyday Packages to add extra realism to your scenes. This prop set of Everyday Packages contains 30 different boxes and cartons, plus labels and tape.
There's a single ERC control to open boxes, or each individual leaf or tab can be independently positioned. Multi-part props allow you to pose different parts of each box – sleeve, box, or lid – and materials can be textured or colored to suit. Everyday Packages includes a full set of templates to use for your own personalized product textures.
Get Everyday Packages for your warehouses, moving scenes, or that smart added touch of realism today.
Note: Optimized for Iray.
Everyday Packages: (.DUF)
Presets
EvPkg Box Drawer
EvPkg Box Flat Large
EvPkg Box Flat Medium
EvPkg Box Lined Flat
EvPkg Box Nest Double
EvPkg Box Nest Single
EvPkg Box Round Tall
EvPkg Box Round Wide
EvPkg Box Shoes
EvPkg Box Storage
EvPkg Box Window Medium
Props
EvPkg Box Display Vertical
EvPkg Box Display Window
EvPkg Box Handle
EvPkg Box Slim
EvPkg Box Window Large
EvPkg Carton Long
Open Carton
EvPkg Carton Narrow
Open Carton
EvPkg Carton Small
Open Carton
EvPkg Carton Square
Open Carton
EvPkg Carton Tall
Open Carton
EvPkg Carton Vertical
Open Carton
EvPkg Label Horizontal Rounded
EvPkg Label Horizontal
EvPkg Label Square
EvPkg Label Vertical Rounded
EvPkg Label Vertical
EvPkg Package Medium Flat
Open Box
Bend Lid
EvPkg Package Medium
Open Box
EvPkg Package Partition Long
Open Cover
EvPkg Package Partition Medium
Open Box
EvPkg Package Shoebox
Open Box
Open Lid
Open Paper
EvPkg Package Square Small
Open Box
EvPkg Package Square Tall
Open Box
EvPkg Package Tall
Open Box
EvPkg Tape Carton
Carton Narrow
Carton Small
Carton Square
Carton Tall
Carton Vertical
Wearables
EvPkg Tape Carton Long
Carton Narrow
Carton Small
Carton Square
Carton Tall
Carton Vertical
EvPkg Tape Carton Narrow
Carton Narrow
Carton Small
Carton Square
Carton Tall
Carton Vertical
EvPkg Tape Carton Small
Carton Narrow
Carton Small
Carton Square
Carton Tall
Carton Vertical
EvPkg Tape Carton Square
Carton Narrow
Carton Small
Carton Square
Carton Tall
Carton Vertical
EvPkg Tape Carton Tall
Carton Narrow
Carton Small
Carton Square
Carton Tall
Carton Vertical
EvPkg Tape Carton Vertical
Carton Narrow
Carton Small
Carton Square
Carton Tall
Carton Vertical
Materials Iray
EvPkg Label Fragile 1
EvPkg Label Fragile 2
EvPkg Label Fragile H
EvPkg Label H Rounded
EvPkg Label Horizontal 1
EvPkg Label Horizontal 2
EvPkg Label Square 1
EvPkg Label Square 2
EvPkg Label Vertical 1
EvPkg Label Vertical 2
EvPkg Tape Carton EVS1
EvPkg Tape Carton EVS2
EvPkg Tape Carton Fragile
EvPkg Tape Carton Pets
EvPkg Tape Carton PPV
Shader Presets Iray
EvPkg Pattern Dots Neutral
EvPkg Pattern Dots Small
EvPkg Pattern Dots
EvPkg Pattern Hearts
EvPkg Pattern Paper Neutral
EvPkg Pattern Squares Neutral
EvPkg Pattern Squares
EvPkg Pattern Stripes Diagonal Neutral
EvPkg Pattern Stripes Diagonal
EvPkg Pattern Stripes H Neutral
EvPkg Pattern Stripes Horizontal
EvPkg Pattern Stripes V Neutral
EvPkg Pattern Stripes Vertical
Textures Include:
60 Texture, and Normal Maps (1024 x 1024 to 2048 x 2048)
Texture Templates available through the Product Library
Daz Studio Iray Material Presets (.DUF)
---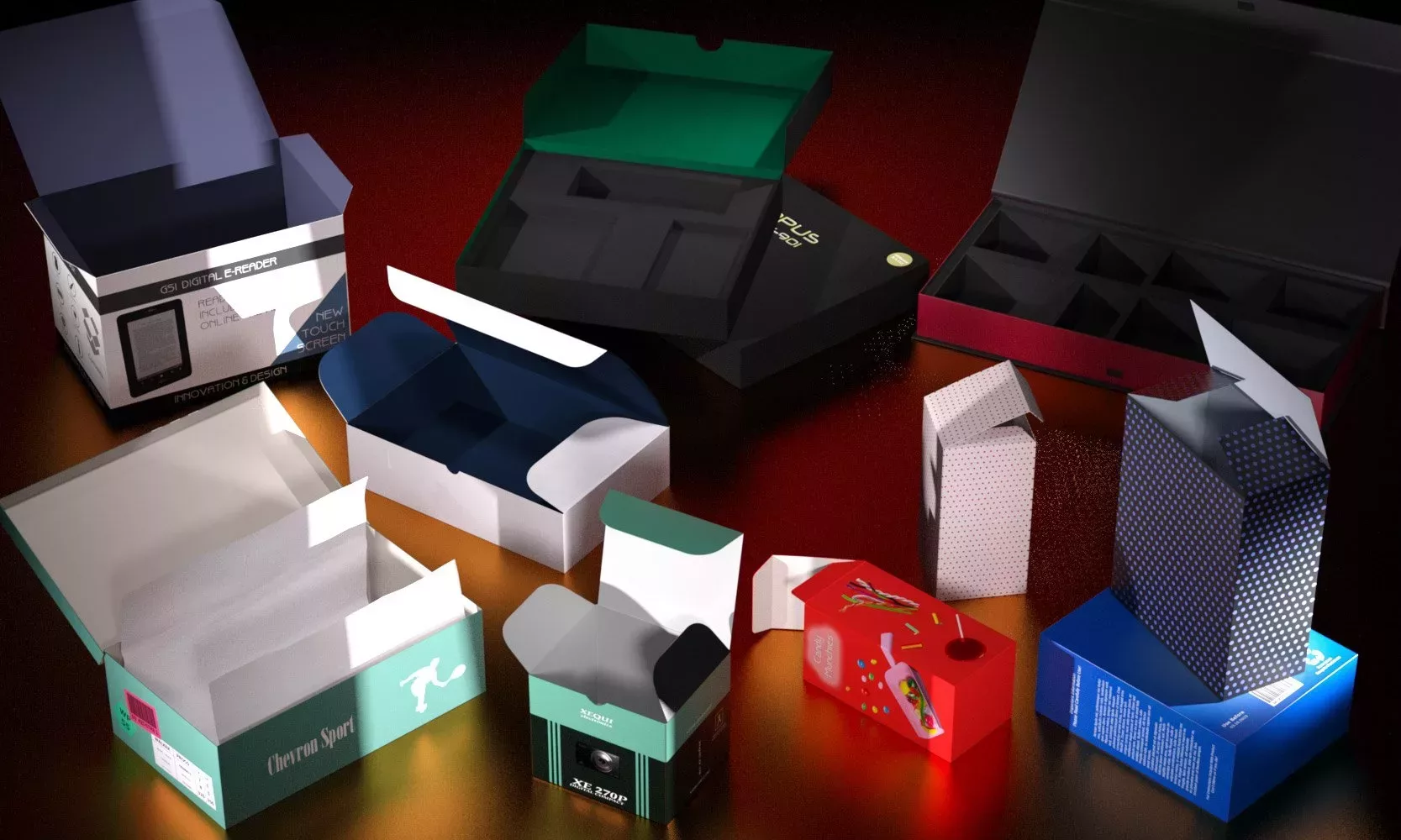 Download from QtyFiles Service
---