Expressive Chroma Poses and Zero One Clothes for Genesis 8, 8.1, and 9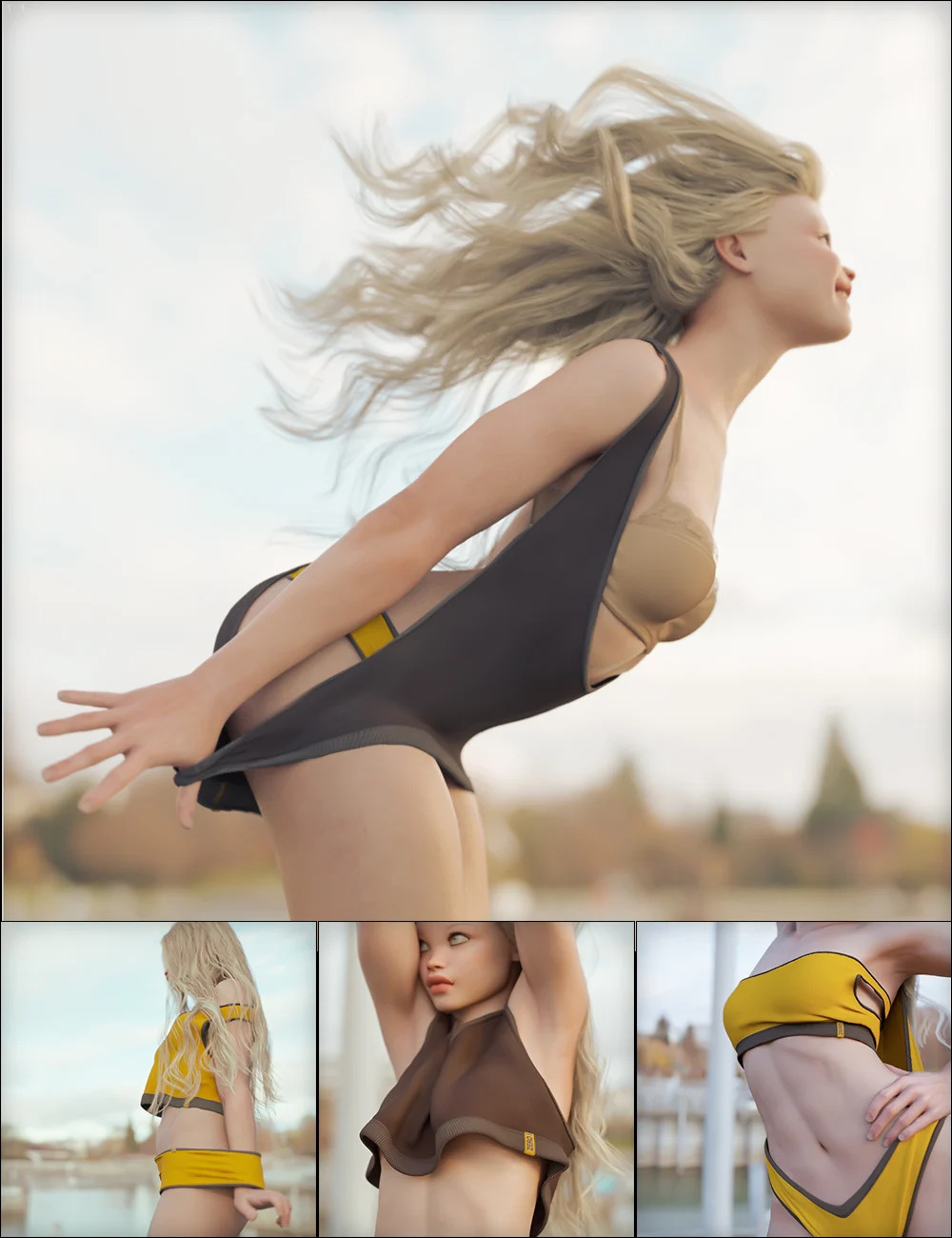 ---
Expressive Chroma is a standalone pose and clothing package for both Genesis 8 and 8.1 Female and Genesis 9 Feminine that includes 10 stylish, artistic poses and 2 versatile clothing items: a racerback top/bra and boyshorts.
For each of the included poses, both the top and shorts feature 5 realistic and unique morphs that range from simpler to unique and extremely dynamic. It also includes the black and yellow cotton styles featured in the promo.
Notes: The included clothing items are based on our Zero One clothing set (not required), which makes them fully compatible with any texture included in the main Zero One Everyday package, the Zero One Dahlia package, the Poses + Clothing packages, and the Zero One texture add-on packages, both current (Customize vol.1 and vol.2, Expressive Styles, Variety Styles, Cyberpunk Styles, Futuristic Military) and future.
For an exact and detailed list, check "The ZERO ONE World ~ Official Guide ~" thread in the "Daz PA Commercial Products" forum, which is complete and constantly updated: www.daz3d.com/forums/discussion/585351/the-zero-one-world-official-guide
What's Included and Features
Expressive Chroma Poses and Zero One Clothes for Genesis 8, 8.1, and 9: (.DUF)
10 Full Body Poses:
Aquamarine
Burgundy
Cerulean
Cobalt
Fuchsia
Indigo
Magenta
Teal
Turquoise
Verdigris
Supported Shapes:
Other Shapes may be supported in Daz Studio by Auto-follow
Top:
Aquamarine:
Big and Loose
Fun Entwine
Over Right Leg
Short and Loose
Sport Style
Burgundy:
Big and Loose
Down Simple
Entwine
Up More
Up Simple
Cerulean:
Left Hand Grab
Long and Loose
Right Hand Grab
Short and Loose
Shoulder Down
Cobalt:
Around Arms
Big and Floaty
Fun Style
Smaller
Very Big
Fuchsia:
Big and Loose
Loose on the arms
Raise
Right Hand grab
Short and Loose
Indigo:
Around Arms
Around Shoulders
Full Down
Loose and shoulder down in
Very small
Magenta:
Grab Back
Long and Floaty
Right Hand Grab
Short and Floaty
Shoulders Down
Teal:
Big and Floaty
Pull Up Arms Inside
Pull Down and Shoulder Out
Short and Floaty
Very Stretched
Turquoise:
Big and Loose
Loose
One Shoulder
Shoulders Down
Small and Raise Up
Verdigris:
Longer and Loose
Pull Up
Pull Down Sides
Short and Floaty
Shoulders Down
Shorts:
Aquamarine:
Fits Well
Knees Covered
Left Ankle Stretch
Stretch on the right Leg
Very Small
Burgundy:
Down to Ankles
Down to Knees
On the Toe
Simple Loose
Smaller
Cerulean:
Left hand grab
On the right ankle
Pull down
Smaller
Very high waist
Cobalt:
Arm and Leg inside
Pulled Up
Right Leg only
Very Small
Wrist and Ankle
Fuchscia:
Down to Ankles
Down to Knees
Pull Down Simple
Very Raised Up
Very Small
Indigo:
Around Wrists Front
Around Wrists
On the Left Foot
Pulled Up
Very Small
Magenta:
On the Left Hand
On the Right Knee
Pull Down
Pull from Back
Very Small
Teal:
Arms Inside Back
Arms Inside Front
Arms Inside
Pull Down
Very Small
Turquoise:
Left Hand pull
On the Right hand
Pull Down Simple
Very Raised Up
Very Small
Verdrigris:
Grab Sides Back Placement
In the Right Hand
Pull Up
Pull Down with Hands
Very Small
Material Options:
Chroma Black Shorts
Chroma Black Top
Chroma Yellow Shorts
Chroma Yellow Top
Textures include
13 Texture, Glossy, Height, Metallic, Normal, and Roughness Maps (4096 x 4096)
---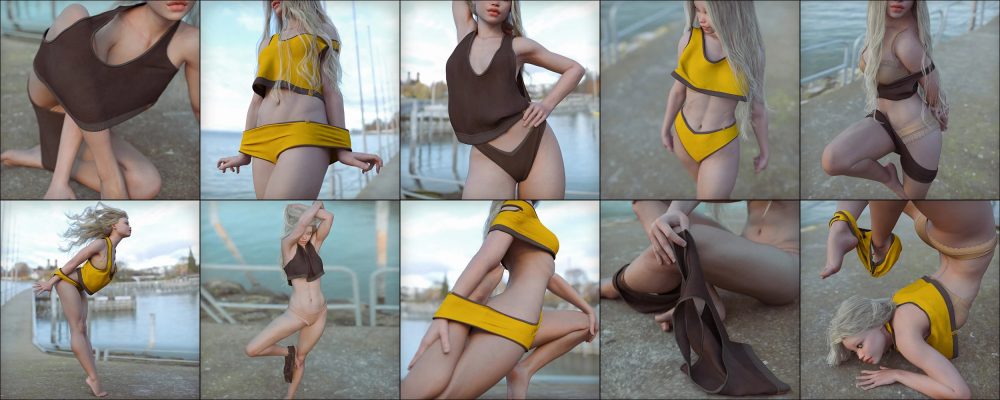 Download from QtyFiles Service
---